Read on so you know how to select a reputable and compliant CalBRE continuing education provider.
California Bureau of Real Estate (CalBRE)-licensed brokers now need to complete a course in office management and supervision as part of their 45-hour continuing education requirements.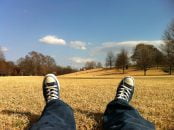 No fines imposed on homeowners who have unwatered lawns in a state-declared drought emergency.
The adult child of a commercial property owner forges the owner's name and obtains a mortgage secured by a trust deed on the property without the owner's knowledge.

Where to park your cash? It depends on how long you're going to park it for – and what types of risks you're willing to take.

The Mortgage Forgiveness Debt Relief Act (MFDRA) is due for another extension, or its expiration will mean significant taxable income for homeowners nationally. California tax law may save the day.

How is your region's commercial real estate market recovering? Industrial, office and retail are covered in the Inland Empire, Los Angeles, Orange County, Sacramento and San Diego.