Use this first tuesday FARM Letter in your marketing. To request a FARM letter topic, or to see a list of all our FARM letter templates, visit our FARM Letter page.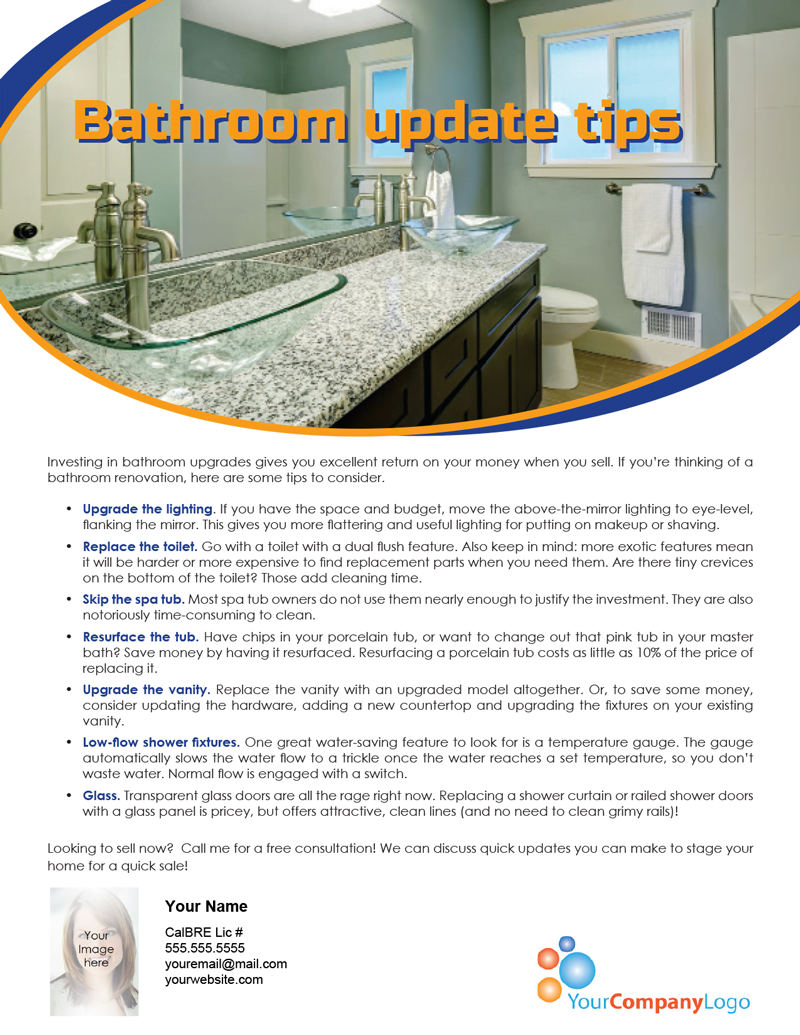 Download the Personalization Instructions
Download the PDF Template
Download the Microsoft Word Template
Text only
Investing in bathroom upgrades gives you excellent return on your money when you sell. If you're thinking of a bathroom renovation, here are some tips to consider.
Upgrade the lighting. If you have the space and budget, move the above-the-mirror lighting to eye-level, flanking the mirror. This gives you more flattering and useful lighting for putting on makeup or shaving.
Replace the toilet. Go with a toilet with a dual flush feature. Also keep in mind: more exotic features mean it will be harder or more expensive to find replacement parts when you need them. Are there tiny crevices on the bottom of the toilet? Those add cleaning time.
Skip the spa tub. Most spa tub owners do not use them nearly enough to justify the investment. They are also notoriously time-consuming to clean.
Resurface the tub. Have chips in your porcelain tub, or want to change out that pink tub in your master bath? Save money by having it resurfaced. Resurfacing a porcelain tub costs as little as 10% of the price of replacing it.
Upgrade the vanity. Replace the vanity with an upgraded model altogether. Or, to save some money, consider updating the hardware, adding a new countertop and upgrading the fixtures on your existing vanity.
Low-flow shower fixtures. One great water-saving feature to look for is a temperature gauge. The gauge automatically slows the water flow to a trickle once the water reaches a set temperature, so you don't waste water. Normal flow is engaged with a switch.
Glass. Transparent glass doors are all the rage right now. Replacing a shower curtain or railed shower doors with a glass panel is pricey, but offers attractive, clean lines (and no need to clean grimy rails)!
Looking to sell now? Call me for a free consultation! We can discuss quick updates you can make to stage your home for a quick sale!