41,400 mortgage loan originators (MLOs) were registered at the federal level in the second quarter (Q2) of 2019 in California. This is down 0.7% from a year earlier. These MLOs are employees of banks.
State-licensed MLOs in California totaled 52,800 in Q2 2019, down 5% from a year earlier. These MLOs are licensed by the California Department of Business Oversight (DBO) or the California Department of Real Estate (DRE).
Declining mortgage originations and slowing sales volume have caused the state-licensed MLO population to decline. But there is some promising news for MLOs, as interest rates have fallen back significantly in 2019, likely to continue down going into 2020. Falling interest rates have caused a surge in refinancing, which has given MLOs a boost even though purchase mortgages have fallen.
Updated November 24, 2019. Original copy released February 2013.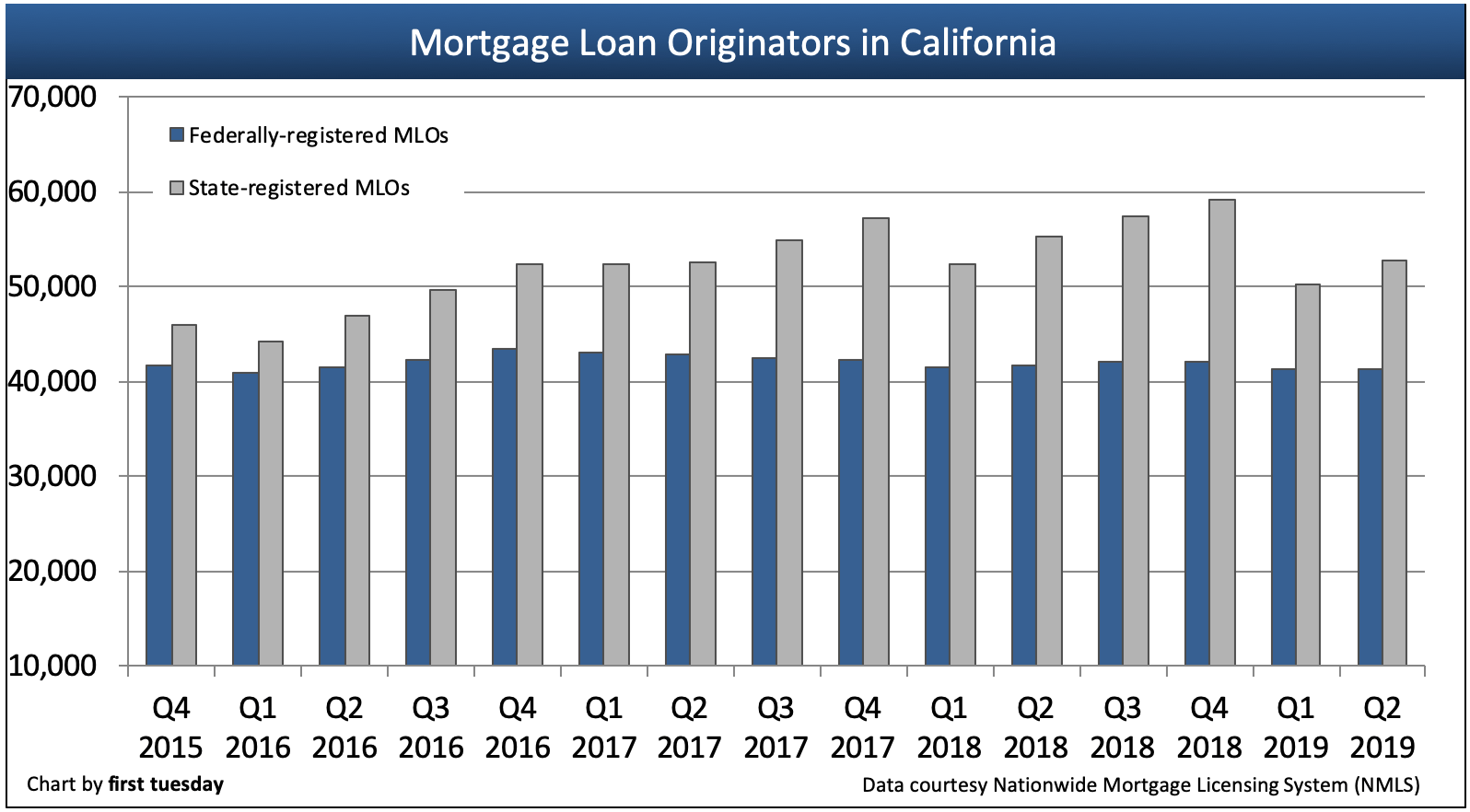 Chart update 11/24/19
| | | | |
| --- | --- | --- | --- |
| | Q2 2019 | Q2 2018 | Annual change |
| Federally registered MLOs | 41,400 | 41,700 | -0.7% |
| State-licensed MLOs | 52,800 | 55,400 | -4.7% |
MLOs on the rise
Federally-registered mortgage loan originators (MLOs) are employed by federally regulated entities. In other words, these MLOs work for Big Banks like Wells Fargo or Bank of America, etc.
State-licensed MLOs are mortgage brokers and mortgage bankers. In California, state-licensed MLOs are regulated by either the California Department of Real Estate (DRE) or the Department of Business Oversight (DBO). The DRE had the lion's share of California's MLO applications and MLO licenses issued in Q2 2019, as:
the DRE received 245 new applications for individual licenses and approved 169 individuals (including pending applications from the prior quarter); while
the DBO received 88 new applications and approved 61 individuals (including pending applications).
The trend for both state- and federally-licensed MLOs was down in Q2 2019 over the prior year.
Loan originations going forward
The year-over-year decline in state-licensed MLOs indicates those in the mortgage origination business are cautious about California's housing market. Some of the headwinds MLOs are facing include include:
fears of a recession, expected to arrive in mid-2020;
a lackluster home sales volume; and
still-high home prices.
However, while interest rates rose significantly in 2018, they have fallen back somewhat in 2019. While purchase mortgages are down, refinances have increased in 2019 due to these lower interest rates.
Getting licensed – and keeping it
The number of state-licensed MLOs tends to increase throughout the year, and takes a dip in the first quarter of every year. All MLO licenses expire at the end of the calendar year. The January drop-off is due to licensees choosing not to renew at the end of the prior year. Thus, the dip in state-licensed MLOs experienced in Q1 corrects itself throughout the rest of the year.
Are you interested in obtaining your MLO license or endorsement? Any individual who, for financial gain, takes a loan application, negotiates or offers a consumer purpose loan secured by one-to-four unit residential property is required to be licensed and endorsed as an MLO. In California, MLOs are required to have:
a valid DRE license with an MLO endorsement;
an MLO license issued by the DBO; or
a federal MLO registration.
Federally registered MLOs are employed by a federally regulated entity, such as a federally chartered bank. No education requirements exist.
State registered MLOs have additional hurdles to jump through to get and maintain their license. Not only are they required to maintain their respective DRE licenses or DBO endorsements, they also need to take eight hours of continuing education (CE) each year to meet their renewal requirements.
Related article: