Use this first tuesday FARM Letter in your marketing. To request a FARM letter topic, or to see a list of all our FARM letter templates, visit our FARM Letter page.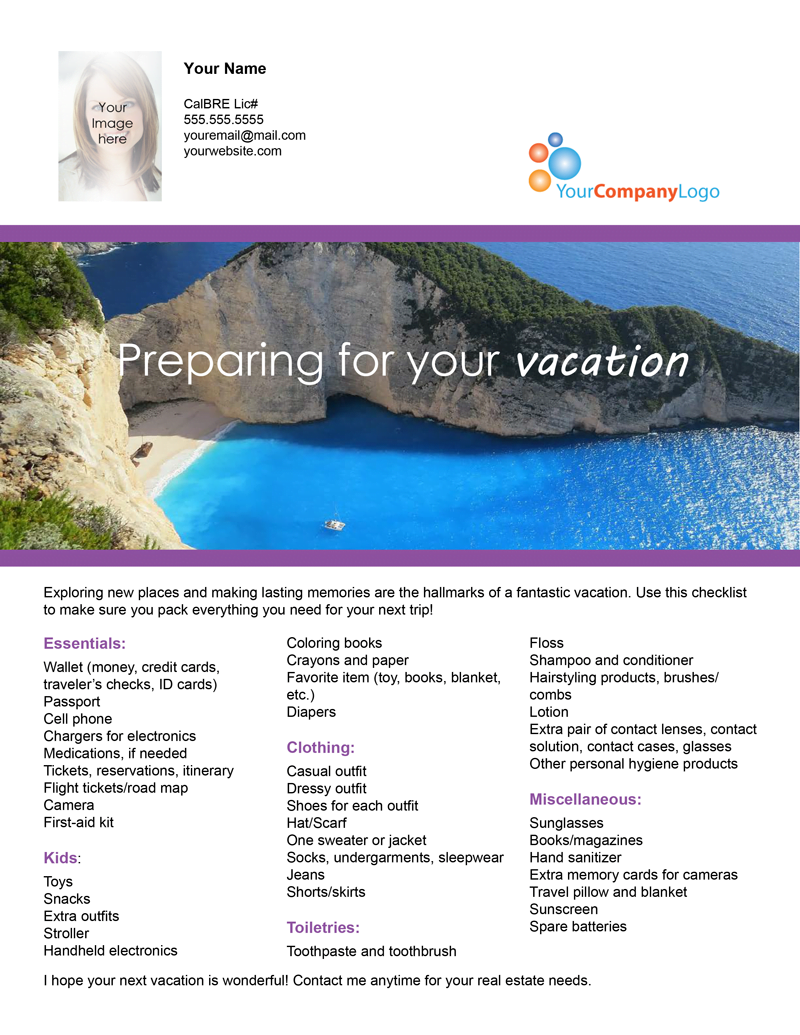 Download the Personalization Instructions
Download the PDF Template
Download the Microsoft Word Template
Text only
Exploring new places and making lasting memories are the hallmarks of a fantastic vacation. Use this checklist to make sure you pack everything you need for your next trip!
Essentials:
Wallet (money, credit cards, traveler's checks, ID cards)
Passport
Cell phone
Chargers for electronics
Medications, if needed
Tickets, reservations, itinerary
Flight tickets/road map
Camera
First-aid kit
Kids:
Toys
Snacks
Extra outfits
Stroller
Handheld electronics
Coloring books
Crayons and paper
Favorite item (toy, books, blanket, etc.)
Diapers
Clothing:
Casual outfit
Dressy outfit
Shoes for each outfit
Hat/Scarf
One sweater or jacket
Socks, undergarments, sleepwear
Jeans
Shorts/skirts
Toiletries:
Toothpaste and toothbrush
Floss
Shampoo and conditioner
Hairstyling products, brushes/combs
Lotion
Extra pair of contact lenses, contact solution, contact cases, glasses
Other personal hygiene products
Miscellaneous:
Sunglasses
Books/magazines
Hand sanitizer
Extra memory cards for cameras
Travel pillow and blanket
Sunscreen
Spare batteries
I hope your next vacation is wonderful! Contact me anytime for your real estate needs.