California has long been the gold standard for migration, with its sunny climate, top notch higher education system and sustained job growth. But all these benefits don't come cheaply, and the state's high housing costs are pushing out many former residents to states where their money goes further.
From April 2020 to July 2021, California's total population declined by 0.8%, or 300,400 people. As is typical for the state, the net loss was due to domestic emigration — more people moving to other states than moving in. While California experienced net positive international migration and more births than deaths in 2020-2021, this didn't make up for the nearly 400,000 residents moving to other states.
Up until 2019, California gained population each year, luring people consistently from all over the country and the globe. However, this growth has reversed course — and the pace of decrease is gaining speed.
The state's most notable population decreases took place in its high-cost coastal counties, including:
San Francisco, which lost a net 58,800 residents, a 6.7% decrease;
Santa Clara, which lost a net 50,800 residents, a 2.6% decrease;
Alameda, which lost a net 33,800 residents, a 2.0% decrease; and
Los Angeles, which lost a net 184,500 residents, a 1.8% decrease, according to the U.S. Census Bureau.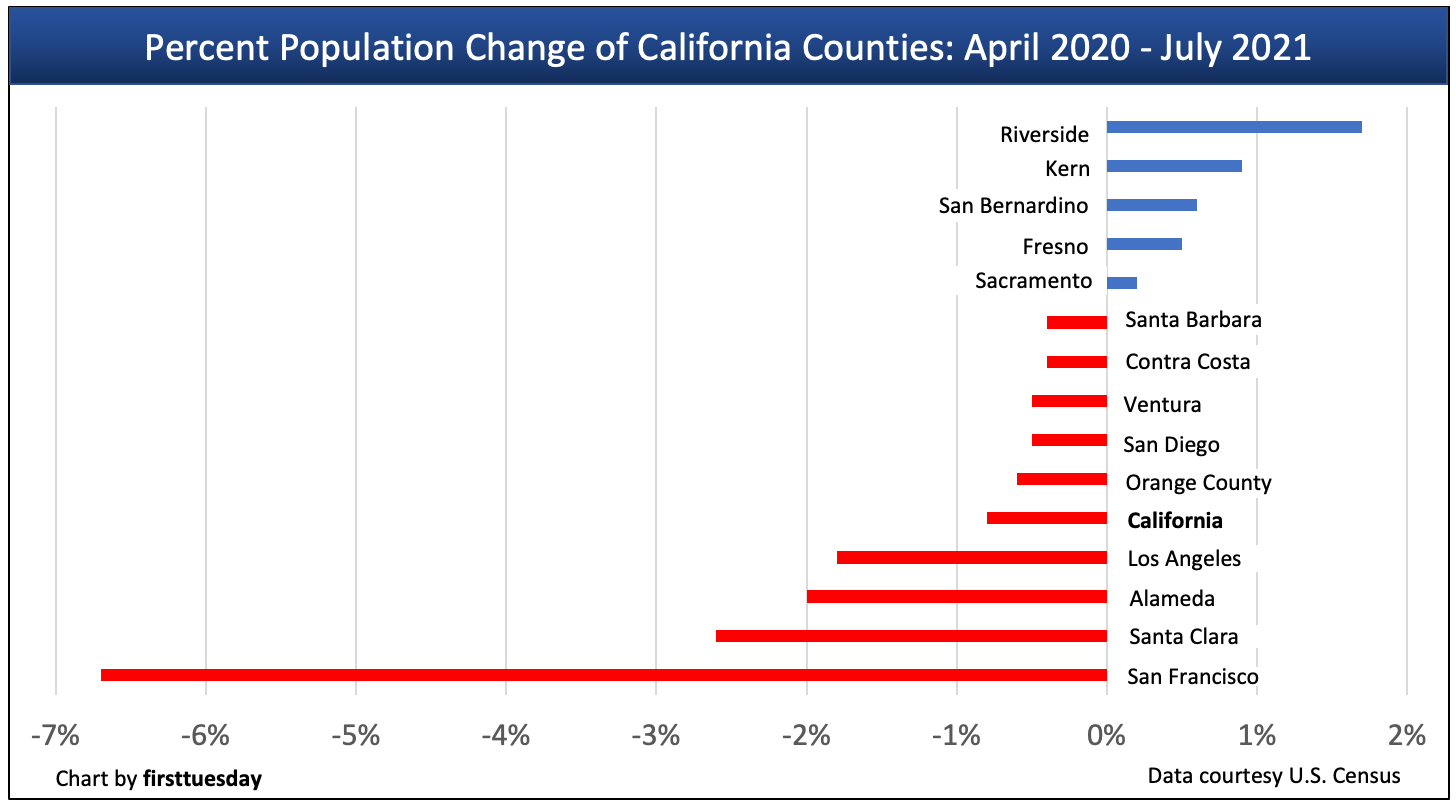 From the opposite perspective, the only regions of California which gained population during 2020-2021 were limited to less costly inland counties, including:
Riverside, which gained a net 40,200 residents, a 1.7% increase;
Kern County, which gained 8,400 residents, a 0.9% increase;
San Bernardino, which gained 13,100 residents, a 0.6% increase;
Fresno, which gained 4,900 residents, a 0.5% increase; and
Sacramento, which gained 3,900 residents, a 0.2% increase.
Of course, not all of this population change was due to individuals leaving or moving into the state. A lot of the change was due to the remote working shift that happened during the pandemic.
The new acceptance of remote work allowed residents to move out of their high-cost metros to nearby, less expensive areas. For example, Los Angeles residents who wanted to take advantage of new remote work policies and search for more space for less money simply hopped over to Riverside or San Bernardino.
And yet, California still lost over 300,000 residents — a significant chunk of population — during the pandemic. When this statistic becomes a trend, the impact on real estate professionals will be a career killer.
How a declining population impacts real estate agents
Steady population growth is essential for the long-term health of the housing market. New household formations means demand for residential rentals and purchases is continually refreshed, ensuring homes aren't trading hands between the same stale group of clients.
Of course, historically low housing inventory has pushed demand higher than supply for the past several years. The result has been significantly higher home prices and rents. Thus, real estate professionals haven't needed to worry about a stagnant housing market, despite losing residents to other states. But the long-term outlook is more worrisome.
The good news for real estate professionals interested in long-term growth: in the exchange of residents to other states, the majority of those who are moving into California are highly educated and in their early careers. Whereas the majority of those who leave for other states are in search of a cheaper retirement.
Yes, more people are leaving than arriving, but those who continue to move to California are more productive members of the economy. Real estate professionals can capture their business by including the title relocation agent in their profile.
You may start by joining or creating referral networks for those moving into or out of the state. For example, when a client tells you they're moving to another city, see if you can find a trustworthy colleague to refer them to in that new city, assured that your colleague will refer clients back to you in exchange.
Further, reach out to growing businesses, or those known for relocating out-of-state workers to their new or growing headquarters. Another way to flex your muscles as a relocation agent is by becoming active in online forums or social media platforms where those moving from out-of-state are looking for information on their new communities.
Relocation agents will also benefit by looking even further abroad for their next client. That's because, while domestic migration continues to fall back, international migration is consistently positive.
Many foreign-born residents rely on an Individual Tax Identification Number (ITIN) to take out a mortgage and purchase a home in California. Real estate agents who wish to grow their business by working with their local population of international immigrants will start by familiarizing themselves with this process and locating several trustworthy local lenders who issue ITIN mortgages.
More housing is the solution
While following these steps will help you get ahead even as households continue to exit the state, there is only one long-term solution to California's population drain: lowering housing costs.
California home prices have increased 19%-27% over the past 12 months, as of February 2022. While a portion of this increase is tied to the historically low interest rates experienced during 2021, the main reason is a severe imbalance between supply (housing) and demand (eager homebuyers).
Across California, tight zoning restrictions have resulted in:
less residential construction;
inflated prices of both new and resale homes, as well as rents, as supply fails to meet demand;
an unstable housing market as home prices rise significantly faster than incomes; and
the second-lowest homeownership rate in the nation.
This zoning tax has caused the cost of housing to skyrocket in recent years, pushing many out of homeownership and pushing others to look out-of-state.
To help, real estate professionals can call for more housing to be built in their communities, countering the vocal voices of not-in-my-backyard (NIMBY) advocates. Attend a local city council meeting and become an advocate for more housing and a more stable housing market.
Related article:
Strict zoning laws are strangling California's housing market