The number of migrants into California continued to decline in 2017, equaling just 26,700 new migrants. These modest gains were due entirely to individuals relocating to California from other countries, as more residents continued to leave California for other states.
In 2017, domestic migration fell, as 138,200 more individuals left for other states than entered. While certainly discouraging, 2017's decline is far less than the net loss of nearly 300,000 individuals experienced in 2006, at the height of the Millennium Boom.
Updated August 7, 2018. Original copy posted November 2013.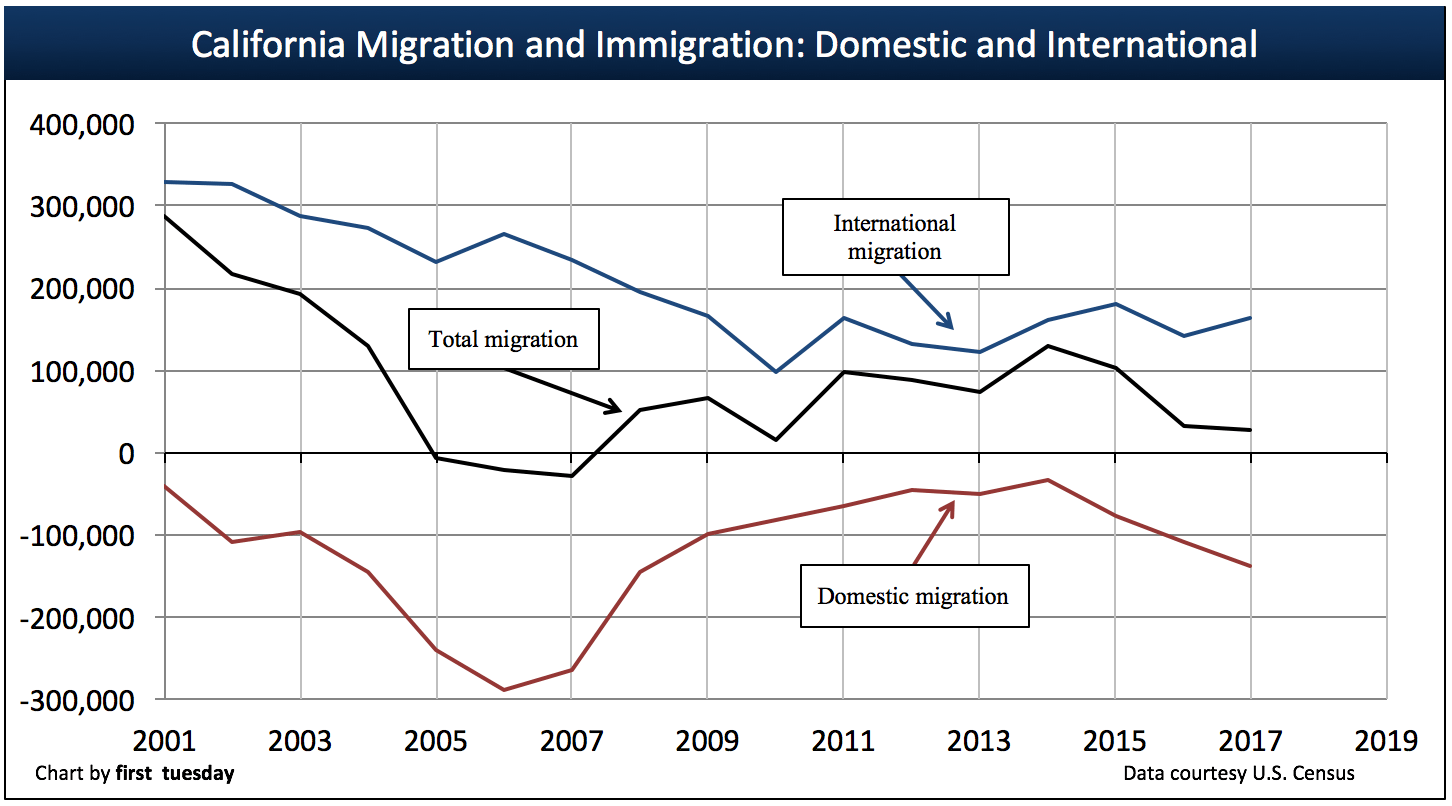 Chart update 08/07/18
| | | | |
| --- | --- | --- | --- |
| | 2017 | 2016 | 2015 |
| Domestic migration | -138,200 | -109,000 | -77,200 |
| International migration | +164,900 | +142,600 | +180,700 |
| | +26,700 | +33,500 | +103,500 |
Bye-bye, California. Hello, Texas!
California! A pleasant climate, giant sequoias, mountains, beaches, wind and solar farms, a thriving technology industry in the north and money-producing entertainment industry in the south all make the Golden State a great place to live.
So why are so many people leaving California for other states?
In 2017, 138,200 more individuals moved out of California than entered from other states. 138,000 fewer people is hardly a mass exodus, considering California's population numbers over 38 million. However, 2017 continues a negative migration trend experienced since the beginning of the 2000s. During California's 2006 domestic migration trough, nearly 300,000 more individuals left the state than entered from other states.
Reasons why individuals might leave California for other parts of the country include:
a high cost of living (including high home prices);
higher state income tax rates;
one of the highest sales tax rates; and
a still-struggling jobs recovery.
Further, California's foreclosure crisis was one of the worst in the nation. Many foreclosed homeowners who broke free of the bonds of negative equity chaining them to this state left to pursue employment opportunities elsewhere.
So where did California's domestic migrants go?
Texas was number one for domestic migration in 2015, netting 170,100 migrants from other states. What does Texas have that we don't?  Some major draws include:
a low cost of living (including low home prices, contributing to a homeownership rate nine percentage points higher than California's);
no income tax; and
a strong economy (stemming primarily from the oil and gas industry).
Before you, too, decide to give up California for the Lone Star State, there is some good news. You'll have to look a bit further beyond our national borders to find it.
Related articles:
Golden state population trends
Editor's note — Even when migration to California was at its trough, the state's population continued to rise (although at a slower pace than did the nation's population growth.) This is due to more net births than deaths.
International migrants: the future
According to the most recent U.S. Census data, California was the number one state for receiving migrants from outside the U.S., netting over 180,000 individuals in 2015. Florida took second place, with 129,500 international migrants. Further, more than one in four California residents were born abroad (twice that of the U.S. average).
Approximately 2.6 million of California's immigrant population are undocumented. Across much of the country, undocumented immigrants are unable to become homeowners. However, this is not the case in California.
To purchase a home and take out a mortgage, an undocumented immigrant need only obtain an Individual Tax Identification Number (ITIN). Still, fear of deportation and the need to be mobile to follow jobs (particularly for agricultural workers) has caused homeownership rates among undocumented immigrants to remain a low 17%.
As immigration reform progresses, a greater number of undocumented immigrants will become documented and seek out agents to buy a home. Likewise, the rate of homeownership among undocumented immigrants will likely grow from 17% to 28-34%, closer to the homeownership rate of documented immigrants, according to the National Association of Hispanic Real Estate Professionals (NAHREP)
Related article:
California's beautiful climate, cultural resources, and diverse business environment will continue to lure new residents from around the world, particularly as the jobs recovery heats up in the coming years.
How to capitalize on migration in and out of California
Brokers and agents can benefit from California's large international immigrant population by embracing the concept. Strategies include:
learning the language of your area's most populous immigrant community (Spanish, Mandarin, etc.) to become competitive; and
becoming versed in the extra steps it takes for our 2.6 million undocumented immigrants to purchase homes.
Even the domestic migration out of California presents an opportunity. Agents can earn income from domestic migrants by joining a referral network to assist clients both leaving and entering the state. When you refer a buyer to an out-of-state agent, you receive income paid as a percentage of the other agent's fee, and vice-versa.
Another way to make the most of California migration is to become a relocation agent. Many companies, including the larger franchises, offer relocation services throughout the country. Or, you can reach out to businesses on your own and offer your services to help employees relocate into and out of your area.
California will continue to lure the talented and wealthier residents from around the world. Preparing to work with these newcomers will allow agents to excel in California, no matter the swing of migration.