This article analyzes California real estate salesperson and broker trends in renewals, expirations and licensing.
first tuesday's readership mainly consists of real estate professionals. Since our writings focus on California's real estate market, it's likely that you, dear reader, are one of the nearly 400,000 individuals who hold a Department of Real Estate (DRE) license in California.
What distinguishes these licensees from one another? And what are the trends for licensing, renewals and licensees leaving profession in 2019?
The answers have implications for your practice today and in the years to come. Read on for an in-depth analysis of California licensee numbers.
State and regional populations
In California, there are 395,430 DRE licensees as of June 2019, consisting of:
103,963 individual brokers; and
291,467 salespersons.
Of the individual brokers licensed in 2019:
15,598 are employing brokers;
77,579 are broker-associates;
9,204 are mortgage loan originator (MLO)-endorsed brokers; and/or
10,786 are inactive, not currently using their licenses to practice real estate.
Of the salespersons licensed in 2019:
206,716 are active;
84,751 are inactive, not currently using their licenses; and/or
6,636 are MLO-endorsed salespersons.
A much higher percentage of salespersons are inactive than their broker colleagues, with 10% of brokers inactive compared to 29% of salespersons.
The largest population of brokers and agents is located in Los Angeles County (also the county which sees the most home sales each year), followed by Orange County and San Diego.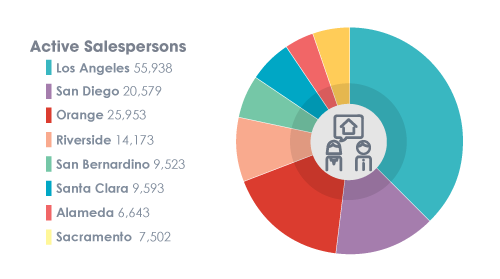 Of these largest counties, it's easiest to be an agent where competition from other salespersons isn't as fierce. The ratio of annual home sales volume to active salespersons is:
Salespersons and brokers in areas with higher ratios of sales-per-agent — like Sacramento and Riverside — likely experience more job security. However, since sale prices tend to be higher in Los Angeles than nearby Riverside, Los Angeles' low sales-per-agent ratio doesn't necessarily mean that incomes are significantly different even when fewer sales occur per agent.
New licensee trends
In the 2018-2019 fiscal year:
23,648 new salesperson licenses were issued; and
2,324 broker licenses were issued.
The trend for broker licensing is up from the previous year, while salesperson licensing is flat.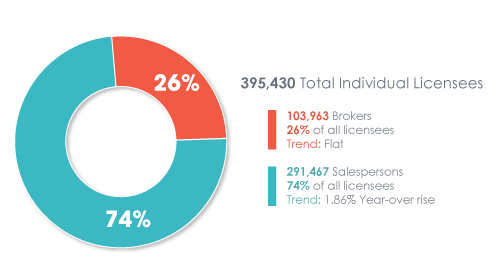 Alongside the number of total licensees, the share of new licensees this past year is:
8.1% of all salespersons; and
2.2% of all brokers.
In addition to education requirements, the DRE requires broker applicants to have two years of full-time experience as a salesperson within the previous five years. Salesperson applicants need to fulfill education requirements, but other than basic requirements like disclosing any criminal violations and being an adult, the minimum qualifications to apply for the salesperson exam are few.
Given the higher commitment that it takes to become a broker, it's no wonder four times as many new salespersons entered the workforce in 2019 than brokers.
The passing rate for the state exam is 55% for salespersons and 54% for brokers, higher for those who use prep materials beyond the minimum education requirements.
Editor's note — first tuesday offers three options for students preparing to take the state exam: a live crash course, a prep course for the state broker licensing exam and a prep course for the sales agent exam.
While positive, most months the current influx of fresh agents and brokers is insufficient to replace expiring, non-renewing agents. Worse, new licensees will slow to a trickle the moment stories emerge about falling prices and increasing foreclosure rates, a near certainty as California home sales volume continues to decrease in 2019 in the lead-up to the next recession.
Further, while 2019's interest rate cuts have somewhat revitalized home prices in 2019, mortgage rates have only briefly stalled ahead of the looming recession, expected in mid-2020.
Renewal, expiration trends
Sales agent licensing trends are traditionally more volatile than renewal trends. That's because market forces have a more direct impact when individuals sense it's a good time to start a new career as a salesperson or broker. On the other hand, a licensee may choose to renew no matter what's going on with sales volume or prices, choosing to hold onto their license even if they're not currently benefiting from it.
The percentage of brokers renewing their license is consistently much higher than sales agents, with an average of 93% of brokers renewing in 2019 compared to 80% of salespersons. Considering the greater amount of education and experience required to obtain a broker's license, it's reasonable that the vast majority choose to renew.
Looked at another way, this renewal rate translates to 1,875 brokers and 13,336 salespersons letting their licenses expire statewide in fiscal year 2018-2019.
Related article:
Home sales volume impacts sales agent licensing and renewals
A forecast for licensees in 2020 and beyond
Year-to-date home sales volume is 6% below a year earlier as of August 2019. This continues the year-over-year decrease that began over a year ago, in 2018.
When home sales consistently slow, the inevitable result is for home prices to flatten, then fall. In California, home prices began to fall off in late 2018, but rebounded slightly during the spring buying season. As of July 2019, prices are barely above a year earlier, 1% higher in the mid- and high tier and 3% higher in the low tier — basically flat when accounting for inflation.
For licensees, flat prices and fewer home sales means incomes are suffering. Once prices resume their decrease in 2020 — a natural occurrence following a consistent decline in sales volume and in the lead-up to a recession — licensees will struggle even more to maintain their same standard of living.
Discouraged agents will fail to renew their licenses and the active population will decrease. The next significant increase in salespersons and brokers will arrive in the years following 2021, at which time public confidence will return through added jobs and increased sales volume. Demographic shifts will push California's housing market to the next boom as first-time homebuyers and retiring Baby Boomers converge on the market in a Great Confluence.
In the meantime, agents and brokers seeking to continue making a living during the continued slowdown can expand their practice, practice new investment strategies and double down on marketing efforts. Read more about how licensees can survive the next recession here.