Use this first tuesday FARM Letter in your marketing. To request a FARM letter topic, or to see a list of all our FARM letter templates, visit our FARM Letter page.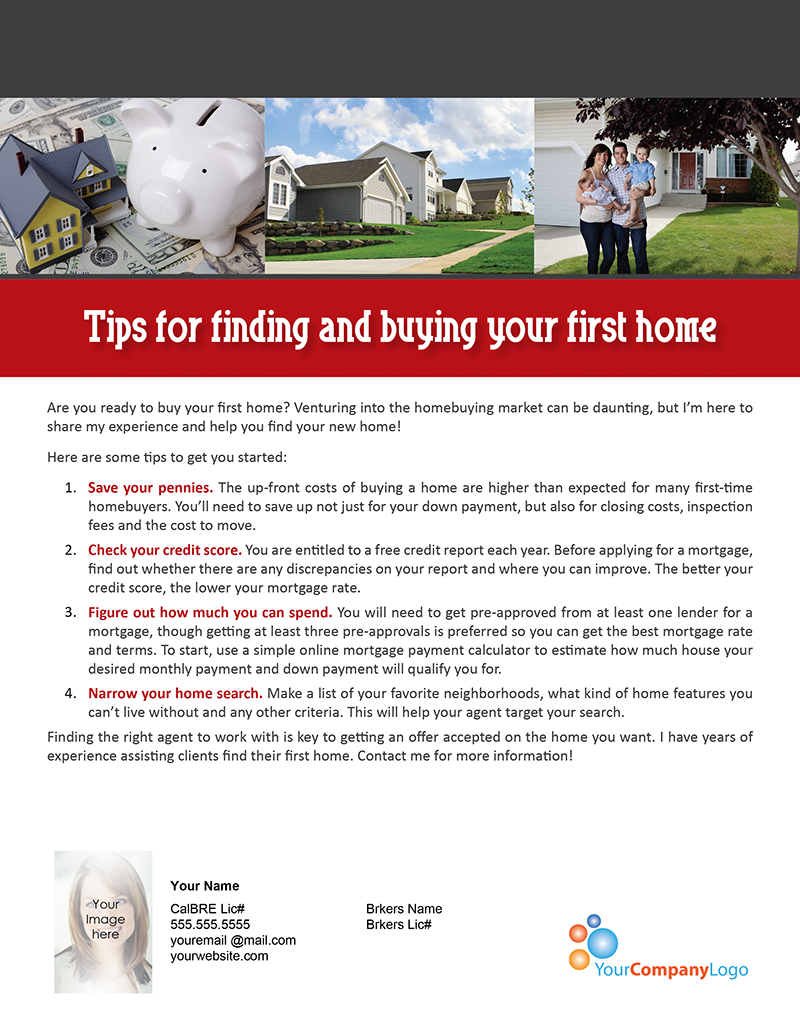 Download the Personalization Instructions
Download the PDF Template
Download the Microsoft Word Template
Text only
Are you ready to buy your first home? Venturing into the homebuying market can be daunting, but I'm here to share my experience and help you find your new home!
Here are some tips to get you started:
Save your pennies. The up-front costs of buying a home are higher than expected for many first-time homebuyers. You'll need to save up not just for your down payment, but also for closing costs, inspection fees and the cost to move.
Check your credit score. You are entitled to a free credit report each year. Before applying for a mortgage, find out whether there are any discrepancies on your report and where you can improve. The better your credit score, the lower your mortgage rate.
Figure out how much you can spend. You will need to get pre-approved from at least one lender for a mortgage, though getting at least three pre-approvals is preferred so you can get the best mortgage rate and terms. To start, use a simple online mortgage payment calculator to estimate how much house your desired monthly payment and down payment will qualify you for.
Narrow your home search. Make a list of your favorite neighborhoods, what kind of home features you can't live without and any other criteria. This will help your agent target your search.
Finding the right agent to work with is key to getting an offer accepted on the home you want. I have years of experience assisting clients find their first home. Contact me for more information!