Use this first tuesday FARM Letter in your marketing. To request a FARM letter topic, or to see a list of all our FARM letter templates, visit our FARM Letter page.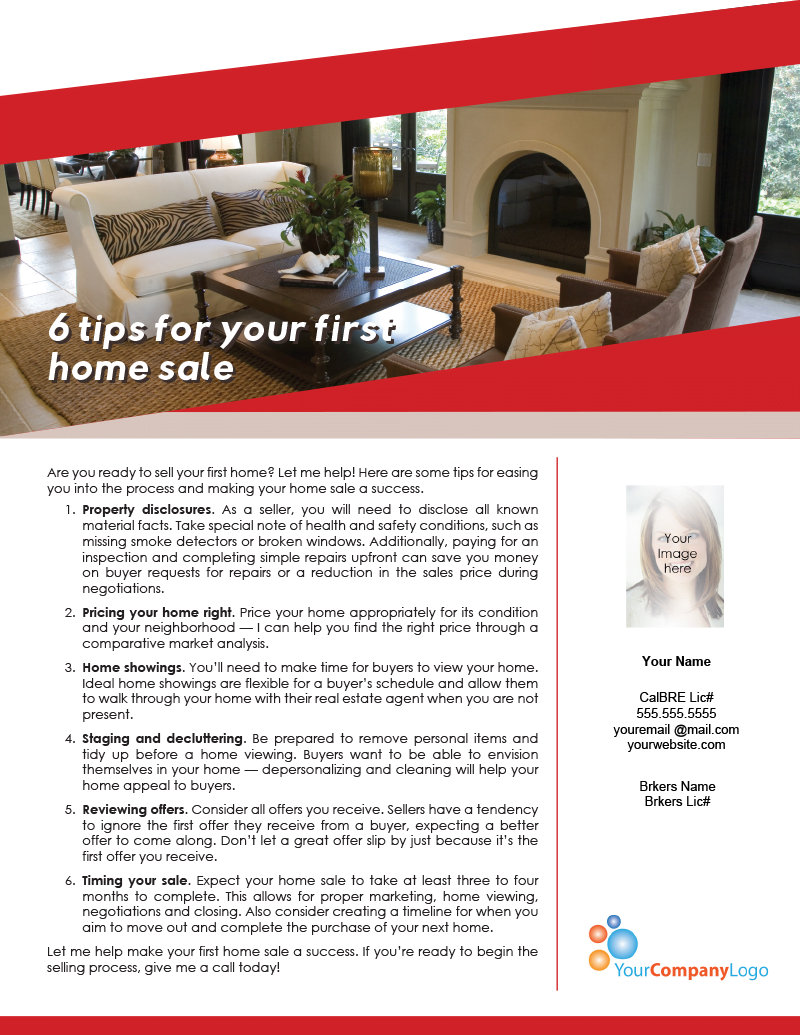 Download the Personalization Instructions
Download the PDF Template
Download the Microsoft Word Template
Text only
Are you ready to sell your first home? Let me help! Here are some tips for easing you into the process and making your home sale a success.
Property disclosures. As a seller, you will need to disclose all known material facts. Take special note of health and safety conditions, such as missing smoke detectors or broken windows. Additionally, paying for an inspection and completing simple repairs upfront can save you money on buyer requests for repairs or a reduction in the sales price during negotiations.
Pricing your home right. Price your home appropriately for its condition and your neighborhood — I can help you find the right price through a comparative market analysis.
Home showings. You'll need to make time for buyers to view your home. Ideal home showings are flexible for a buyer's schedule and allow them to walk through your home with their real estate agent when you are not present.
Staging and decluttering. Be prepared to remove personal items and tidy up before a home viewing. Buyers want to be able to envision themselves in your home — depersonalizing and cleaning will help your home appeal to buyers.
Reviewing offers. Consider all offers you receive. Sellers have a tendency to ignore the first offer they receive from a buyer, expecting a better offer to come along. Don't let a great offer slip by just because it's the first offer you receive.
Timing your sale. Expect your home sale to take at least three to four months to complete. This allows for proper marketing, home viewing, negotiations and closing. Also consider creating a timeline for when you aim to move out and complete the purchase of your next home.
Let me help make your first home sale a success. If you're ready to begin the selling process, give me a call today!