Use this first tuesday FARM Letter in your marketing. To request a FARM letter topic, or to see a list of all our FARM letter templates, visit our FARM Letter page.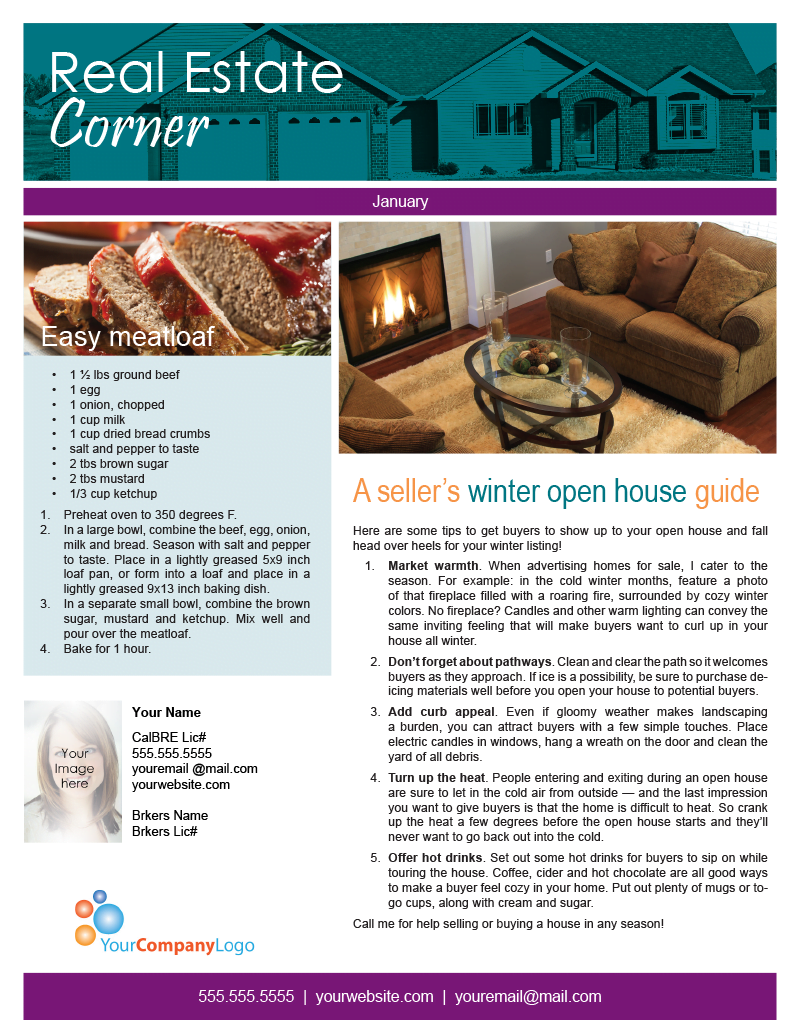 Download the Personalization Instructions
Download the PDF Template
Download the Microsoft Word Template
Text only
Easy meatloaf
1 ½ lbs ground beef
1 egg
1 onion, chopped
1 cup milk
1 cup dried bread crumbs
salt and pepper to taste
2 tbs brown sugar
2 tbs mustard
1/3 cup ketchup
Preheat oven to 350 degrees F.
In a large bowl, combine the beef, egg, onion, milk and bread. Season with salt and pepper to taste. Place in a lightly greased 5×9 inch loaf pan, or form into a loaf and place in a lightly greased 9×13 inch baking dish.
In a separate small bowl, combine the brown sugar, mustard and ketchup. Mix well and pour over the meatloaf.
Bake for 1 hour.
A seller's winter open house guide
Here are some tips to get buyers to show up to your open house and fall head over heels for your winter listing!
Market warmth. When advertising homes for sale, I cater to the season. For example: in the cold winter months, feature a photo of that fireplace filled with a roaring fire, surrounded by cozy winter colors. No fireplace? Candles and other warm lighting can convey the same inviting feeling that will make buyers want to curl up in your house all winter.
Don't forget about pathways. Clean and clear the path so it welcomes buyers as they approach. If ice is a possibility, be sure to purchase de-icing materials well before you open your house to potential buyers.
Add curb appeal. Even if gloomy weather makes landscaping a burden, you can attract buyers with a few simple touches. Place electric candles in windows, hang a wreath on the door and clean the yard of all debris.
Turn up the heat. People entering and exiting during an open house are sure to let in the cold air from outside — and the last impression you want to give buyers is that the home is difficult to heat. So crank up the heat a few degrees before the open house starts and they'll never want to go back out into the cold.
Offer hot drinks. Set out some hot drinks for buyers to sip on while touring the house. Coffee, cider and hot chocolate are all good ways to make a buyer feel cozy in your home. Put out plenty of mugs or to-go cups, along with cream and sugar.
Call me for help selling or buying a house in any season!