Use this first tuesday FARM Letter in your marketing. For a list of all our FARM letter templates and copy, visit our FARM Letter page. Have a topic you'd like us to write about?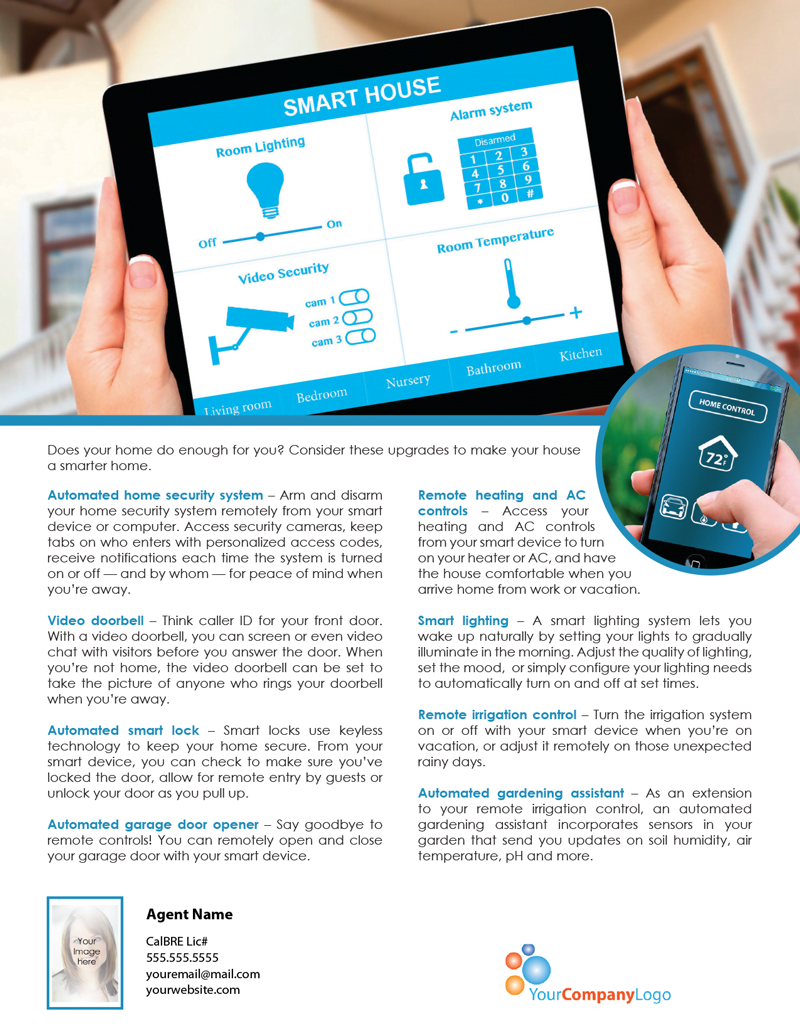 Download the Personalization Instructions
Download the PDF Template
Download the Microsoft Word Template
Text only
Does your home do enough for you? Consider these upgrades to make your house a smarter home.
Automated home security system – Arm and disarm your home security system remotely from your smart device or computer. Access security cameras, keep tabs on who enters with personalized access codes, receive notifications each time the system is turned on or off –– and by whom –– for peace of mind when you're away.
Video doorbell – Think caller ID for your front door. With a video doorbell, you can screen or even video chat with visitors before you answer the door. When you're not home, the video doorbell can be set to take the picture of anyone who rings your doorbell when you're away.
Automated smart lock – Smart locks use keyless technology to keep your home secure. From your smart device, you can check to make sure you've locked the door, allow for remote entry by guests or unlock your door as you pull up.
Automated garage door opener – Say goodbye to remote controls! You can remotely open and close your garage door with your smart device.
Remote heating and AC controls – Access your heating and AC controls from your smart device to turn on your heater or AC, and have the house comfortable when you arrive home from work or vacation.
Smart lighting – A smart lighting system lets you wake up naturally by setting your lights to gradually illuminate in the morning. Adjust the quality of lighting, set the mood, or simply configure your lighting needs to automatically turn on and off at set times.
Remote irrigation control – Turn the irrigation system on or off with your smart device when you're on vacation, or adjust it remotely on those unexpected rainy days.
Automated gardening assistant – As an extension to your remote irrigation control, an automated gardening assistant incorporates sensors in your garden that send you updates on soil humidity, air temperature, pH and more.