Consumer sentiment about future economic conditions in California remained about the same in the second quarter (Q2) of 2018. Planned spending on big-ticket purchases rose from the previous quarter. The outlook for future spending is more positive than negative, according to Chapman University's California Consumer Sentiment Survey. 
Last quarter's positive results continue a mostly rising trend in consumer sentiment experienced throughout this extended recovery from the 2008 recession. 
Keep in mind, future expectations are unreliable as they mostly mirror past experience. They are just projections, not forecasts of likely consumer purchases.
Expect consumer sentiment to continue to rise alongside California's strong economic growth. However, rising interest rates and a falling yield spread signal a recession on the horizon. Further, continued high prices and hot competition for few homes have many consumers putting off home purchases until 2019 or later. First, wages will need to catch up with rising prices and interest rates. Only then will the next peak in home sales occur.
Updated June 11, 2018. Original copy released January 2013.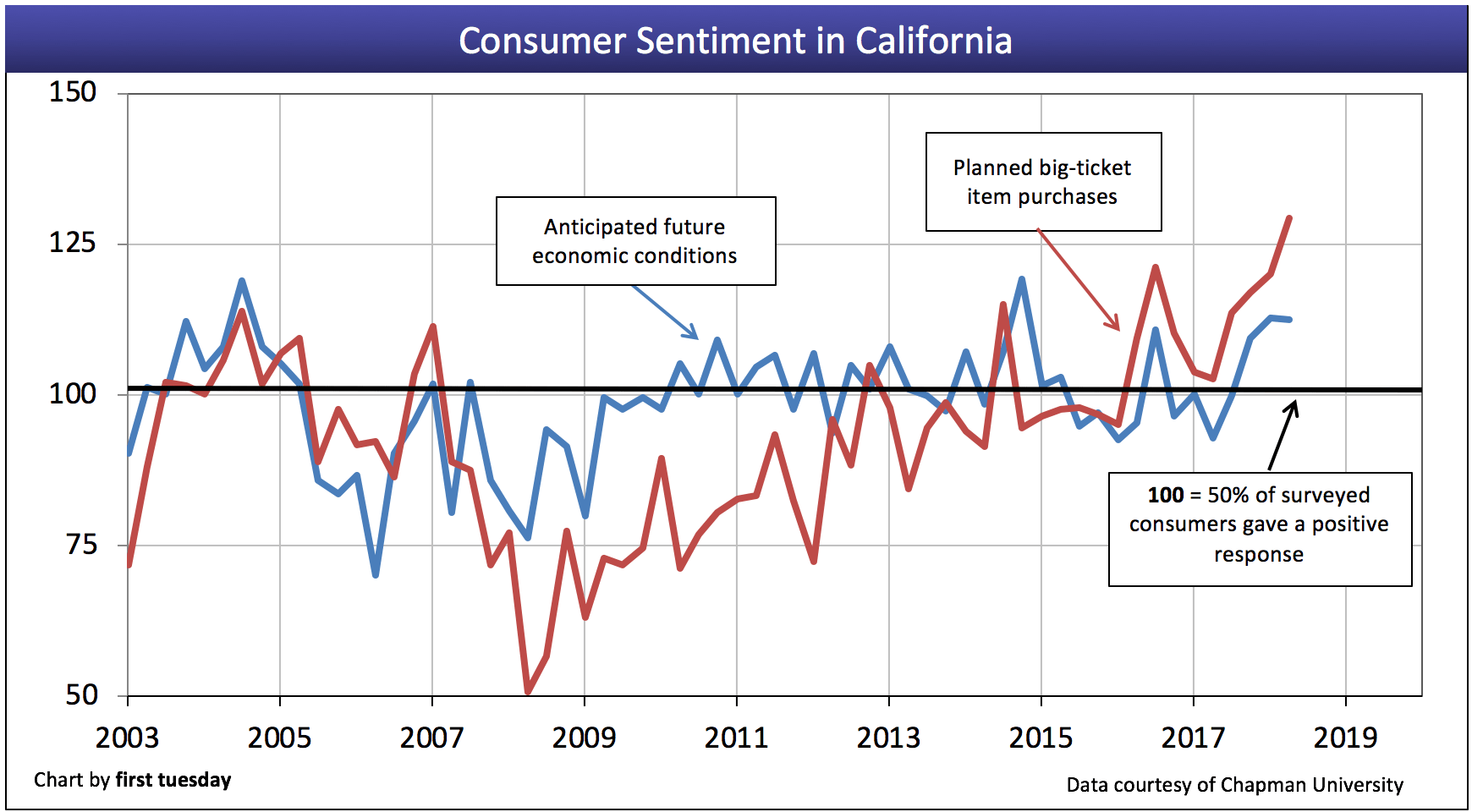 Chart update 06/11/18
| | | | |
| --- | --- | --- | --- |
| | Q2 2018 | Q1 2018 | Q2 2017 |
| Anticipated Economic Conditions Index | 113 | 113 | 93 |
| Planned Big-Ticket purchases Index | 129 | 120 | 103 |
Data courtesy of Chapman University
Reading the chart
Changes in homebuyer opinion in California are tracked based on two survey questions relating to:
anticipation of future economic conditions — the blue line; and
consumer plans for big-ticket item spending — the red line.
The greater the percentage of positive responses, the higher the index figure. An index of 100 means an equal number of positive and negative responses. Agents and brokers who follow the trend of both lines will improve their awareness of how potential homebuyers will behave in the coming months.
Why consumer sentiment matters to real estate
To become or remain professionally successful, brokers and agents need to accurately anticipate their future sales numbers. Information on homebuyer sentiment is predictive of future real estate sales volume for brokers and agents, since it tracks both:
where we have been, as sentiment reflects the experience of past events; and
where we are going, as optimism about the economy is translated into willingness to make large purchases, such as a home purchase. Further, the level of buyer optimism or pessimism determines the durability of sales volume.
Consumer sentiment: one year forward events
When viewing both lines in the above chart, keep in mind that all survey responses are based on events that have already occurred — as experienced by the person interviewed. As more facts and information become available, reported and absorbed, buyers do change their opinions about the future. Homebuyer sentiment thus has a lag time of approximately a year before any buyer call to action is actually turned into a sale by agents.
Consumer expectations for future economic conditions (the blue line) have oscillated around the index number of 100 since 2013. Index numbers near 100 translate to an equal split between consumers who are optimistic and consumers who are pessimistic about future economic conditions.
During the Millennium Boom, the index was consistently high, reaching 119 in 2004. It's no coincidence (but not the sole factor by any standard) that home sales volume and prices were also at cyclical highs in California during that time.
The index remained below 100 in 2005-2010, signaling consumers were primarily pessimistic about their future economic conditions. However, 2014-2017 saw more positive swings in sentiment, reflective of the improving economy. It generally takes a full year before the results of consumer confidence are experienced, but home sales volume remains flat as we head into 2018.
Related articles:

Home sales volume and price peaks
Consumer sentiment's effect on the broader economy
The chart's red line, indicating planned large purchases, tracks an issue that will determine not just home sales, but the strength of the economy at large — primarily jobs.
The red line reveals the current perception of a homebuyer's ability to buy. If the line is trending upward, the number of prospective buyers who believe they are financially able to make large purchases and take on additional debt is increasing. Thus, brokers and agents can prepare for increased sales, as they will get better results when encouraging buyers to act in the year to come.
Turn consumer optimism into home sales
As sentiment about future economic conditions increases as we make our way through 2017, some additional positives you can direct potential homebuyers to include:
historically low mortgage rates (despite the recent increase of about one percentage point over last year's bargain-basement rates); and
rising consumer confidence about future conditions, indicating prices will gain end user (sustainable) support one year forward.
Get your buyers pre-approved in writing by two or three institutional lenders. This activity will confirm for sellers and listing agents that the would-be buyer has the ability to obtain a purchase-assist home loan. This initial step will go far to abate buyer concern that mortgage money is not available, which can paralyze potential sales.
Related article:

Homebuyer guidance to avoid a denial of credit
For a full recovery, of course, homebuyers need to not only accumulate sufficient savings to fund a down payment. Homebuyers need to also believe their personal access to mortgage funds will remain stable.
Thus, the job market has much significance for homebuyers. Jobs slowly but steadily improved in 2013. In 2014, California finally recovered jobs lost during the recession, exceeding pre-recession employment levels. Job growth has remained strong since, but the job market is not expected to reach a full recovery including population growth until 2019.
Related article:
Anticipating home sales trends
An individual's expected future economic condition, shown by the blue line on the chart, indicates the likelihood of a home purchase in the upcoming twelve months. This number is read as an indication of whether homebuyers expect their finances to be strong going forward.
2013 and most of 2014 saw vast speculator-driven increases in home pricing, unsupported by gains in sales volume. The price jump experienced in 2013 continued into 2014 and is still present in 2018. These developments were woefully inadequate to drive a strong, fast recovery.  Much like the sentiment for future economic conditions seen in the chart, despite this recent drop, the recovery continues on a slow, upward tilting bumpy plateau.