Use this first tuesday FARM Letter in your marketing. To request a FARM letter topic, or to see a list of all our FARM letter templates, visit our FARM Letter page.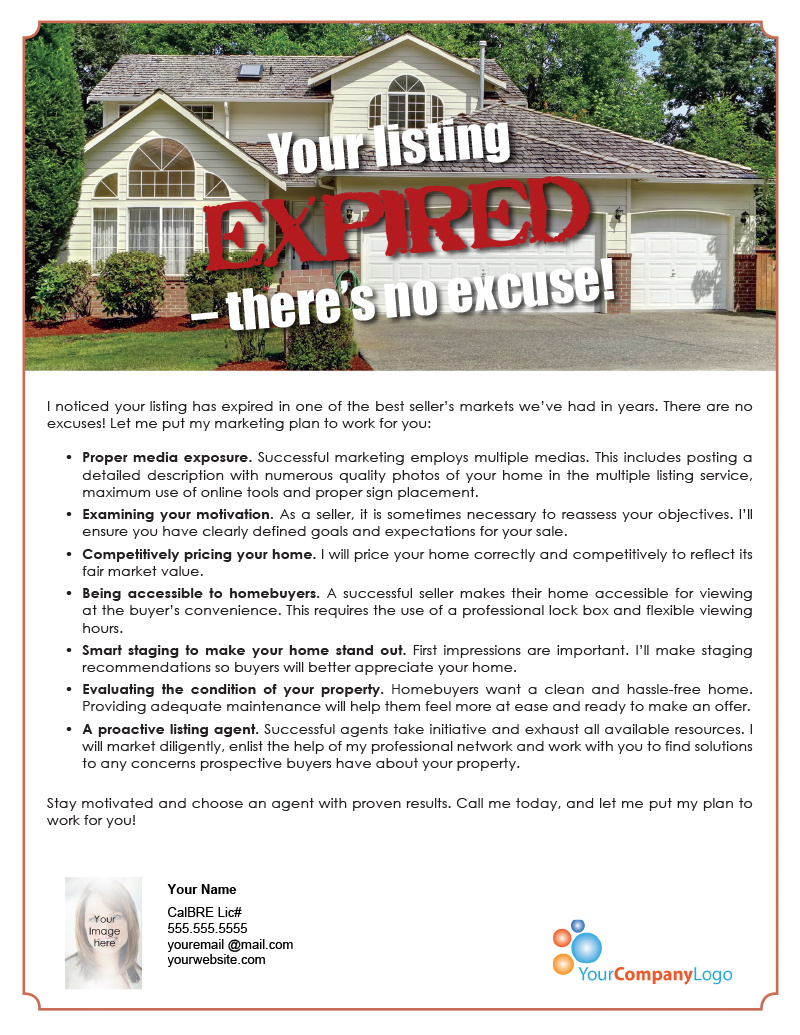 Download the Personalization Instructions
Download the PDF Template
Download the Microsoft Word Template
Text only
I noticed your listing has expired in one of the best seller's markets we've had in years. There are no excuses! Let me put my marketing plan to work for you:
Proper media exposure. Successful marketing employs multiple medias. This includes posting a detailed description with numerous quality photos of your home in the multiple listing service, maximum use of online tools and proper sign placement.
Examining your motivation. As a seller, it is sometimes necessary to reassess your objectives. I'll ensure you have clearly defined goals and expectations for your sale.
Competitively pricing your home. I will price your home correctly and competitively to reflect its fair market value.
Being accessible to homebuyers. A successful seller makes their home accessible for viewing at the buyer's convenience. This requires the use of a professional lock box and flexible viewing hours.
Smart staging to make your home stand out. First impressions are important. I'll make staging recommendations so buyers will better appreciate your home.
Evaluating the condition of your property. Homebuyers want a clean and hassle-free home. Providing adequate maintenance will help them feel more at ease and ready to make an offer.
A proactive listing agent. Successful agents take initiative and exhaust all available resources. I will market diligently, enlist the help of my professional network and work with you to find solutions to any concerns prospective buyers have about your property.
Stay motivated and choose an agent with proven results. Call me today, and let me put my plan to work for you!