Use this first tuesday FARM Letter in your marketing. To request a FARM letter topic, or to see a list of all our FARM letter templates, visit our FARM Letter page.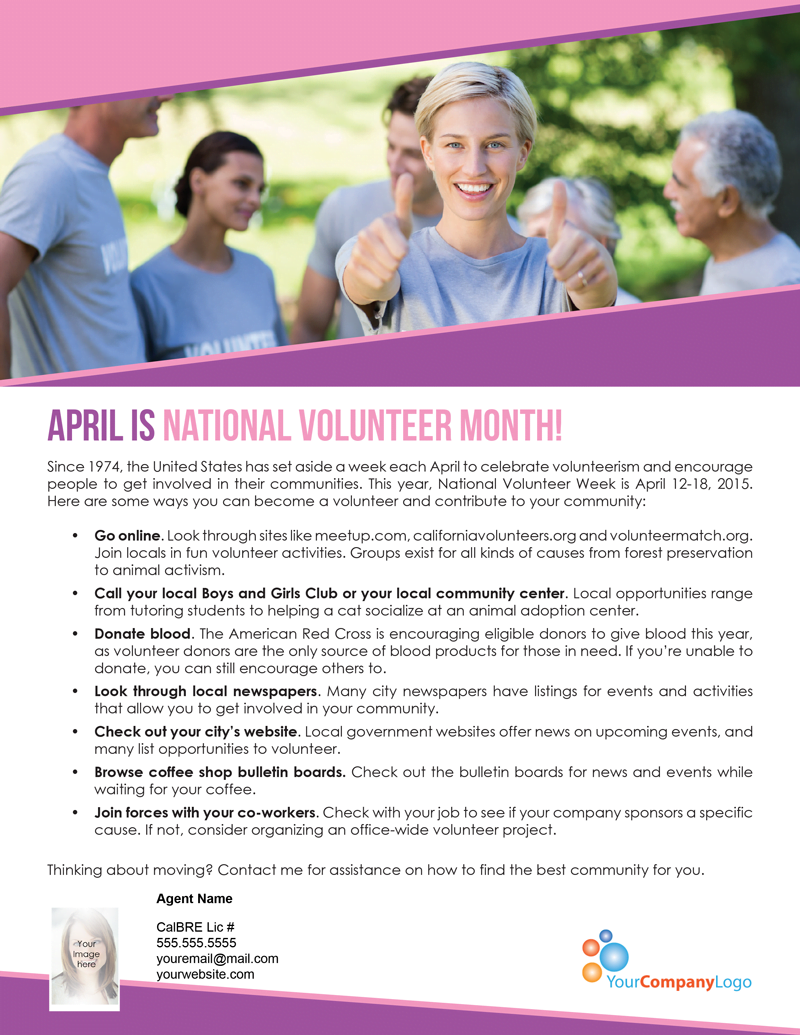 Download the Personalization Instructions
Download the PDF Template
Download the Microsoft Word Template
Text only
Since 1974, the United States has set aside a week each April to celebrate volunteerism and encourage people to get involved in their communities. This year, National Volunteer Week is April 12-18, 2015. Here are some ways you can become a volunteer and contribute to your community:
Go online. Look through sites like meetup.com, californiavolunteers.org and volunteermatch.org. Join locals in fun volunteer activities. Groups exist for all kinds of causes from forest preservation to animal activism.
Call your local Boys and Girls Club or your local community center. Local opportunities range from tutoring students to helping a cat socialize at an animal adoption center.
Donate blood. The American Red Cross is encouraging eligible donors to give blood this year, as volunteer donors are the only source of blood products for those in need. If you're unable to donate, you can still encourage others to.
Look through local newspapers. Many city newspapers have listings for events and activities that allow you to get involved in your community.
Check out your city's website. Local government websites offer news on upcoming events, and many list opportunities to volunteer.
Browse coffee shop bulletin boards. Check out the bulletin boards for news and events while waiting for your coffee.
Join forces with your co-workers. Check with your job to see if your company sponsors a specific cause. If not, consider organizing an office-wide volunteer project.
Thinking about moving? Contact me for assistance on how to find the best community for you.