Use this first tuesday FARM Letter in your marketing. To request a FARM letter topic, or to see a list of all our FARM letter templates, visit our FARM Letter page.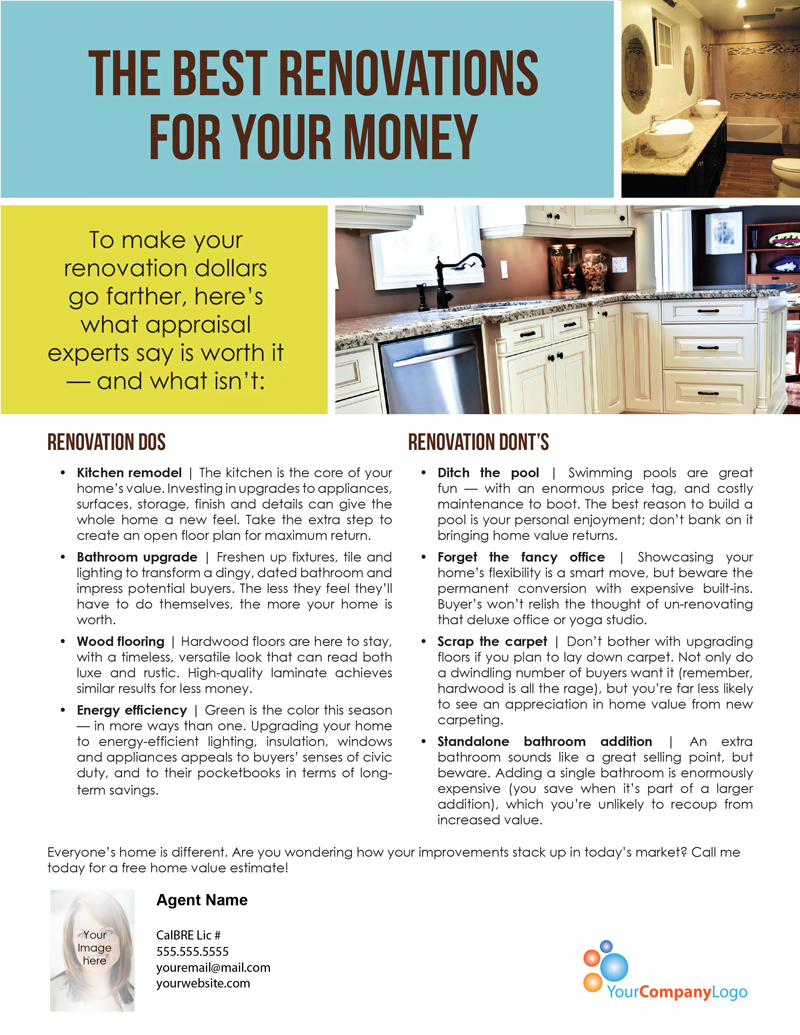 Download the Personalization Instructions
Download the PDF Template
Download the Microsoft Word Template
Text only
To make your renovation dollars go farther, here's what appraisal experts say is worth it — and what isn't:
Renovation Dos
Kitchen remodel | The kitchen is the core of your home's value. Investing in upgrades to appliances, surfaces, storage, finish and details can give the whole home a new feel. Take the extra step to create an open floor plan for maximum return.
Bathroom upgrade | Freshen up fixtures, tile and lighting to transform a dingy, dated bathroom and impress potential buyers. The less they feel they'll have to do themselves, the more your home is worth.
Wood flooring | Hardwood floors are here to stay, with a timeless, versatile look that can read both luxe and rustic. High-quality laminate achieves similar results for less money.
Energy efficiency | Green is the color this season — in more ways than one. Upgrading your home to energy-efficient lighting, insulation, windows and appliances appeals to buyers' senses of civic duty, and to their pocketbooks in terms of long-term savings.
Renovation DONT's
Ditch the pool | Swimming pools are great fun — with an enormous price tag, and costly maintenance to boot. The best reason to build a pool is your personal enjoyment; don't bank on it bringing home value returns.
Forget the fancy office | Showcasing your home's flexibility is a smart move, but beware the permanent conversion with expensive built-ins. Buyer's won't relish the thought of un-renovating that deluxe office or yoga studio.
Scrap the carpet | Don't bother with upgrading floors if you plan to lay down carpet. Not only do a dwindling number of buyers want it (remember, hardwood is all the rage), but you're far less likely to see an appreciation in home value from new carpeting.
Standalone bathroom addition | An extra bathroom sounds like a great selling point, but beware. Adding a single bathroom is enormously expensive (you save when it's part of a larger addition), which you're unlikely to recoup from increased value.
Everyone's home is different. Are you wondering how your improvements stack up in today's market? Call me today for a free home value estimate!