Today's largest homebuying group is running up against some major obstacles. This group, made up of Millennials who wish to buy but for so many reasons have been unable to, are collectively holding back the housing market.
79% of Millennials say that have had to put their homeownership dreams on hold either now or at some time prior. Compare this with 64% of Generation X and only 48% of Baby Boomers who have ever had to put homeownership on hold, according to a nationwide survey by Trulia.*
The surveyed Millennials who plan to buy in the next year cited many issues that have kept them from buying so far: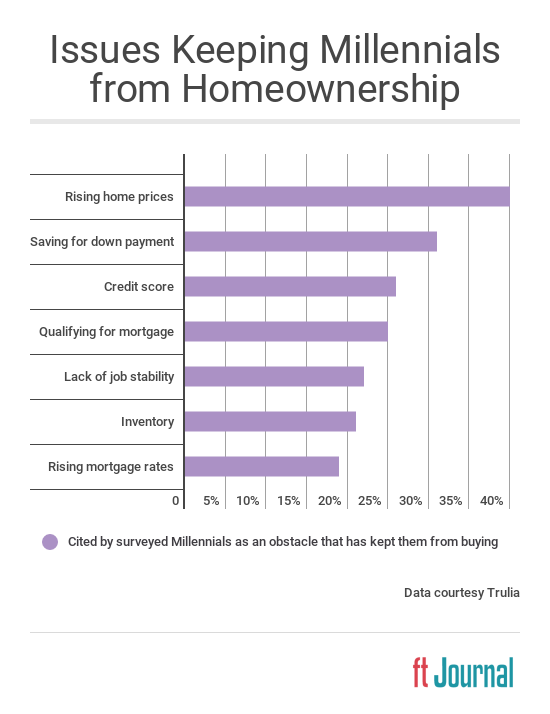 Millennials have experienced a delay in homeownership due to two big issues unique to this generation:
their delayed entry into the job market following the Great Recession, an obstacle reported by 17% of Millennials compared to 11% of Baby Boomers; and
high levels of student debt, reported by 15% of surveyed Millennials compared to just 1% of Baby Boomers.
The result of their many challenges: Millennials are more willing than older generations to give up desired home features in order to finally achieve homeownership, including: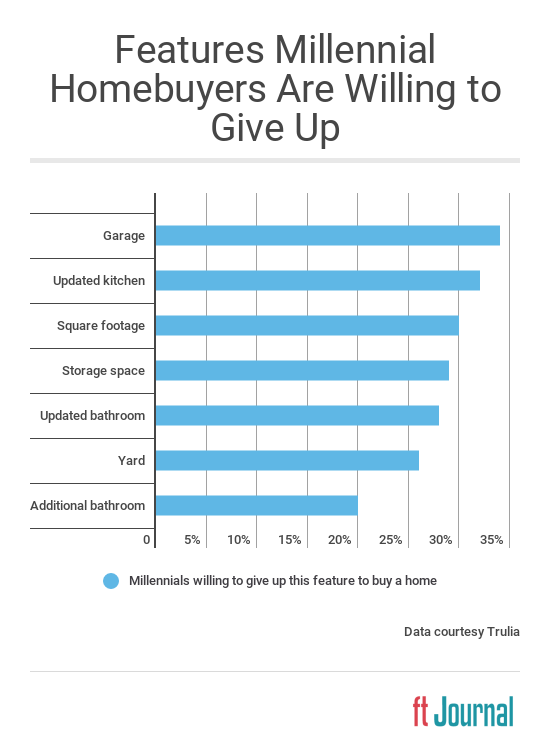 On the other hand, Millennials are actually less likely than older generations to give up on some desirable neighborhood features, including:
neighborhood activities;
access to good schools; and
a short commute to work.
*Trulia's nationwide survey was conducted on adults 18 years and older in April 2018. Millennials are those born in the years 1981-1998, Generation X consists of adults born in 1964-1981 and Baby Boomers are born in 1944-1964.
Related article:
Looking ahead
Millennials — today's largest homebuying group — are having extra difficulties breaking into homeownership. What can real estate agents do with this disheartening information?
First, look at the bright side: things are only getting easier for this generation of beleaguered home shoppers.
Since the recession ended, the number of student loan borrowers has dropped. Closely related, the recovering jobs market has made income stability less of an issue.
But one thing that's not getting better anytime soon is the lack of starter homes available. Inventory has dropped in recent years across all price points, but the shortage is worst for low- and mid-tier homes.
More new construction is needed in desirable areas — that is, near jobs (recall Millennials' reluctance for a long commute). In 2017, California legislators unveiled a package of bills aimed to encourage builders to do just that. Thus, the coming years will likely see a steady rise in residential construction, which will help homebuyers of all ages attain their homeownership goals.
In the meantime, agents: stick with this generation of homebuyers. They may be slow starters, but they are (finally) ready and willing to buy.
Related article:
California's inventory crunch hits mid- and low-tier buyers hardest