Use this first tuesday FARM Letter in your marketing. To request a FARM letter topic, or to see a list of all our FARM letter templates, visit our FARM Letter page.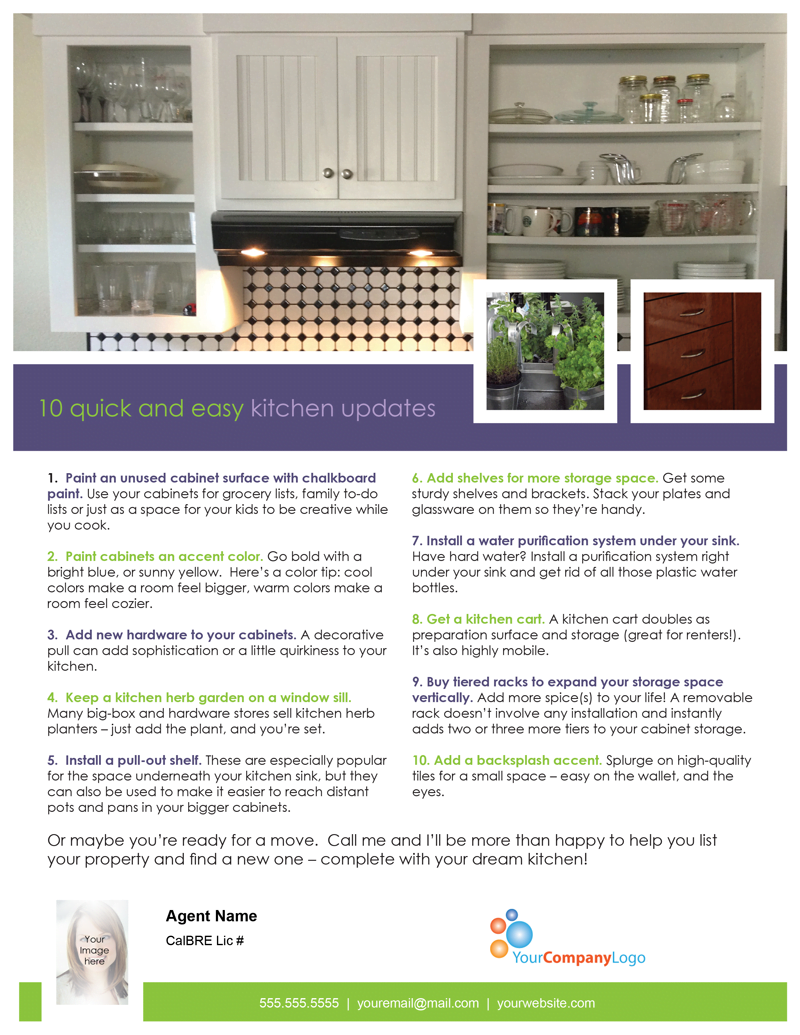 Download the Personalization Instructions
Download the PDF Template
Download the Microsoft Word Template
Text only
Add new life to your kitchen with these easy kitchen updates:
1.  Paint an unused cabinet surface with chalkboard paint. Spice up a wooden cabinet surface with a little chalkboard paint to make the surface ready for grocery lists, family to-do lists or just as a space for your kids to be creative while you cook. (And with some handy chalkboard markers, you don't have to worry about chalk dust!)
2.  Paint cabinets an accent color. Cabinets don't have to be white or brown. Go bold with a bright blue, or sunny yellow.  Here's a color tip: cool colors make a room feel bigger, warm colors make a room feel cozier.
3.  Add new hardware to your cabinets. Don't want to paint? Just replace the hardware. A decorative pull can add sophistication or a little quirkiness to your kitchen.
4.  Keep a kitchen herb garden on a window sill. Many big-box and hardware stores sell kitchen herb planters – just add the plant, and you're set. An added bonus?  The extra herb flavor may help you cut down on salt intake.
5.  Install a pull-out shelf. These are especially popular for the space underneath your kitchen sink, but they can also be used to make it easier to reach distant pots and pans in your bigger cabinets.
6. Add shelves for more storage space. Need more space, and have some open walls? Cabinets aren't the only way to go. Get some sturdy shelves and brackets. Stack your plates and glassware on them so they're handy.
7. Install a water purification system under your sink. Tap water doesn't cut it for you? Have hard water? Install a purification system right under your sink and get rid of all those plastic water bottles.
8. Get a kitchen cart. Tapped for storage, but don't want to install right into the wall? A kitchen cart doubles as preparation surface and storage (great for renters!). It's also highly mobile.
9. Buy tiered racks to expand your storage space vertically. Add more spice(s) to your life! A removable rack doesn't involve any installation and instantly adds two or three more tiers to your cabinet storage.
10. Add a backsplash accent. Your backsplash doesn't have to be uniform. Splurge on high-quality tiles for a small space – easy on the wallet, and the eyes.
Or maybe you're ready for a move.  Call me and I'll be more than happy to help you list your property and find a new one – complete with your dream kitchen!