Use this first tuesday FARM Letter in your marketing. To request a FARM letter topic, or to see a list of all our FARM letter templates, visit our FARM Letter page.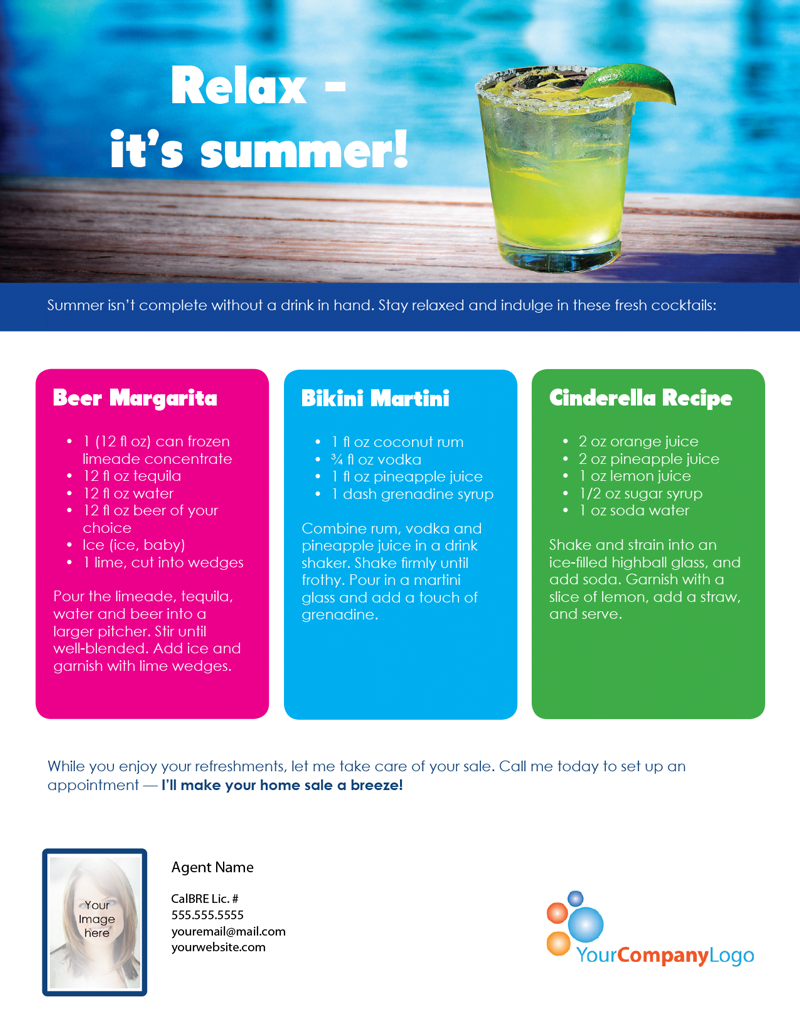 Download the Personalization Instructions
Download the PDF Template
Download the Microsoft Word Template
Text only
Summer isn't complete without a drink in hand. Stay relaxed and indulge in these fresh cocktails:
Beer Margarita
1 (12 fl oz) can frozen limeade concentrate
12 fl oz tequila
12 fl oz water
12 fl oz beer of your choice
Ice (ice, baby)
1 lime, cut into wedges
Pour the limeade, tequila, water and beer into a larger pitcher. Stir until well-blended. Add ice and garnish with lime wedges.
Bikini Martini
1 fl oz coconut rum
¾ fl oz vodka
1 fl oz pineapple juice
1 dash grenadine syrup
Combine rum, vodka and pineapple juice in a drink shaker. Shake firmly until frothy. Pour in a martini glass and add a touch of grenadine.
Cinderella Recipe
2 oz orange juice
2 oz pineapple juice
1 oz lemon juice
1/2 oz sugar syrup
1 oz soda water
Shake and strain into an ice-filled highball glass, and add soda. Garnish with a slice of lemon, add a straw, and serve.
While you enjoy your refreshments, let me take care of your sale. Call me today to set up an appointment — I'll make your home sale a breeze!