The number of residential mortgages refinanced in California has skyrocketed in 2020. 242,800 mortgages were refinanced in Q2 2020, over three times the 80,000 mortgage refinances closed one year earlier.
Refinancing was last most popular at the end of 2012, when mortgage interest rates were at – what were then – all-time lows. When interest rates rose, refinancing simply made less sense for homeowners. Refinances fell through the end of 2018 alongside rising interest rates. However, interest rates plunged again going into 2020, and refinances responded by rising as expected.

Fixed rate mortgage (FRM) rates continued down in Q2 and Q3 2020, at new historic lows in October as impacts from COVID-19 continue to rile the economy. As a result, refinances made up 79% of all mortgage originations in Q2 2020, up from the 50% share experienced a year earlier. Expect refinancing to continue to make up an oversized market share of mortgage originations in 2020 and 2021, reflective of fewer home sales and the continued attractiveness of low interest rates.
As today's economic trifecta of pandemic, market crash and recession grips homeowners, real estate professionals will find some relief driven by low interest rates. Be sure to advertise the huge savings potential of refinancing at today's low rates to your homeowner clients.
Updated October 20, 2020. Original copy released July 2014.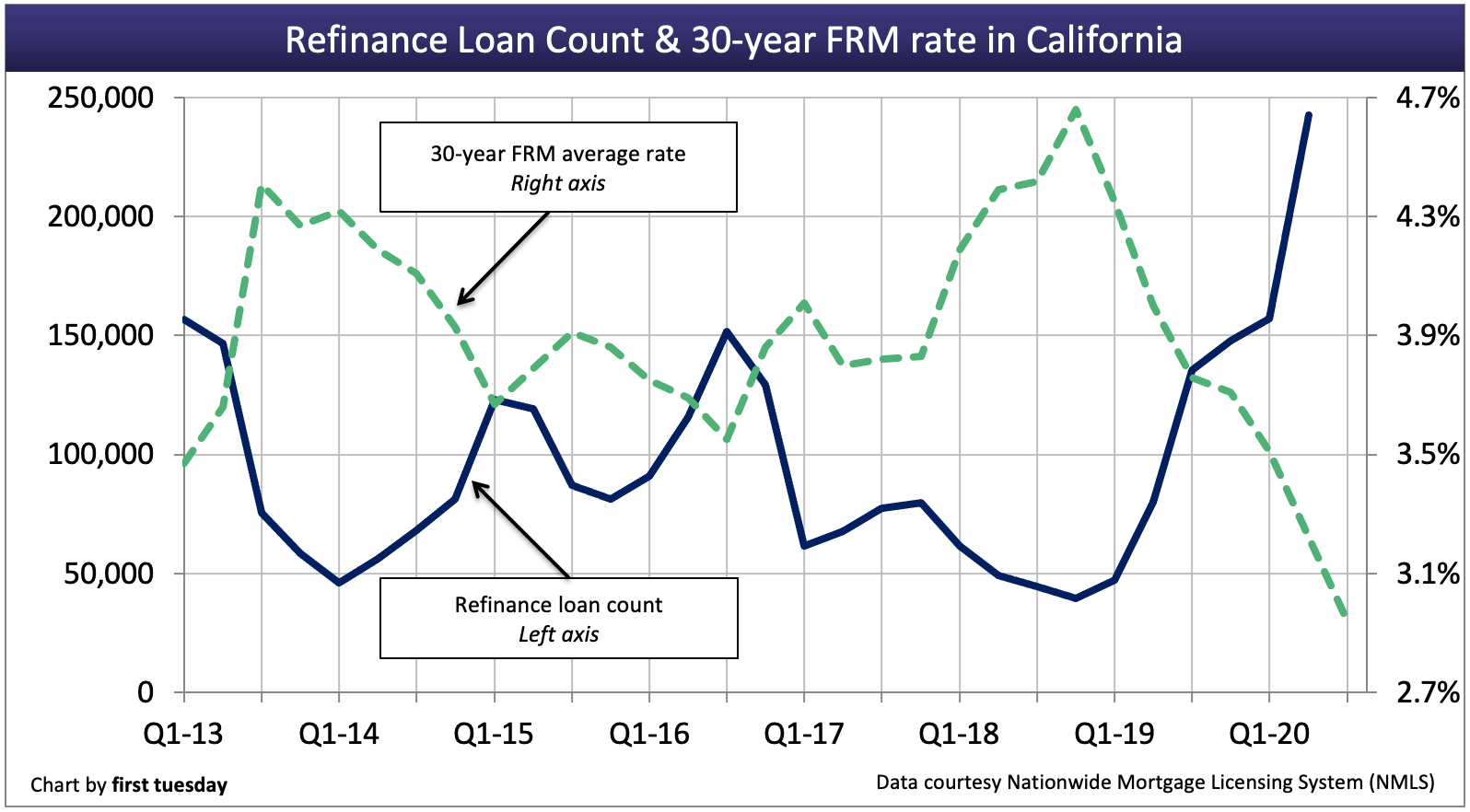 Chart update 10/20/20
| | | | |
| --- | --- | --- | --- |
| | Q2 2020 | Q1 2020 | Q2 2019 |
| Refinance loan count | 242,800 | 157,300 | 80,000 |
| Refinance loan amount | $95.8 billion | $74.9 billion | $32.7 billion |
| | 3.22% | 3.51% | 4.00% |
Refinancing keeps the mortgage industry afloat
Refinances made up a whopping 79% of the 307,500 mortgage originations in Q2 2020, with purchases making up nearly all the difference. This high share continues to break records, as mortgage purchase originations have dropped since Q4 2019 and plummeting interest rates have attracted a higher number of refinances.
The single largest influence on the increasing trend in refinancing over the past 12 months has been the historic decrease in mortgage rates.
2012 was the bottom of a 60-year rate cycle: 30 years of descending mortgage rates, followed by another 30 years of rising mortgage rates. Thus, the long-term outlook is one of steadily rising rates. However, the Federal Reserve (the Fed) began to drop rates in 2019 in preparation for the next recession, which officially began in February 2020. A struggling economy will keep interest rates low through at least 2023 before they resume their upward march. Therefore, expect refinances to continue to rise in 2021, in tandem with lower interest rates.
MLOs get nervous
The number of California mortgage loan originators (MLOs) have steadily risen each quarter since the first quarter (Q1) of 2012. State-licensed MLOs continue to rise, likely due to the availability of work, while federally registered MLOs have remained level since 2014. However, as rates continue to rise in 2018 and mortgage originations diminish, MLOs will undoubtedly find work less often. Thus, the renewal rate for MLOs is expected to likewise decrease, along with newly licensed MLOs.
Still, more activity is being seen from end user homebuyers (those most likely to take out mortgages, as opposed to speculators who are often armed with cash).
Where's the profit going to come from?
Lower bank earnings are expected for the next two-three decades, as banks will attempt to keep mortgage rates appealing while still maintaining a profit.
Low earnings will be further complicated by rising mortgage delinquencies. Nationally, there were 3.9 million homeowners in a mortgage forbearance program at the end of August 2020, equal to 7.4% of all mortgages, according to Black Knight. While in forbearance, the mortgage servicer agrees to temporary halt the foreclosure process while the homeowner attempts to bring the mortgage current.
Further, 6.9% of homeowners were in some stage of delinquency as of July 2020, with 4.6% of mortgages 90+ days past due, and rising. When the nationwide foreclosure moratorium ends at the end of December 2020, these mortgages will be fair game for lenders. Assuming the moratorium doesn't get extended yet again, an influx of foreclosures will occur in 2021, flooding the market with distressed sales.
Related article:
Rising 90+ day mortgage delinquencies are the foreclosure shadow inventory
Getting used to lower mortgage profits
Our message to MLOs is this: lower earnings will continue over the next two decades or so, with short reprieves when interest rates decline in tandem with recessionary activity. A shift in the housing market has occurred. Reduced buyer purchasing power equals stunted home sales volume and thus prices. But in the short-term as rates decline heading into the next recession, refinances will become more popular in 2020-2021, giving MLO licensees a momentary buffer.
The long-term outlook is not all dreary. Preparing now for reduced profits can help your mortgage business survive in the years to come. As profits per loan originated will again begin to decrease, the difference will have to be made up for in a greater volume of loan originations.
Buyers desire better customer service, and many are willing to pay a higher interest rate to get that service, according to a survey by Carlisle and Gallagher Consulting Group. Gaining a word of mouth reputation for superior customer service is one way to ensure you gain the loan volume needed to survive in the coming years.