The number of residential mortgages refinanced in California declined in the second quarter (Q2) of 2018.  Just 46,000 mortgages were refinanced in Q2 2018, down from 67,500 one year earlier.
Recently, refinancing was most popular at the end of 2012, when mortgage interest rates were at all-time lows. When interest rates jumped in mid-2013, refinancing simply made less sense for homeowners. However, the decline in mortgage rates experienced from 2014 to late-2016 sparked an uptick in refinances. This slight increase has since seen a sharp decline in 2018, due entirely to the recent rise in interest rates.

Expect refinances to continue to drop as mortgage rates won't return to the lows of 2012 for many years to come. 2012 was the bottom of a 60-year rate cycle: 30 years of descending mortgage rates, followed by another 30 years of rising mortgage rates.

Updated September 14, 2018. Original copy released July 2014.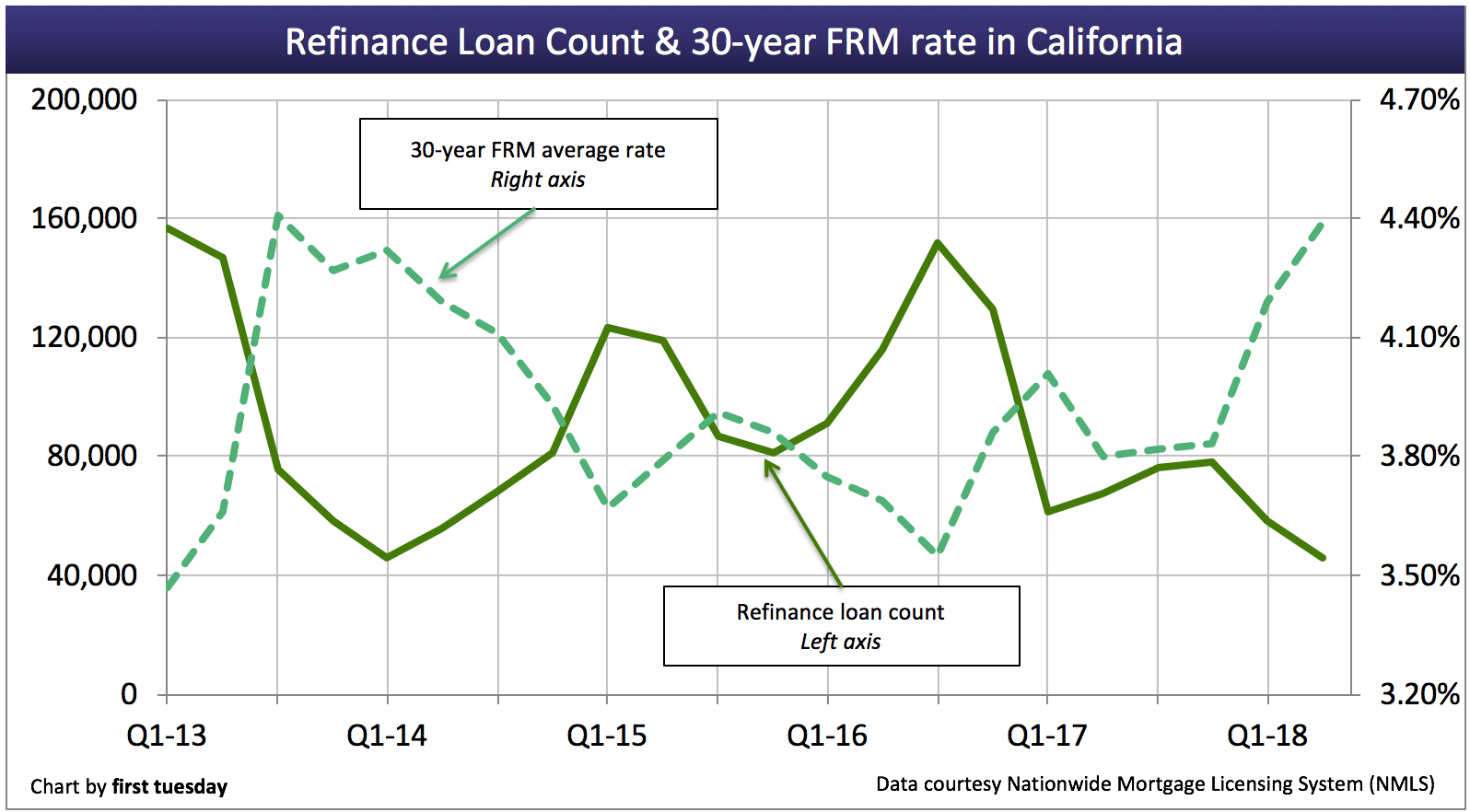 Chart update 09/14/18
| | | | |
| --- | --- | --- | --- |
| | Q2 2018 | Q1 2018 | Q2 2017 |
| Refinance loan count | 46,000 | 59,800 | 67,500 |
| Refinance loan amount | $16.5 billion | $21.7 billion | $23.5 billion |
| | 4.39% | 4.19% | 3.80% |
Refinancing begins trending downward
Refinances made up 38% of the 122,100 mortgage originations in Q2 2018, with purchases making up almost all the difference. This share is down from previous quarters.
The single largest influence on the downward trend in refinancing in Q2 2018 was the increase in mortgage rates. Further, interest rates have since continued to rise, and are likely to continue to up over the one-to-two years.
Be sure to mention this fact to homeowner clients hesitant about refinancing today. They may be unaware that mortgage rates have begun to rise. Further, if they are thinking about refinancing, it's better they do it in 2018 than in the coming years when rates edge higher.
MLOs get nervous
The number of California mortgage loan originators (MLOs) have steadily risen each quarter since the first quarter (Q1) of 2012. State-licensed MLOs continue to rise, likely due to the availability of work, while federally registered MLOs have remained level since 2014. However, as rates continue to rise in 2018 and mortgage originations diminish, MLOs will undoubtedly find work less often. Thus, the renewal rate for MLOs is expected to likewise decrease, along with newly licensed MLOs.
Still, more activity is being seen from end user homebuyers (those most likely to take out mortgages, as opposed to speculators who are often armed with cash). Thus, as refinances diminish, home purchases will maintain a slow and steady share of new mortgages through 2018.
Where's the profit going to come from?
Profits increased in Q2 2018 for mortgage originators. In Q2 2018, mortgage originators made an average profit of $580 per loan origination, up from a $118 loss per loan origination in Q1 2018, according to the Mortgage Bankers Association. Still, profits per origination were down by about half from a year earlier.
Despite the seasonal increase in profits, lower bank earnings are expected for the next two-three decades, as banks will attempt to keep mortgage rates appealing while still maintaining a profit.
On the plus side, as bank earnings decline with rising rates, they will be somewhat counteracted by the continuing decrease in mortgage delinquencies. The rate of mortgages 90+ days delinquent is nearly negligible in California, at less than 1%. For comparison, the height of delinquencies occurred in 2010 when just over 7% of all mortgages were 90+ days delinquent. The normal share is around 0.5%.
Delinquencies will continue to decrease as the economy fully recovers: first with a full recovery of all jobs lost in the 2008 recession, followed by home sales volume, along with a recovered delinquency rate.
Getting used to lower mortgage profits
Our message to MLOs is this: lower earnings are here to stay. With the rise in mortgage rates, a shift in the housing market will occur. Reduced buyer purchasing power equals stunted home sales volume and thus prices. Refinances will slow to a trickle and MLO licensees will see their numbers dwindle, as only the very successful are able to make a living.
The outlook is not all dreary, though. Preparing now for reduced profits can help your mortgage business survive in the years to come. As profits per loan originated will again begin to decrease, the difference will have to be made up for in a greater volume of loan originations.
Buyers desire better customer service, and many are willing to pay a higher interest rate to get that service, according to a survey by Carlisle and Gallagher Consulting Group. Gaining a word of mouth reputation for superior customer service is one way to ensure you gain the loan volume needed to survive in the coming years.