Things are looking up in California. Our state's super-sized economy is on a roll compared to the rest of the nation. Its economic maturity and independence is represented in the immense gross domestic product (GDP) produced in the Golden State.
GDP is the market value of the goods and services produced in a given region. With the exception of new construction, real estate sales are excluded from this measure.
California is the sixth largest economy in the world as of 2015, according to the International Monetary Fund (IMF). It makes up over 13% of total U.S. GDP.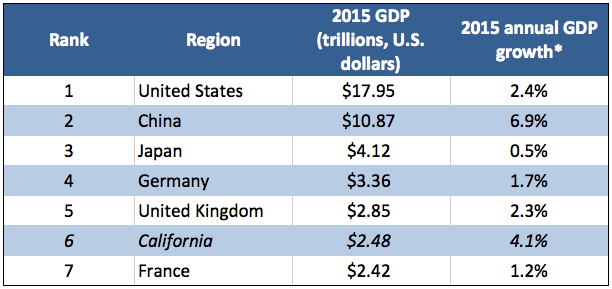 Source: The World Bank; U.S. Bureau of Economic Analysis (BEA)
* There are different ways to measure annual GDP and GDP growth. This table reports growth in constant dollars for each nation listed, adjusted by the World Bank to 2010 dollars, and chained, or real dollars for California, adjusted by the BEA to 2009 dollars. Both are ways to account for inflation.
California's economy grew at a faster rate than most of the wealthiest nations on this list, only behind China in 2015. Its economy grew 4.1% in 2015, according to the BEA. In contrast, U.S. GDP growth has been continually sluggish throughout the elongated recovery from the 2008 financial crisis and Great Recession, averaging just 1% per year from 2009-2016, and as high as 2.4% in 2015.
For reference, the state with the second-highest GDP is Texas, with a GDP of $1.6 trillion in 2015. Annual growth was 3.8% in this state in 2015, according to the BEA.
California's high cost of living chips away at GDP growth
However, as the Los Angeles Times points out, when considering the cost of living, California slips from sixth place to eleventh. In other words, while GDP is higher here than in, say, France — it's so expensive to live here that California's high GDP actually buys fewer goods and services here than France's lower GDP buys in France. This dynamic is called purchasing power parity. Compared to using market exchange rates, purchasing power parity more directly measures how GDP impacts the wellbeing of these regions' residents.
In addition to cost of living, California residents' wellbeing can be measured by:
how much wealth they hold (for homeowners, most of this wealth is stored in their home);
how much debt they owe (again, for mortgaged homeowners, most of this debt is leveraged in their home); and
their current level of employment income.
While California's employment market recovered the number of jobs it lost to the 2008 recession by the end of 2014 and continues to grow today, the other two measures of economic strength offer mixed signals.
The primary issue is California's expensive housing market. High and rapidly increasing rents and home values are beyond reasonable reach for most Californians, though there is evidence both are slowing down in the tail end of 2016.
Average California home prices have increased 9% over a year earlier in the high tier, 6% in the mid tier and 5% in the low tier, according to the Case-Shiller home price index. Rents have increased 5.2% over a year earlier, according to Zillow's rental index.
Meanwhile, the average California household income increased 4% in 2015 to $64,500, according to the U.S. Census, following several years of sub-3% income growth. Therefore, housing costs have quickly outpaced resident incomes.
Related article:
On the flip side, current homeowners receive the wealth boost from the increase in real estate values. The average home value in California is $469,300 as of October 2016, more than twice the national average home value of $191,200, according to Zillow. Therefore, Californians — homeowners at least — are wealthier on average than other Americans.
Obstacles to future economic success
The key to California's economic success stems from its diverse and robust industries, including agriculture, manufacturing, entertainment and information/technology systems. With warm weather and a world-class university system, it's also a pleasant place to live, attracting an ever-growing population of international migrants.
Silicon Valley's strong tech industry supports much of California's thriving economy (and international population, which make up 58% of science and technology employees with a bachelor's degree or higher). Valuable innovation job numbers rose 7% over a year earlier in Silicon Valley during 2015, according to Mercury News. This is head and shoulders above Southern California's innovative jobs growth rate of 1%.
Further, each employee in Silicon Valley adds approximately $225,000 each year to the economy. Compare this with the annual value added per employee in Southern California, which is a lesser $175,000, and the U.S. average of about $135,000, according to the Silicon Valley Competitiveness and Innovation Project.
But this important region in California's economy is facing headwinds in the form of insufficient housing for its valuable tech employees. Crowded, expensive living conditions have caused as many as one in three Bay Area residents to consider moving out of the area.
The quality of life in Bay Area cities has plummeted for all but the wealthiest, as many are forced out of their long-time communities when they no longer qualify for high rents and home prices. Necessary workers, like teachers, are now leaving the Bay Area in droves, with other necessary service employees following in search of a lower cost of living.
This is a problem in Southern California, too, where Los Angeles and San Diego housing costs far exceed what is reasonable by local income standards. As of 2015, the average renter can expect to spend an exorbitant 51% of their monthly income on an average rental in Los Angeles, and 41% of their monthly income on rent in San Diego, according to data from Zillow and the U.S. Census.
Related article:
The solution is simple: more housing needs to be built to satisfy the ever-growing population in California's largest — and economically successful — cities. Renters who spend half of their income on rent are not going to have enough left in their paycheck to save for a home purchase. This is evidenced in the declining homeownership rate across California, which is consistently the second-lowest in the nation, at 53.2% and falling as of the third quarter of 2016.
While statewide construction is slowly catching up to population growth, we have a significant way to go before housing costs can be brought back in line with incomes. For instance, Los Angeles is over a million housing units short of meeting population demand for housing, according to the Los Angeles Times. In contrast, a meager 23,500 new housing units were added in 2015.
Related article:
How to ensure enough new construction is built to keep California's economy on track?
It starts with loosening zoning restrictions in the most desirable areas — areas where jobs are plentiful and demand for housing is high. The state has recently made some small steps in that direction, with new legislation making second units easier to add to existing homes. But more needs to be done to make a large-scale difference to the high cost of housing that is weighing down economic growth.
The best way for real estate professionals to bring housing within reach of more potential clients' incomes is to advocate for more housing at the local level. Attend a local council meeting and get involved in other local efforts to improve your community.