We know business growth impacts the housing market, but does housing affect business growth? We examine the relationship between California's housing crisis and business formations in Part II of our articles series.
For a discussion on how business creation impacts the real estate market, see Part I, New business formation and California's housing market.
The myth of California's bad business climate
A claim commonly repeated as "truth," particularly by those with a political agenda, holds the wealthy, highly educated and innovative entrepreneurs among us are taking their businesses to other states to find refuge from California's overbearing taxes and government regulations.
The argument has fueled political campaigns and sparked debate among divided residents, but despite its controversial allure, these allegations of "truths" do not paint an accurate picture of the state economy. While taxes and regulations do affect businesses and consumers — with both pros and cons — what's significantly missing from the conversation is the role housing policy and home prices play in California's business and emigration trends.
Understanding what attracts and repels businesses in the Golden State requires a closer look at just who is leaving and why. We explore these trends below.
Residents waving goodbye
Business owners depend on an accessible population of employees to keep their businesses functioning and profitable. Thus, a look at migration trends provides insight into the challenges businesses face as prospective employees flow in and out of the state.
The latest trends show the majority of individuals who migrated to other states from California between 2007 and 2014 were low- and middle-income residents, according to a recent report by Beacon Economics.
The report found most residents exiting the state held annual incomes of less than $30,000, while California saw a net increase of residents with incomes of at least $50,000.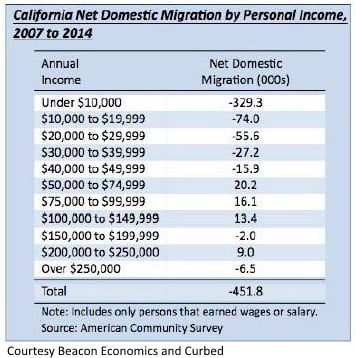 In correlation with income levels, the industries with the biggest losses of employees migrating out were lower-skilled occupations — accounting for a net outflow of about 193,000 during the studied period. These industries include:
transportation;
office/administration;
food preparation and serving;
production; and
cleaning and grounds keeping.
Conversely, occupations requiring more education and skill saw a net increase of about 54,000 migrants. Growing industries included:
healthcare;
computer and mathematics;
science;
legal; and
engineering and architecture.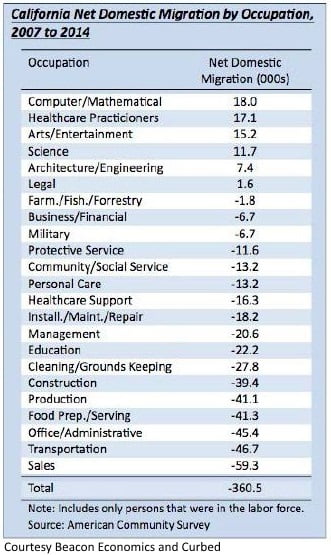 Migration trends also resulted in an increase of residents with a bachelor's degree or higher, while California lost a higher number of less educated residents.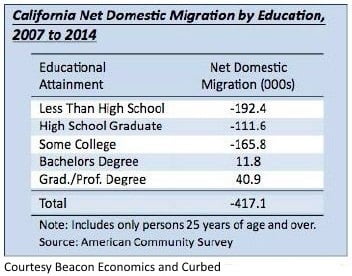 The overall gain of high-income, educated residents in thriving industries — those most impacted by higher income tax rates — and the loss of low-income residents in lower-skilled labor markets strongly suggest California's progressive taxation policy in place by popular vote is not the base cause of migration trends. Thus, other factors are attracting and repelling migrants.
Housing costs and the job market oust residents
We know low-income, less educated residents are leaving, but what's driving them out? A look at California's economy points to low wages and housing.
Disparities in the migration trends across different occupations highlight the strength of California's tech industries and growing market for highly skilled labor. Specifically, the state's coastal and urban communities are seeing a boom in industries requiring more skill.
This is promising for high-level employees. However, low- and mid-tier workers aren't reaping the same benefits. As the need among employers for a more educated, trained workforce increases, residents who are less educated or qualified will inevitably struggle to compete in the job market and obtain the income required to own or rent to live in California — at least comfortably.
Exacerbating the struggle to find employment at adequate wages are elevated housing costs taking over much of the state's populated and job-heavy regions.
Home prices are still continuing an upward trend, currently further pushing homeownership out of reach for low- and middle-income residents. Similarly, renting is no longer an affordable alternative as rental rates have well surpassed income thresholds for ability to pay, historically at 33% of gross income.
Meanwhile, median three-person household incomes across all income tiers have either stagnated or decreased, with low incomes seeing the largest drops. California residents now need to be wealthier to afford rentals or qualify for a mortgage to purchase a home.
In fact, a recent report on starter home affordability across the U.S. indicates nine out of the ten worst metropolitan areas for first-time homebuyers are here in California, with some regions requiring as much as 110% of a homebuyer's income to support a 30-year fixed-rate mortgage.
Those unable to find higher-paying jobs are now beckoned by other states where housing availability and the cost of living are within their financial means, joining more than 77,000 other residents who migrated out of California in 2015 alone.
What the exodus means for businesses
Emigration statistics not only paint a dreary picture for low-income residents, but also suggest a problematic outlook for the industries that employ them. Far from the claim it is merely taxation pushing these businesses out, it is housing costs that are compromising business growth.
Notably, California still retains a strong job market and economy, holding the highest business survival rate of any state. Its skilled labor force and diverse population of consumers make it a prime location for business — a fact many entrepreneurs have taken note of as business start-ups flourish across the state.
What the state's businesses now face are precarious low- and even middle-income employee populations in need of income growth. As home prices and the cost of living rise, so too does an employee's demand for higher wages.
For California businesses, this translates to higher costs. After all, businesses can only thrive when they have employees; employees need sufficient income to obtain nearby housing.
Thus, mounting housing costs and the resident exodus leave two options for business owners in low-wage industries to retain employees:
increase employee wages, and risk losing their ability to compete while managing operation costs; or
relocate to a region with a less costly and more sustainable housing market where employees can afford to live on lower wages.
Rather than compromise profits, the feasible solution for business owners is to pack up and relocate to a market with a less costly operating environment. Likewise, businesses outside of California will be deterred from entering the local market for fear of increased expenses through employee demand for higher wages and expensive commercial rental rates.
As simply stated by the founder of Beacon Economics, Chris Thornberg, "[businesses] can't add jobs if there is no growth in the labor force because people are leaving."
Of course, low-wage jobs and businesses still have a place in the Golden State. In fact, California ranks remarkably high in low-wage job creation, on par with other states with larger populations and economies, according to a recent report.
However, high housing costs and an increasing exodus of low-wage workers may threaten the long-term success of these businesses. More importantly, the report shows compensation in middle- and high-wage industries is growing at a faster rate in California than the national average, while compensation remains stunted in the state's low-wage industries. Thus, persistent stagnation in low wages will likely continue to push low-wage workers out of the state.
Further and more tellingly, low-wage jobs in California make up about 4.6 million jobs in the state and are confined to a limited number of industries — leisure and hospitality, private households, health care services, retail and agriculture.
Conversely, high-wage jobs span a wide, diverse range of industries — from science and technology to business and finance — and comprise a larger 5.4 million jobs. (Comparatively, there are 6.1 million middle-wage jobs in the state.) As the high-wage job market expands across multiple industries, low-wage jobs remain restricted to a narrow range of industries in the state — a trend that ultimately paints an uncertain picture of the future of low-wage job growth.
What does this mean for California's forthcoming job creation? While our economy will sustain jobs and businesses across all wage tiers, the growing demand for increased employee incomes and high-skill labor put businesses in low-wage and low-skill industries at risk. Expect rising housing costs to further drive out low-wage employees from more coastal areas and pressure businesses to either relocate or increase their employee wages.
The need for change
One of the long-term effects of rising housing costs, higher commercial rental rates and falling incomes is the exodus of existing businesses and the reduction of new businesses coming to California.
Resolving this dilemma involves:
increasing multi-family constructionas competition required to alleviate high residential rental rates;
expanding single family residence (SFR) construction to ease skyrocketing home prices; and
reforming zoning regulations to allow sufficient residential construction, not just commercial construction.
Housing starts have thus far been severely limited while housing expenses have no ceiling. Low- and mid-income households are forced out of the city and into the suburbs, and when the suburbs become out of reach, they are forced out of the state entirely.
If these changes to the residential and commercial markets in California aren't realized, the real estate industry will feel far more of a squeeze than it already does from declining sales volume and reducing turnover rates, deterring businesses and residents alike.
Without a willingness of Californians to confront the state's housing crisis and acknowledge how it deters businesses, California will struggle to sustain vigorous business growth for the lack of low- and middle-income residents. The demand already exists; now the state needs property-use legislation to meet it.