The firsttuesday Monthly Statistical Update (MSU) keeps you current on behavior and market trends affecting California real estate activities.
The May 2022 MSU covers leaping mortgage interest rates, the surge of new agents in 2021, and the rise of adjustable rate mortgages (ARMs). Click the Share button on the top right of the video player to post the Video MSU to your social media following.
May 2022 Monthly Statistical Update PDF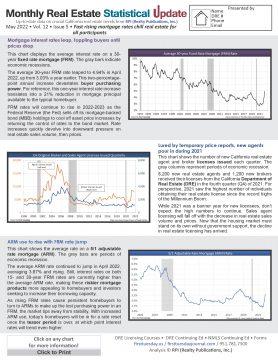 Looking for a printable version? Download the May 2022 MSU PDF for a customizable print version.
Download Adobe Acrobat free to insert your picture or logo and contact information in the space provided.