Use this first tuesday FARM Letter in your marketing. To request a FARM letter topic, or to see a list of all our FARM letter templates, visit our FARM Letter page.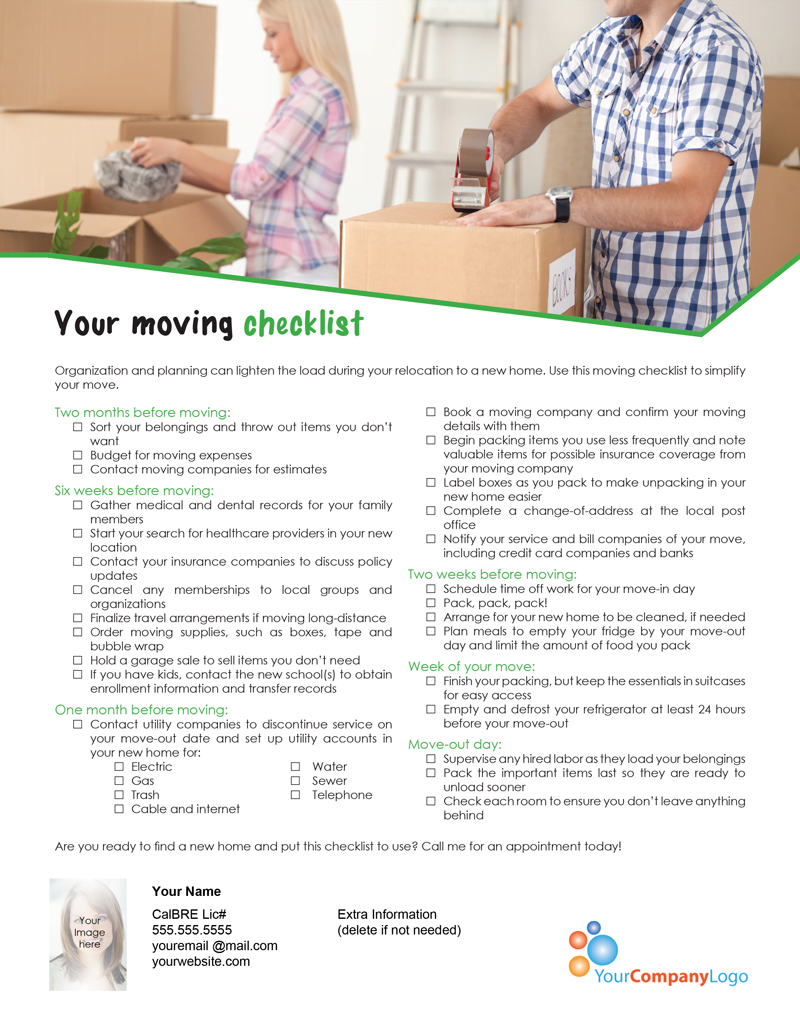 Download the Personalization Instructions
Download the PDF Template
Download the Microsoft Word Template
Text only
Organization and planning can lighten the load during your relocation to a new home. Use this moving checklist to simplify your move.
Two months before moving:
Sort your belongings and throw out items you don't want
Budget for moving expenses
Contact moving companies for estimates
Six weeks before moving:
Gather medical and dental records for your family members
Start your search for healthcare providers in your new location
Contact your insurance companies to discuss policy updates
Cancel any memberships to local groups and organizations
Finalize travel arrangements if moving long-distance
Order moving supplies, such as boxes, tape and bubble wrap
Hold a garage sale to sell items you don't need
If you have kids, contact the new school(s) to obtain enrollment information and transfer records
One month before moving:
Contact utility companies to discontinue service on your move-out date and set up utility accounts in your new home for:

Electric
Water
Gas
 Sewer
Trash
Telephone
Cable and internet

Book a moving company and confirm your moving details with them
Begin packing items you use less frequently and note valuable items for possible insurance coverage from your moving company
Label boxes as you pack to make unpacking in your new home easier
Complete a change-of-address at the local post office
Notify your service and bill companies of your move, including credit card companies and banks
Two weeks before moving:
Schedule time off work for your move-in day
Pack, pack, pack!
Arrange for your new home to be cleaned, if needed
Plan meals to empty your fridge by your move-out day and limit the amount of food you pack
Week of your move:
Finish your packing, but keep the essentials in suitcases for easy access
Empty and defrost your refrigerator at least 24 hours before your move-out
Move-out day:
Supervise any hired labor as they load your belongings
Pack the important items last so they are ready to unload sooner
Check each room to ensure you don't leave anything behind
Are you ready to find a new home and put this checklist to use? Call me for an appointment today!