Use this first tuesday FARM Letter in your marketing. To request a FARM letter topic, or to see a list of all our FARM letter templates, visit our FARM Letter page.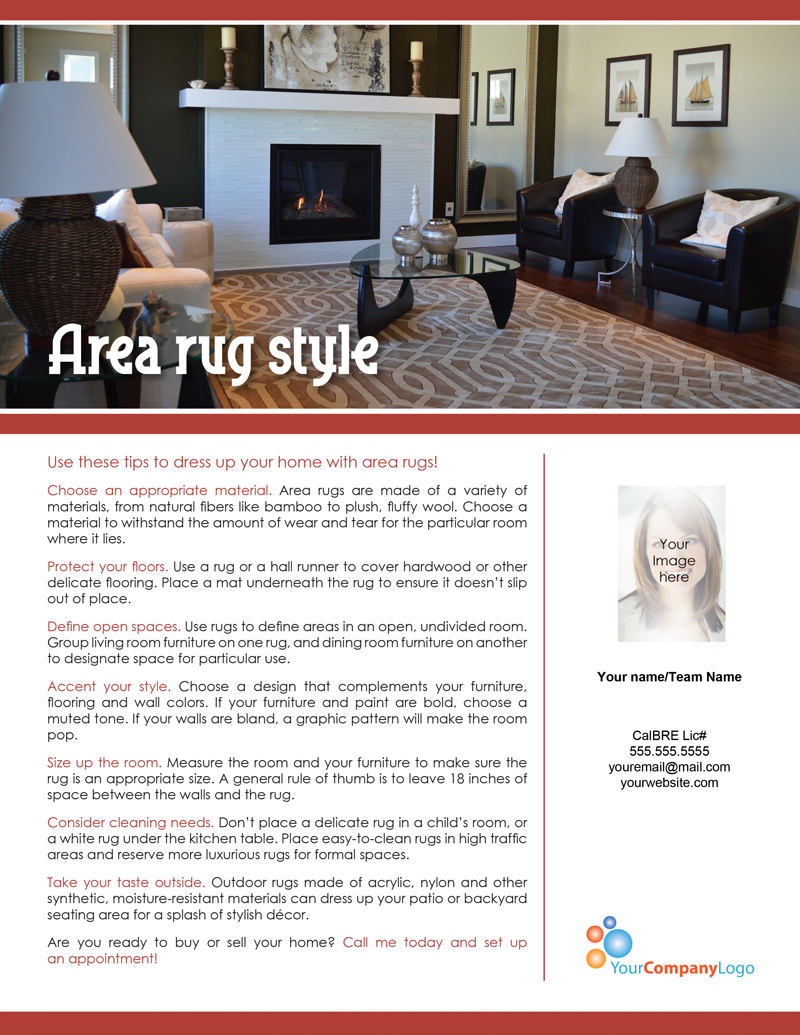 Download the Personalization Instructions
Download the PDF Template
Download the Microsoft Word Template
Text only
Use these tips to dress up your home with area rugs!
Choose an appropriate material. Area rugs are made of a variety of materials, from natural fibers like bamboo to plush, fluffy wool. Choose a material to withstand the amount of wear and tear for the particular room where it lies.
Protect your floors. Use a rug or a hall runner to cover hardwood or other delicate flooring. Place a mat underneath the rug to ensure it doesn't slip out of place.
Define open spaces. Use rugs to define areas in an open, undivided room. Group living room furniture on one rug, and dining room furniture on another to designate space for particular use.
Accent your style. Choose a design that complements your furniture, flooring and wall colors. If your furniture and paint are bold, choose a muted tone. If your walls are bland, a graphic pattern will make the room pop.
Size up the room. Measure the room and your furniture to make sure the rug is an appropriate size. A general rule of thumb is to leave 18 inches of space between the walls and the rug.
Consider cleaning needs. Don't place a delicate rug in a child's room, or a white rug under the kitchen table. Place easy-to-clean rugs in high traffic areas and reserve more luxurious rugs for formal spaces.
Take your taste outside. Outdoor rugs made of acrylic, nylon and other synthetic, moisture-resistant materials can dress up your patio or backyard seating area for a splash of stylish décor.
Are you ready to buy or sell your home? Call me today and set up an appointment!