Use this first tuesday FARM Letter in your marketing. For a list of all our FARM letter templates and copy, visit our FARM Letter page. Have a topic you'd like us to write about?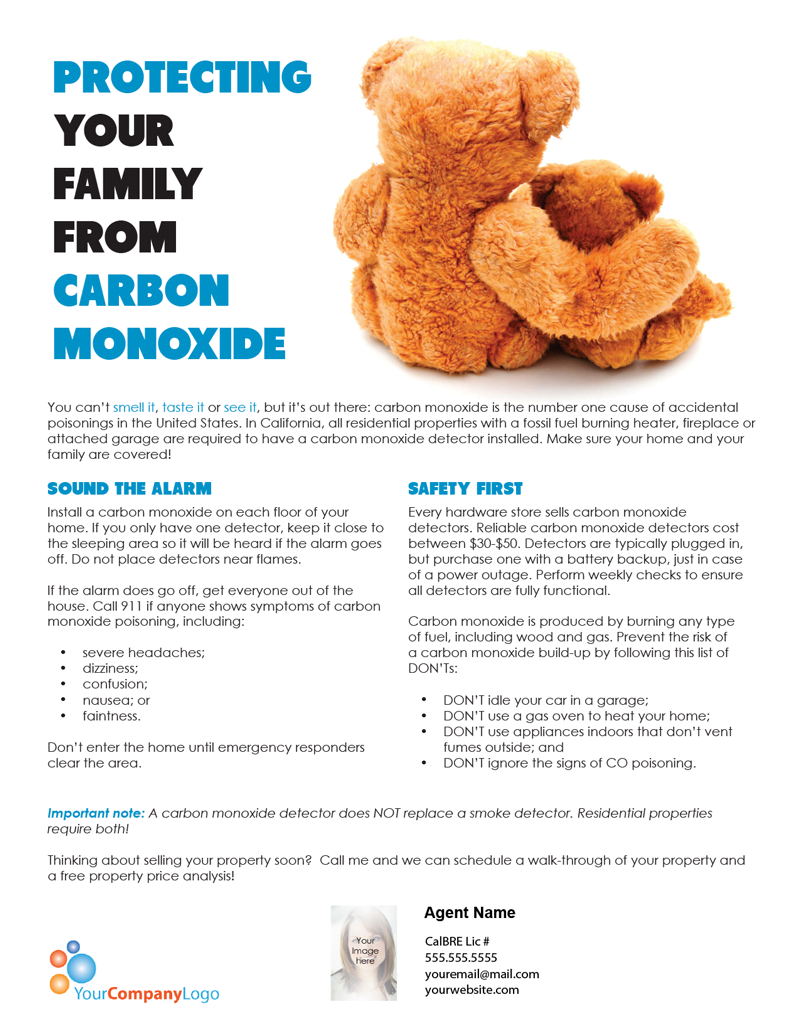 Download the Personalization Instructions Download the PDF Template Download the Microsoft Word Template
Text only
You can't smell it, taste it or see it, but it's out there: carbon monoxide is the number one cause of accidental poisonings in the United States. In California, all residential properties with a fossil fuel burning heater, fireplace or attached garage are required to have a carbon monoxide detector installed. Make sure your home and your family are covered!
SOUND THE ALARM
Install a carbon monoxide on each floor of your home. If you only have one detector, keep it close to the sleeping area so it will be heard if the alarm goes off. Do not place detectors near flames.
If the alarm does go off, get everyone out of the house. Call 911 if anyone shows symptoms of carbon monoxide poisoning, including:
severe headaches;
dizziness;
confusion;
nausea; or
faintness.
Don't enter the home until emergency responders clear the area.
SAFETY FIRST
Every hardware store sells carbon monoxide detectors. Reliable carbon monoxide detectors cost between $30-$50. Detectors are typically plugged in, but purchase one with a battery backup, just in case of a power outage. Perform weekly checks to ensure all detectors are fully functional.
Carbon monoxide is produced by burning any type of fuel, including wood and gas. Prevent the risk of a carbon monoxide build-up by following this list of DON'Ts:
DON'T idle your car in a garage;
DON'T use a gas oven to heat your home;
DON'T use appliances indoors that don't vent fumes outside; and
DON'T ignore the signs of CO poisoning.
Important note: A carbon monoxide detector does NOT replace a smoke detector. Residential properties require both!
Thinking about selling your property soon? Call me and we can schedule a walk-through of your property and a free property price analysis!