Use this first tuesday FARM Letter in your marketing. To request a FARM letter topic, or to see a list of all our FARM letter templates, visit our FARM Letter page.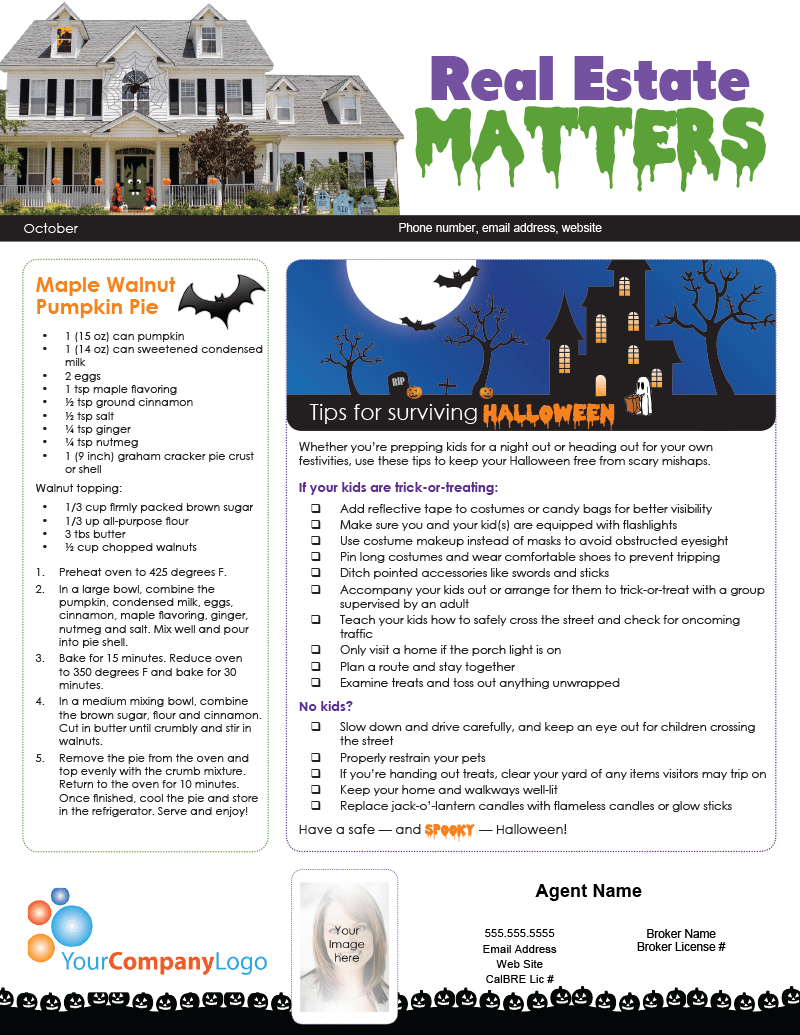 Download the Personalization Instructions
Download the PDF Template
Download the Microsoft Word Template
Text only
Maple Walnut Pumpkin Pie
1 (15 oz) can pumpkin
1 (14 oz) can sweetened condensed milk
2 eggs
1 tsp maple flavoring
½ tsp ground cinnamon
½ tsp salt
¼ tsp ginger
¼ tsp nutmeg
1 (9 inch) graham cracker pie crust or shell
Walnut topping:
1/3 cup firmly packed brown sugar
1/3 up all-purpose flour
3 tbs butter
½ cup chopped walnuts
Preheat oven to 425 degrees F.
In a large bowl, combine the pumpkin, condensed milk, eggs, cinnamon, maple flavoring, ginger, nutmeg and salt. Mix well and pour into pie shell.
Bake for 15 minutes. Reduce oven to 350 degrees F and bake for 30 minutes.
In a medium mixing bowl, combine the brown sugar, flour and cinnamon. Cut in butter until crumbly and stir in walnuts.
Remove the pie from the oven and top evenly with the crumb mixture. Return to the oven for 10 minutes. Once finished, cool the pie and store in the refrigerator. Serve and enjoy!
Tips for surviving Halloween
Whether you're prepping kids for a night out or heading out for your own festivities, use these tips to keep your Halloween free from scary mishaps.
If your kids are trick-or-treating:
Add reflective tape to costumes or candy bags for better visibility
Make sure you and your kid(s) are equipped with flashlights
Use costume makeup instead of masks to avoid obstructed eyesight
Pin long costumes and wear comfortable shoes to prevent tripping
Ditch pointed accessories like swords and sticks
Accompany your kids out or arrange for them to trick-or-treat with a group supervised by an adult
Teach your kids how to safely cross the street and check for oncoming traffic
Only visit a home if the porch light is on
Plan a route and stay together
Examine treats and toss out anything unwrapped
No kids?
Slow down and drive carefully, and keep an eye out for children crossing the street
Properly restrain your pets
If you're handing out treats, clear your yard of any items visitors may trip on
Keep your home and walkways well-lit
Replace jack-o'-lantern candles with flameless candles or glow sticks
Have a safe — and spooky — Halloween!