Use this first tuesday FARM Letter in your marketing. To request a FARM letter topic, or to see a list of all our FARM letter templates, visit our FARM Letter page.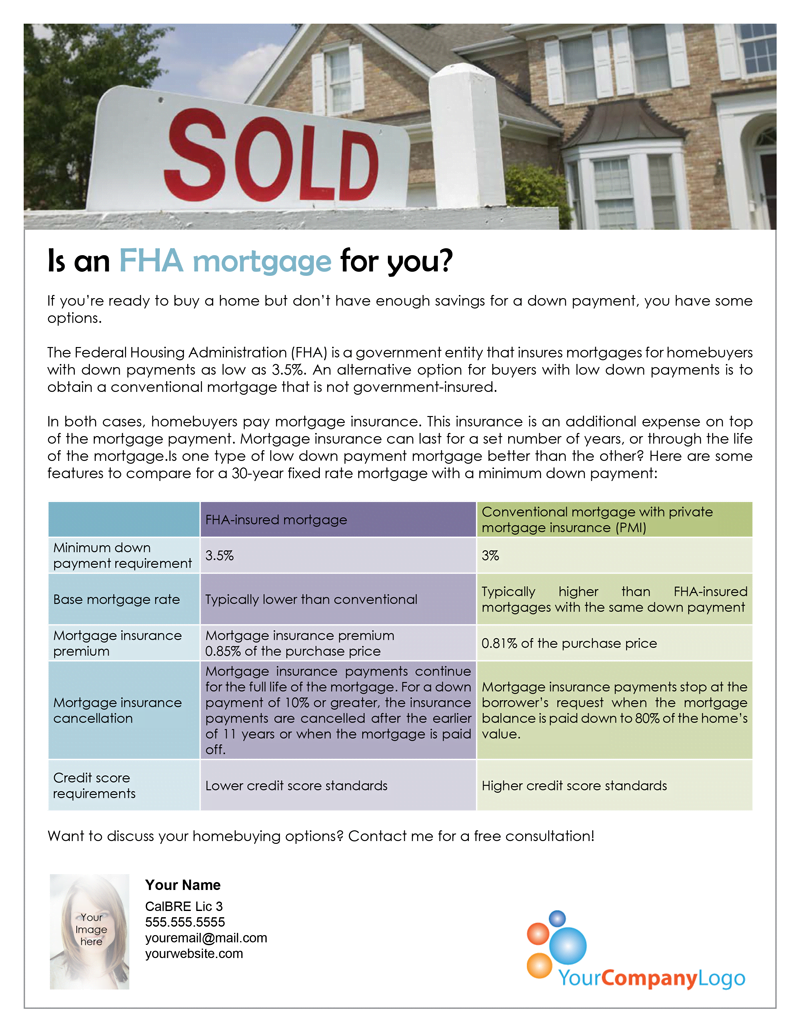 Download the Personalization Instructions
Download the PDF Template
Download the Microsoft Word Template
Text only
If you're ready to buy a home but don't have enough savings for a down payment, you have some options.
The Federal Housing Administration (FHA) is a government entity that insures mortgages for homebuyers with down payments as low as 3.5%. An alternative option for buyers with low down payments is to obtain a conventional mortgage that is not government-insured.
In both cases, homebuyers pay mortgage insurance. This insurance is an additional expense on top of the mortgage payment. Mortgage insurance can last for a set number of years, or through the life of the mortgage. Is one type of low down payment mortgage better than the other? Here are some features to compare for a 30-year fixed rate mortgage with a minimum down payment:
Chart update 09/09/15

| | | |
| --- | --- | --- |
| | FHA-insured mortgage | Conventional mortgage with private mortgage insurance (PMI) |
| Minimum down payment requirement | 3.5% | 3% |
| Base mortgage rate | Typically lower than conventional | Typically higher than FHA-insured mortgages with the same down payment |
| Mortgage insurance premium | Mortgage insurance premium 0.85% of the purchase price | |
| Mortgage insurance cancellation | Mortgage insurance payments continue for the full life of the mortgage. For a down payment of 10% or greater, the insurance payments are cancelled after the earlier of 11 years or when the mortgage is paid off. | Mortgage insurance payments stop at the borrower's request when the mortgage balance is paid down to 80% of the home's value. |
| Credit score requirements | Lower credit score standards | Higher credit score standards |
Want to discuss your homebuying options? Contact me for a free consultation!