Use this first tuesday FARM Letter in your marketing. To request a FARM letter topic, or to see a list of all our FARM letter templates, visit our FARM Letter page.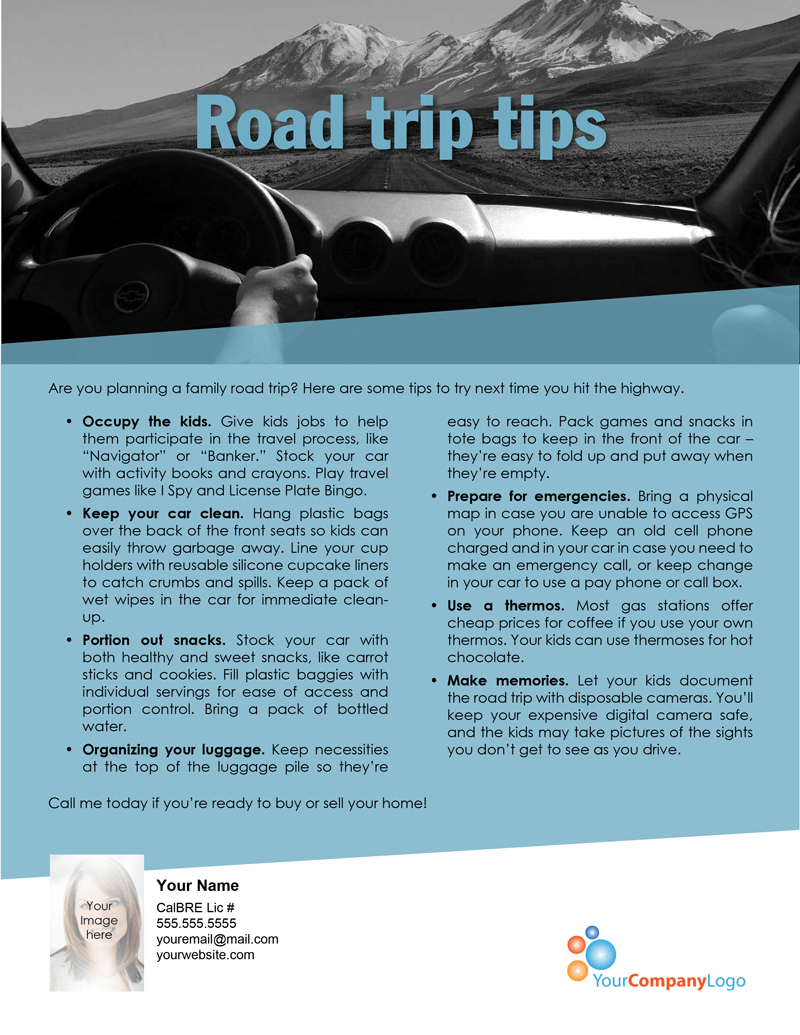 Download the Personalization Instructions
Download the PDF Template
Download the Microsoft Word Template
Text only
Are you planning a family road trip? Here are some tips to try next time you hit the highway.
Occupy the kids. Give kids jobs to help them participate in the travel process, like "Navigator" or "Banker." Stock your car with activity books and crayons. Play travel games like I Spy and License Plate Bingo.
Keep your car clean. Hang plastic bags over the back of the front seats so kids can easily throw garbage away. Line your cup holders with reusable silicone cupcake liners to catch crumbs and spills. Keep a pack of wet wipes in the car for immediate clean-up.
Portion out snacks. Stock your car with both healthy and sweet snacks, like carrot sticks and cookies. Fill plastic baggies with individual servings for ease of access and portion control. Bring a pack of bottled water.
Organizing your luggage. Keep necessities at the top of the luggage pile so they're easy to reach. Pack games and snacks in tote bags to keep in the front of the car – they're easy to fold up and put away when they're empty.
Prepare for emergencies. Bring a physical map in case you are unable to access GPS on your phone. Keep an old cell phone charged and in your car in case you need to make an emergency call, or keep change in your car to use a pay phone or call box.
Use a thermos. Most gas stations offer cheap prices for coffee if you use your own thermos. Your kids can use thermoses for hot chocolate.
Make memories. Let your kids document the road trip with disposable cameras. You'll keep your expensive digital camera safe, and the kids may take pictures of the sights you don't get to see as you drive.
Call me today if you're ready to buy or sell your home!