Use this first tuesday FARM Letter in your marketing. To request a FARM letter topic, or to see a list of all our FARM letter templates, visit our FARM Letter page.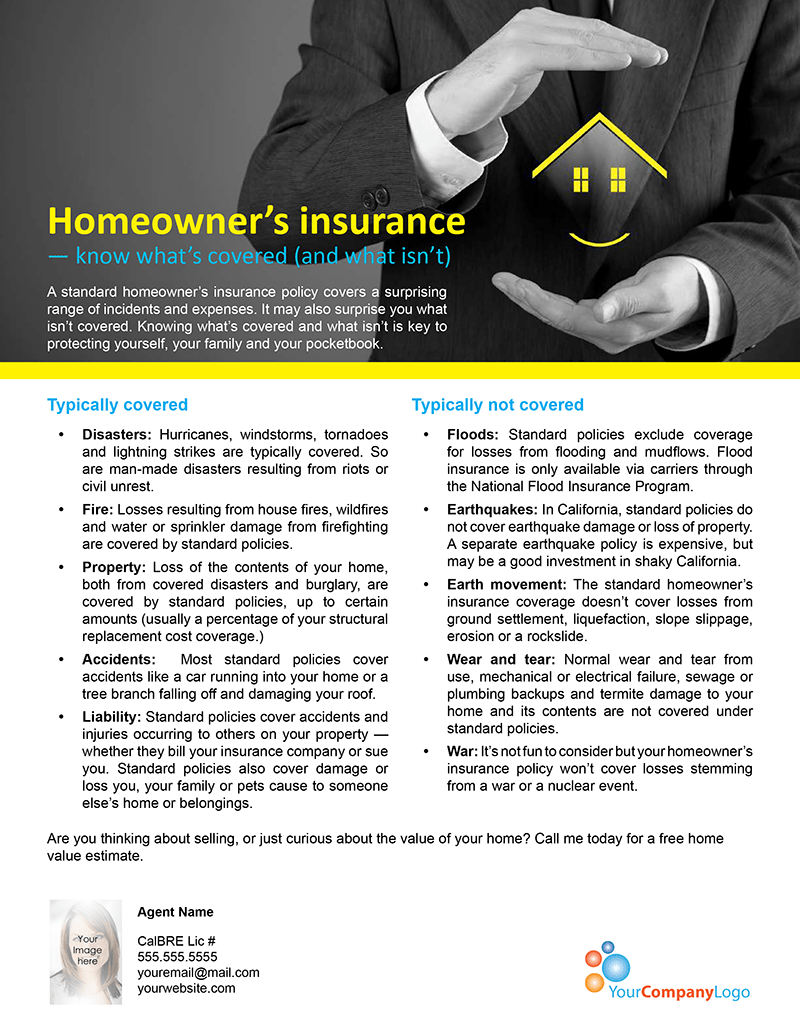 Download the Personalization Instructions
Download the PDF Template
Download the Microsoft Word Template
Text only
A standard homeowners insurance policy covers a surprising range of incidents and expenses. It may also surprise you what isn't covered. Knowing what's covered and what isn't is key to protecting yourself, your family and your pocketbook.
Typically covered
Disasters: Hurricanes, windstorms, tornadoes and lightning strikes are typically covered. So are man-made disasters resulting from riots or civil unrest.
Fire: Losses resulting from house fires, wildfires and water or sprinkler damage from firefighting are covered by standard policies.
Property: Loss of the contents of your home, both from covered disasters and burglary, are covered by standard policies, up to certain amounts (usually a percentage of your structural replacement cost coverage.)
Accidents:  Most standard policies cover accidents like a car running into your home or a tree branch falling off and damaging your roof.
Liability: Standard policies cover accidents and injuries occurring to others on your property — whether they bill your insurance company or sue you. Standard policies also cover damage or loss you, your family or pets cause to someone else's home or belongings.
Typically not covered
Floods: Standard policies exclude coverage for losses from flooding and mudflows. Flood insurance is only available via carriers through the National Flood Insurance Program.
Earthquakes: In California, standard policies do not cover earthquake damage or loss of property. A separate earthquake policy is expensive, but may be a good investment in shaky California.
Earth movement: The standard homeowners insurance coverage doesn't cover losses from ground settlement, liquefaction, slope slippage, erosion or a rockslide.
Wear and tear: Normal wear and tear from use, mechanical or electrical failure, sewage or plumbing backups and termite damage to your home and its contents are not covered under standard policies.
War: It's not fun to consider but your homeowners insurance policy won't cover losses stemming from a war or a nuclear event.
Are you thinking about selling, or just curious about the value of your home? Call me today for a free home value estimate.