Use this first tuesday FARM Letter in your marketing. To request a FARM letter topic, or to see a list of all our FARM letter templates, visit our FARM Letter page.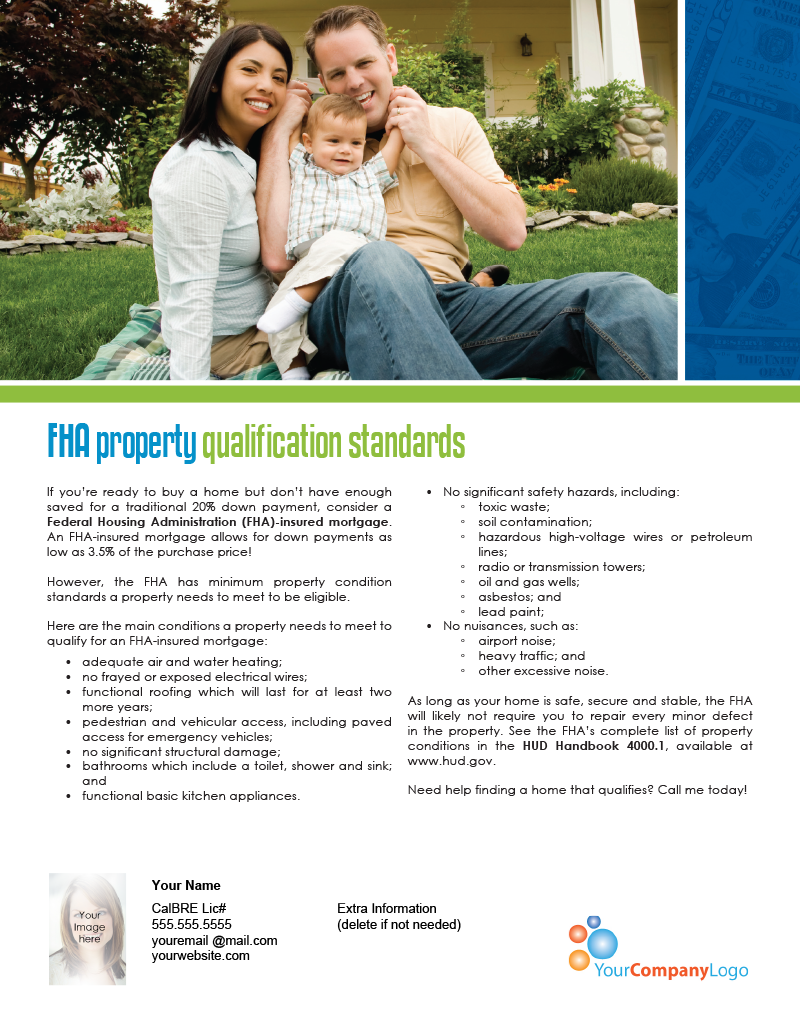 Download the Personalization Instructions
Download the PDF Template
Download the Microsoft Word Template
Text only
If you're ready to buy a home but don't have enough saved for a traditional 20% down payment, consider a Federal Housing Administration (FHA)-insured mortgage. An FHA-insured mortgage allows for down payments as low as 3.5% of the purchase price!
However, the FHA has minimum property condition standards a property needs to meet to be eligible.
Here are the main conditions a property needs to meet to qualify for an FHA-insured mortgage:
adequate air and water heating;
no frayed or exposed electrical wires;
functional roofing which will last for at least two more years;
pedestrian and vehicular access, including paved access for emergency vehicles;
no significant structural damage;
bathrooms which include a toilet, shower and sink; and
functional basic kitchen appliances.
No significant safety hazards, including:

toxic waste;
soil contamination;
hazardous high-voltage wires or petroleum lines;
radio or transmission towers;
oil and gas wells;
asbestos; and
lead paint;
No nuisances, such as:

airport noise;
heavy traffic; and
other excessive noise.
As long as your home is safe, secure and stable, the FHA will likely not require you to repair every minor defect in the property. See the FHA's complete list of property conditions in the HUD Handbook 4000.1, available at www.hud.gov.
Need help finding a home that qualifies? Call me today!