San Jose was the hottest housing market in California during 2017, according to Redfin. On the national field, it was beat only by several Seattle neighborhoods and one neighborhood in Boston.
The neighborhoods in San Jose which saw the quickest price growth, fewest days on the market and highest share of homes which sold above asking were:
Sunnyvale;
Palo Alto; and
Campbell.

Further, the trend is likely to continue. Zillow forecasts San Jose will also take the number one spot in 2018 for hottest housing market. Reasons it cites include the region's:
relatively high number of job openings;
high median income; and
steady home value growth.
Zillow expects home values to increase 9% in 2018 here in San Jose. In contrast, nearby San Francisco will likely see home values increase by a smaller 4%.
This news may seem like a positive for area residents, especially sellers. But it also indicates a much bigger problem.
Home prices: the higher they climb…
The Bay Area and especially Silicon Valley have seen a manic expansion in their housing markets in recent years. All this growth has mostly been an echo of the booming employment market in the region, bolstered by the thriving tech industry. But has all this growth been too much?
Specifically, how high is too high for home prices before they reach bubble territory?
Cautious real estate prognosticators will notice San Francisco home values have far exceeded their Millennium Boom peak going into 2018: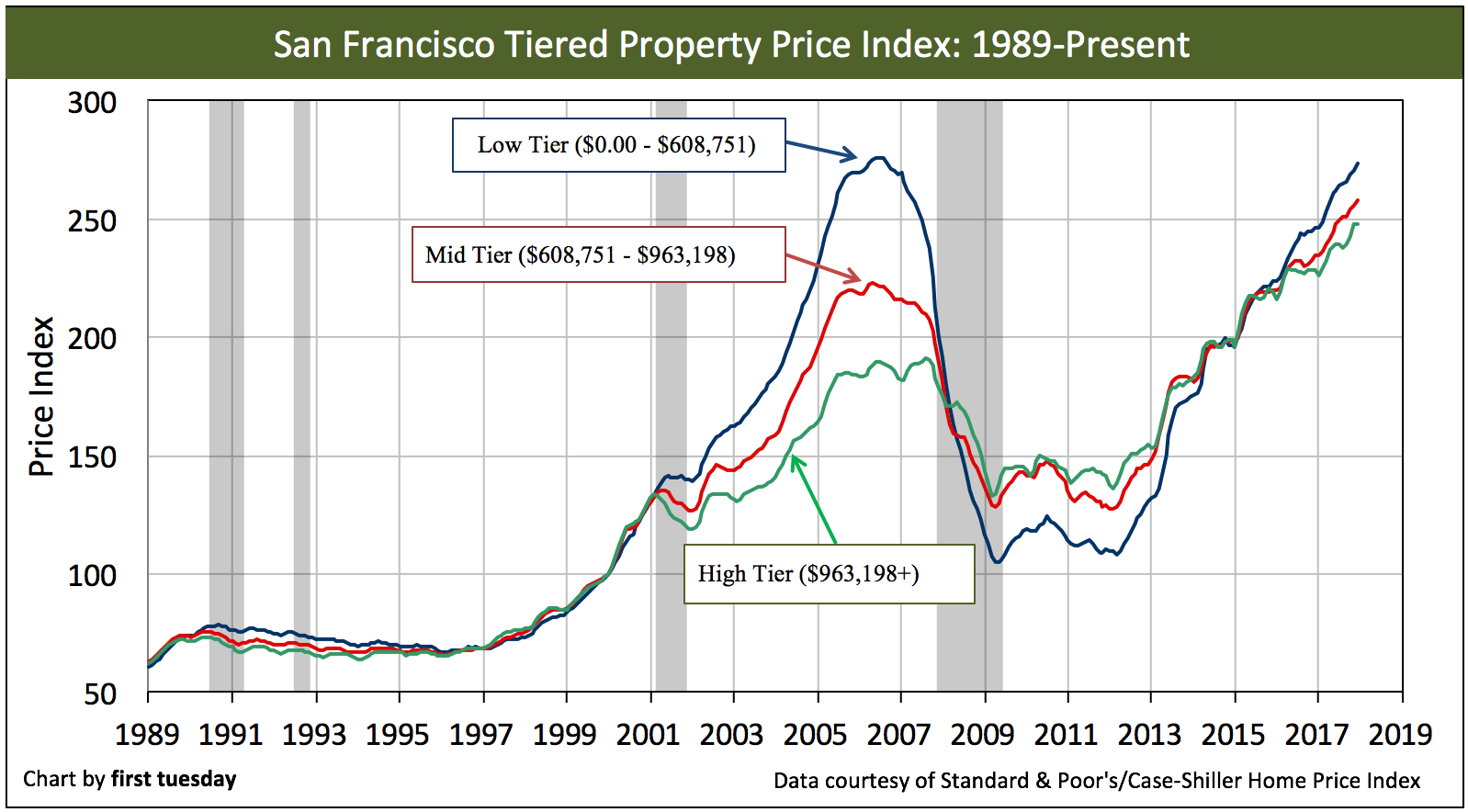 Meanwhile, average Southern California home values have nearly caught up to the peaks seen in the mid-2000s. This difference is partly explained by Southern California's lack of the same high-paying jobs available in Northern California.
But jobs and home prices do not paint a full picture of any region's housing market.
Also of concern is the Bay Area's home sales volume, which has been flat-to-down since 2010. This stagnation is held down by the area's rapidly rising home prices. Fewer households are able to move and homeownership has declined rapidly. For example, in Santa Clara County homeownership recently peaked in 2011 above 61%, before bottoming near 45% in 2016.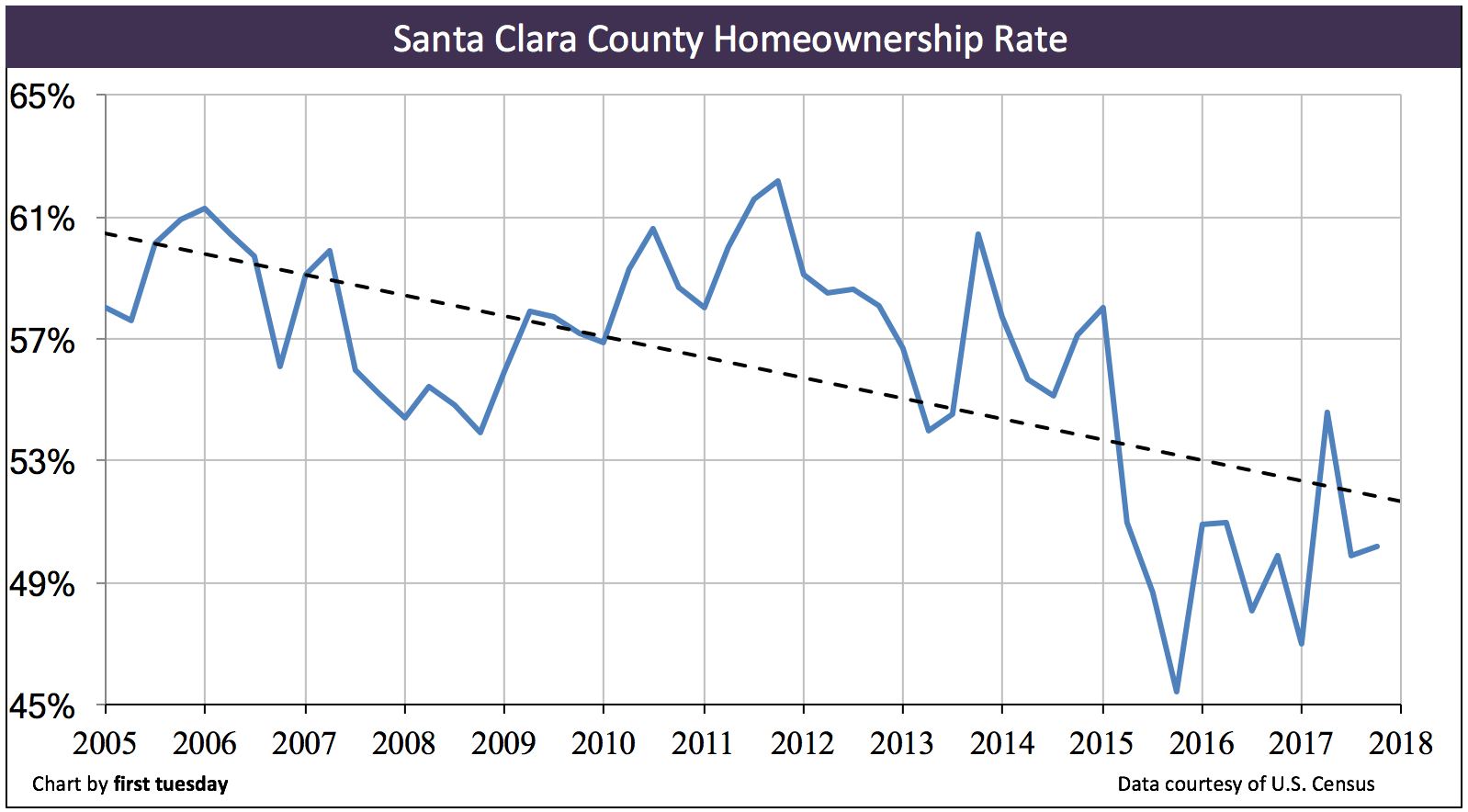 What the continued low homeownership rate tells us is that San Jose's hot housing market has become too hot for many end users of real estate, who are now forced to look elsewhere for housing. It's also become too expensive and difficult for builders, who would otherwise add to the local inventory and simultaneously increase sales volume and ease the price rise. Construction of single family residences (SFRs) and multi-family units have both fallen consistently since 2015.
With all these negative factors in mind, is the Bay Area in a housing bubble?
Not quite. The region's extreme home values are ultimately supported by strong job fundamentals.
But this doesn't change the fact that the Bay Area is in the depths of a housing crisis.
Housing crisis disguised as a bubble
Fewer homes for sale and rapidly rising prices equal more than just a headache for homebuyers.
These high housing costs harm business formations, as employers are unable to keep up with employee demand for higher wages to keep up with housing costs. Businesses are likely to look elsewhere where their operational costs are more in line with their objectives to make a profit.
This situation is also detrimental to the area's high standard of living, as public service providers like teachers, police officers and service workers can no longer pay to live where they work. As a result, those who can't take commuting from a far-away suburb are simply leaving the area for less expensive areas of the state.
Related article:
The solution is twofold. The Bay Area — and the state at large — needs to:
build more housing, especially in the mid and low tiers; and
ensure urban land is used more efficiently by increasing density.
Some efforts to increase the housing supply began in 2017, with reduced restrictions for accessory dwelling units (ADUs) or casitas.
Permitting for certain multi-family projects has also been streamlined, along with a full package of new laws passed in late-2017 aimed to increase the mid- and low-tier housing stock.
More is in the works, too. In November 2018, voters will decide whether to pass a $3 billion bond measure to develop more housing across the state.
Related article:
Bonds for affordable housing and farm and home aid for veterans
Will all this be enough to dial back the temperature in the state's hottest markets so they're not boiling over? For the answer, focus less on pricing and more on home sales volume, construction and homeownership reports in the coming months. Here at first tuesday, we will continue to keep you updated as the state takes on the challenges presented by a strong economy and (as-yet) insufficient housing.