As we make our way through yet another slow year for home sales, multiple listing service (MLS) inventory is emerging as a key component in California's housing market.
Inventory for sale has risen from the historic low reached at the end of 2020. Still, across California's largest metros, inventory averaged 23% below a year earlier as of July 2021, according to data from Zillow. The winter months typically see the lowest inventory of homes for sale, peaking around mid-year. In 2020, the mid-year peak in active listings was 21% below 2019's peak, and falling.
The inventory decline continues to be steepest in Riverside, which had 24% fewer listings than a year earlier as of July 2021. On the other hand, San Francisco and San Jose both saw very slight increases in inventory for sale compared to the prior year. Still, since these northern cities make up a comparatively small portion of California's housing market, their higher inventory is an anomaly compared to the sea of declining inventory across most of the state.
Looking forward, expect inventory to climb heading into 2022. Many would-be sellers have held off listing while they remain protected by foreclosure moratoriums and forbearance programs. However, as expirations pile on, more and more will turn to forced sales. Today's seller's market will begin to tip in Q4 2021 as inventory grows and homebuyers start to take a wait-and-see approach to buying.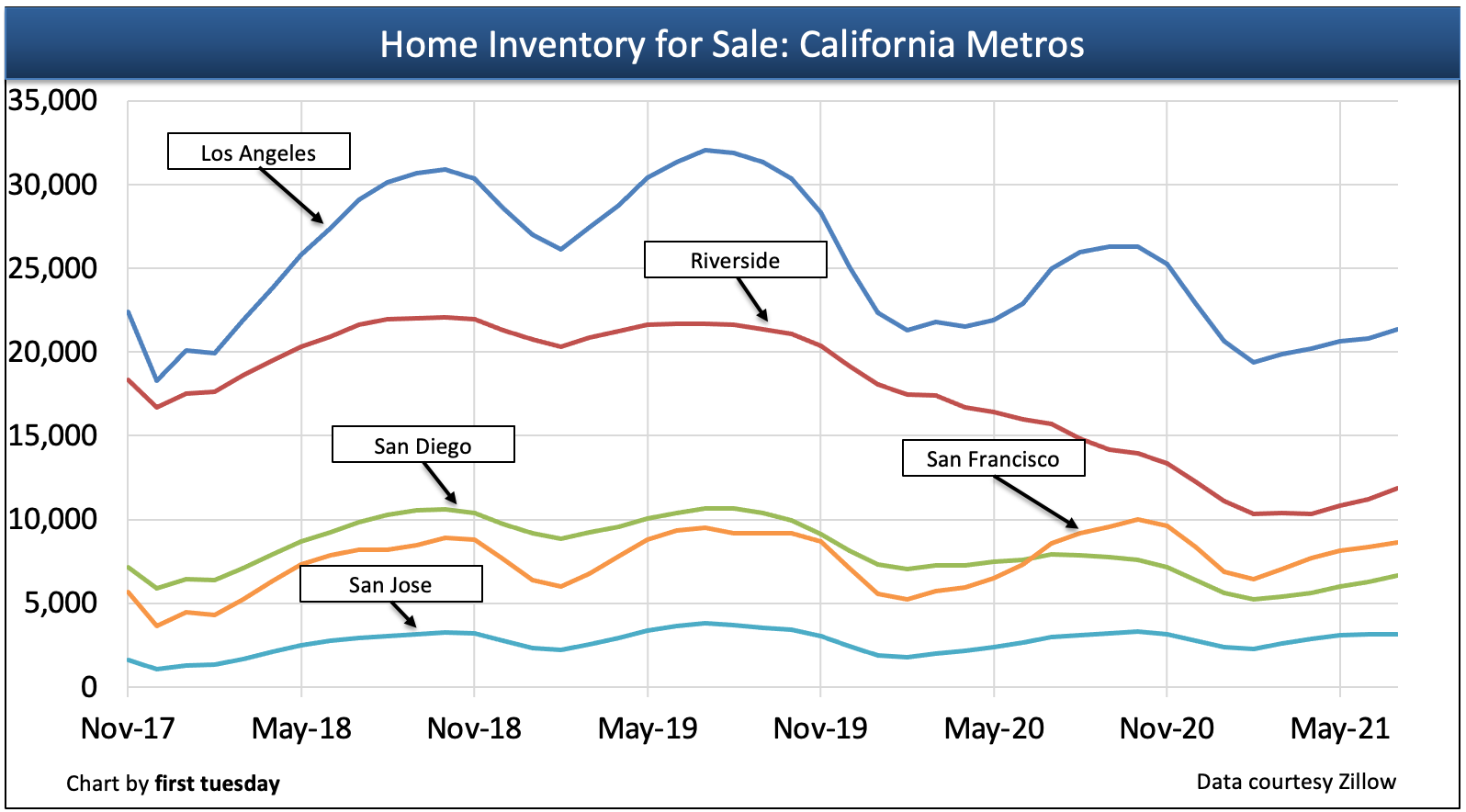 Chart update 09/16/21
| | | | |
| --- | --- | --- | --- |
| | Jul 2021 | Jul 2020 | Annual change |
| Los Angeles for sale inventory | 21,400 | 25,000 | -14% |
| Riverside for sale inventory | 11,900 | 15,700 | -24% |
| San Diego for sale inventory | 6,700 | 7,900 | -16% |
| San Francisco for sale inventory | 8,600 | 8,600 | +1% |
| San Jose for sale inventory | 3,200 | 3,000 | +6% |
Here in California, homes typically leave the market more quickly than in more stable markets.
This is reflected in the average number of days a home sits on the market in California before being snatched up by eager buyers. At the end of 2019, the average number of days a home sat on the market before achieving a "pending" status was 32 days. Flash forward to the end of 2020 and the average home for sale in California's largest metros was listed for just 12 days before pending, according to date from Zillow.
This supply-demand imbalance has pushed home prices higher in recent years, even in 2018-2019 when interest rates were still rising. Average California home prices were 23%-24% higher in the second quarter (Q2) of 2021 compared to the prior year. However, this price rise coincides with a rise in buyer purchasing power due entirely to decreased mortgage interest rates.
Expect prices to take a turn heading into 2022, the result of the expiring foreclosure moratorium and the build-up of serious delinquencies. Home prices won't recover until all jobs lost to the 2020 recession have been regained, not likely to begin until around 2024-2025 at the soonest.
The cure for the inventory shortage
While supply and demand are momentarily disrupted during the ongoing recession, when the dust settles and economic progress returns (a recovery not likely to begin until around 2024), the inventory shortage will rear its head again. There are only two reasonable possibilities to cure California's long-term inventory imbalance and general housing crisis:
decreased demand, via a reduction in the number of homebuyers; or
meeting current demand with more new construction.
The years beyond 2021 will see a bit of both.
2020-2021 is experiencing the triple whammy of a pandemic, recession and financial crash. Renters and homeowners alike are unable to make payments due to lost jobs and income. Government efforts to avoid mass evictions are keeping individuals housed, for now. But once the pandemic response subsides and the economy begins to find its footing, all of these missed payments will need to be repaid. The combined catch-up on housing payments will set back would-be homebuyers by years. Meanwhile, inventory will continue to swell as even homebuyers with sufficient income and ability wait on the sidelines for confidence in the economy to improve and prices to drop.
On the other hand, residential construction is due to increase, and soon.
Homeowner and rental vacancies are both near historic lows in California. Whenever vacancies decline, construction is sure to rise to meet demand. But construction has been hampered during this long recovery from the 2008 recession due to strict and limiting zoning laws in California's metro areas. To that end, several pieces of new legislation have passed since 2017 focused on providing more inventory to combat the housing shortage. These legislative changes include paving the way for smoother permitting and looser zoning laws.
Related article: