Multiple listing service (MLS) inventory has climbed from the historic lows reached at the end of 2021. After two years of steep decline, for-sale inventory in California's largest metros averages 14% above a year earlier as of November 2022, according to data from Zillow.
While inventory has tapered on a monthly basis at the end of 2022, this is merely a reflection of seasonal influences — not a return of buyer demand — as the winter months typically see the lowest inventory of homes for sale, peaking around mid-year.
The inventory surge is currently steepest in Riverside, with 24% more listings than a year earlier as of November 2022. On the other hand, San Jose continues to see the slightest increase in inventory for sale, up a sparse 3% from a year earlier.
Looking ahead, expect inventory to continue to climb in 2023. The significant mortgage interest rate increases of 2022 have slashed buyer purchasing power, making it nigh on impossible for mortgaged homebuyers to participate at today's still-high asking prices. Homebuyers are well aware of the ongoing downturn in the housing market and are happy to wait for sellers to catch on.
Now, as inventory grows and home prices plummet, homebuyers are increasingly taking a wait-and-see approach to buying. Since the market is now in the hands of buyers, real estate agents who wish to maintain a steady income in 2023-2024 will turn their focus to finding those buyers who are willing and able to buy during the downturn.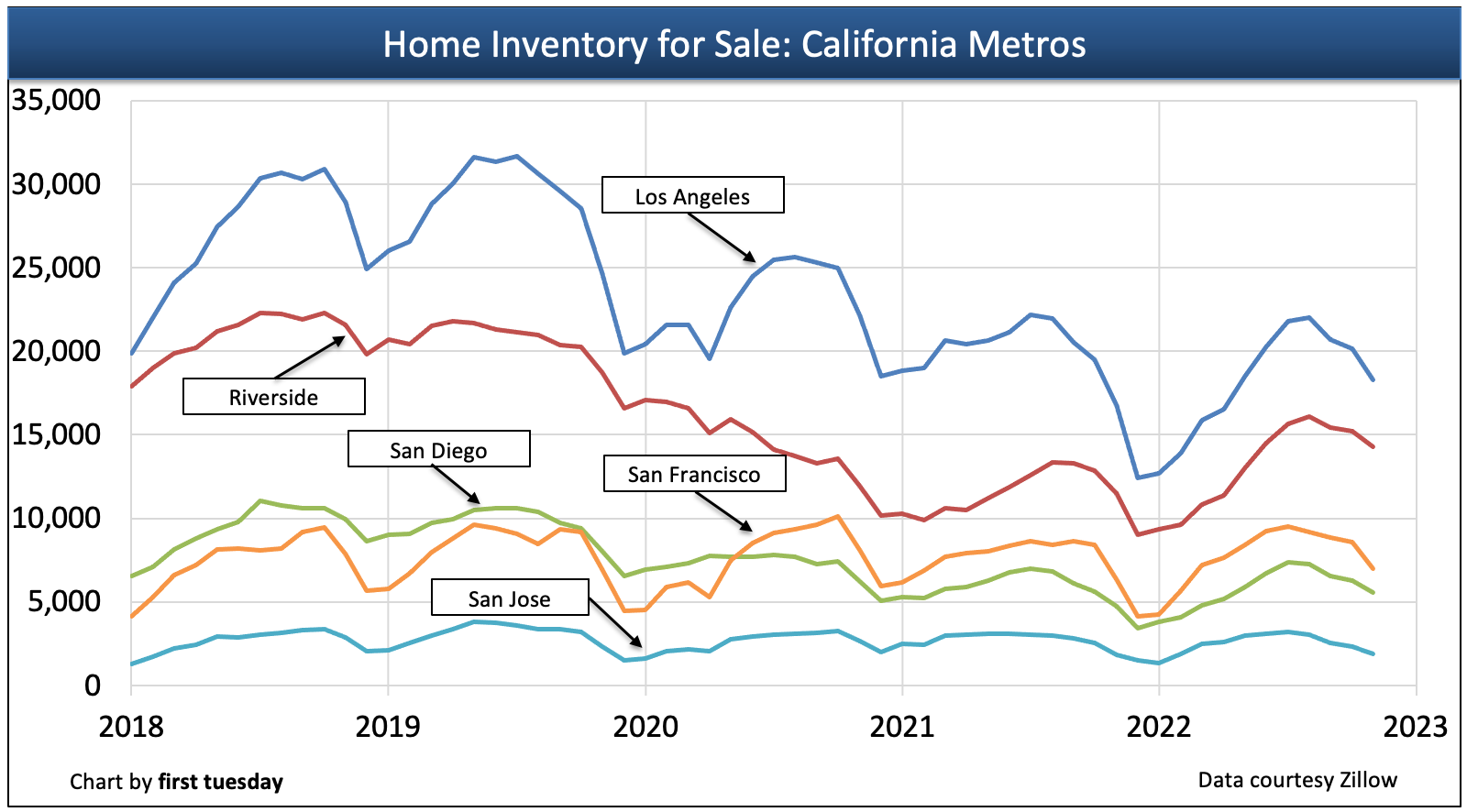 Chart update 12/18/22
| | | | |
| --- | --- | --- | --- |
| | Nov 2022 | Nov 2021 | Annual change |
| Los Angeles for sale inventory | 18,300 | 16,700 | +9% |
| Riverside for sale inventory | 14,300 | 11,500 | +24% |
| San Diego for sale inventory | 5,600 | 4,700 | +17% |
| San Francisco for sale inventory | 7,000 | 6,300 | +10% |
| San Jose for sale inventory | 1,900 | 1,800 | +3% |
Video update: January 2023
Here in California, homes typically leave the market more quickly than in more stable markets.
This supply-demand imbalance pushed home prices higher in recent years, even in 2018-2019 when interest rates were still rising. When interest rates fell into the basement in 2020, average California home prices leaped a whopping 40%-60% during 2020-2021 alone.
However, these astounding leaps in prices are now over, and reversing course quickly.
Home prices have declined from their May 2022 peak, ranging from 6% below the peak in the low tier to a staggering loss of 9% in the mid and high tiers as of October 2022. The share of homes for sale with a price cut across California averages 25% as of November 2022. This is due to the sticky pricing phenomenon, which has today's sellers pricing their homes at yesterday's sales levels.
Home prices will find a bottom around 2025, to gradually rise during the recovery from the next recession, expected to arrive officially in 2023. This timeline will be complicated by global events and any further (unlikely) government stimulus which may occur during the next recession.
Related article:
The cure for the inventory shortage
There are only two reasonable possibilities to cure California's long-term inventory imbalance and general housing crisis:
decreased demand, via a reduction in the number of homebuyers; or
meeting current demand with more new construction.
The years beyond 2023 will see a bit of both.
2020-2021 experienced the triple whammy of a pandemic, recession and financial crash. Renters and homeowners alike were unable to make payments due to lost jobs and income. But government efforts to avoid mass evictions kept individuals housed, saving the housing market from any serious disruptions.
Now that the pandemic response is behind us and the economy is fighting high inflation, the Federal Reserve (the Fed) has been actively pushing the economy towards its next recession. This time around, it's already clear the housing market is not immune, and inventory will continue to swell.
Further, residential construction is due to increase, and soon.
Homeowner and rental vacancies are both near historic lows in California. Whenever vacancies decline, construction is sure to rise to meet demand. But construction has been hampered during this long recovery from the 2008 recession due to strict and limiting zoning laws in California's metro areas. To that end, several pieces of new legislation have passed since 2017 focused on providing more inventory to combat the housing shortage. These legislative changes include paving the way for smoother permitting and looser zoning laws.
Related article: