As we make our way through 2018, inventory is emerging as one of the most significant factors in California's housing market.
Inventory for sale was lowest in January 2018, when just 49,200 homes were for sale in California. Inventory has since rebounded somewhat, with 70,700 homes for sale as of June 2018. This is up 9% from 65,100 homes on the market a year earlier, according to data from Zillow.
The situation varies significantly by metro. For instance, inventory in San Jose and Oakland is still falling, 4% below a year earlier in both locations. However, other areas of the state are seeing a larger surge of new home listings, with inventory up 22% in San Diego and 13% in Ventura.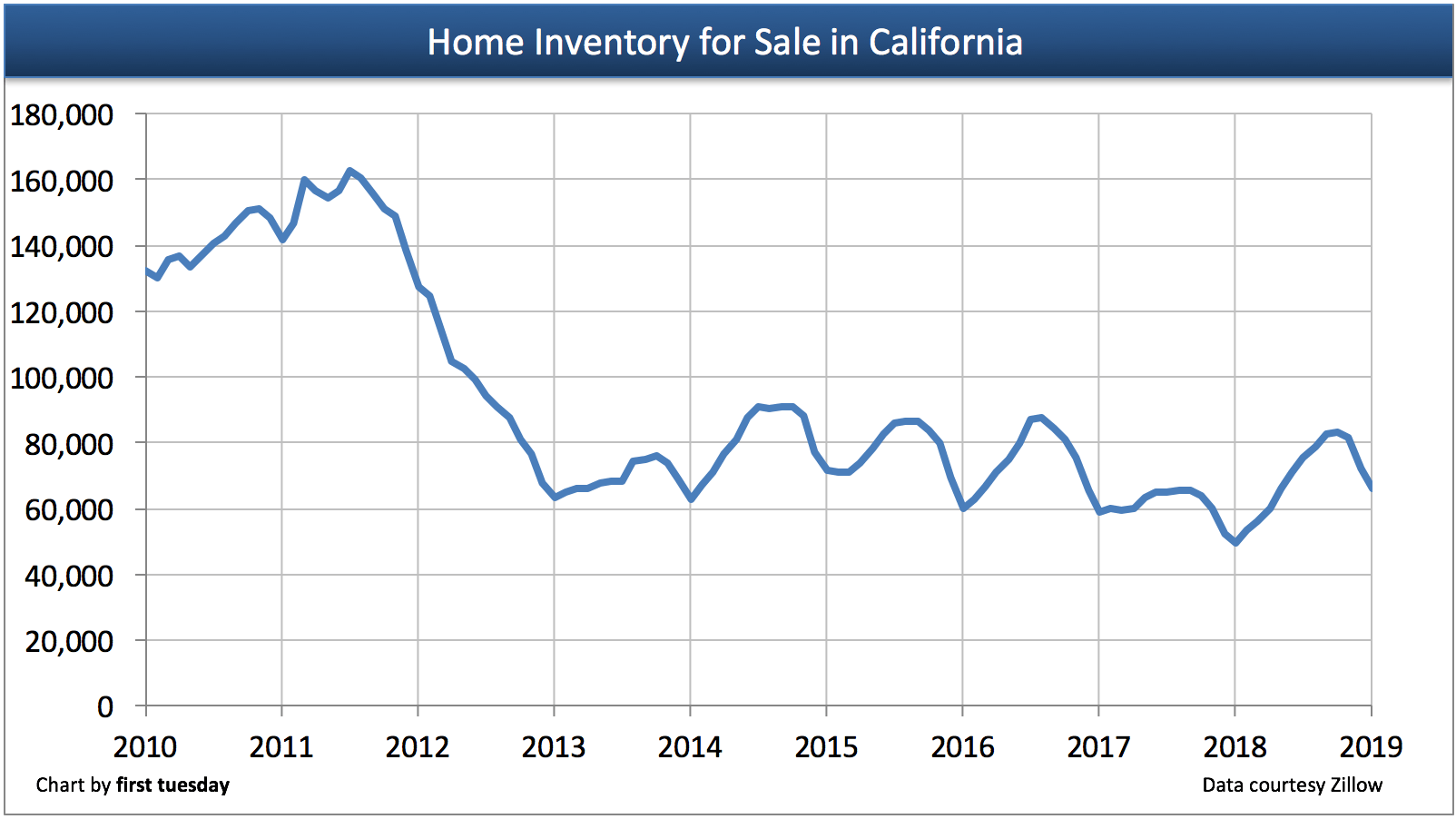 Chart update 02/22/19
| | | | |
| --- | --- | --- | --- |
| | Jan 2019 | Jan 2018 | Annual change |
| California home inventory for sale | 66,300 | 49,500 | +34% |
Listings continued to arrive at roughly the same rate as other years in 2017. But homes were bought off the market more quickly than normal.
This is reflected in the average number of days a home sits on the market in California before being snatched up by eager buyers. During 2017, the average number of days a home sat on the market was 62 days, down from 71 days in both 2016 and 2015, according to Zillow.
This supply-demand imbalance continues to push home prices higher. Average California home prices were 8%-9% higher than a year earlier as of April 2018. This is compared to the average income growth of just 3% in 2016, according to the Bureau of Economic Analysis.
The cure for the inventory shortage
There are only two reasonable possibilities to cure today's inventory imbalance:
decreased demand, via a reduction in the number of homebuyers; or
meeting current demand with more new construction.
2018 may see a bit of both.
First of all, as mortgage interest rates continue to swell in 2018 in reaction to the Federal Reserve's (the Fed's) action to raise their benchmark interest rate, buyer purchasing power will decrease. This will have the double impact of pulling back home prices and homebuyer interest in buying. Further, the Fed's actions to increase interest rates point to a brief recession, likely to arrive by 2020. At this time, inventory will continue to swell as homebuyers wait on the sidelines for confidence in the economy to improve and prices to drop.
On the other hand, residential construction is due to increase, and soon.
Homeowner and rental vacancies are both near historic lows in California. Whenever vacancies decline, construction is sure to rise to meet demand. But construction has been hampered during this long recovery from the 2008 recession due to strict and limiting zoning laws in California's metro areas. To that end, a significant package of legislation was passed in 2017 set to increase the construction of low- and moderate-income housing across California. These legislative changes include paving the way for smoother permitting and looser zoning laws.
Related article:
California's low residential vacancy rates signal more construction