Use this first tuesday FARM Letter in your marketing. To request a FARM letter topic, or to see a list of all our FARM letter templates, visit our FARM Letter page.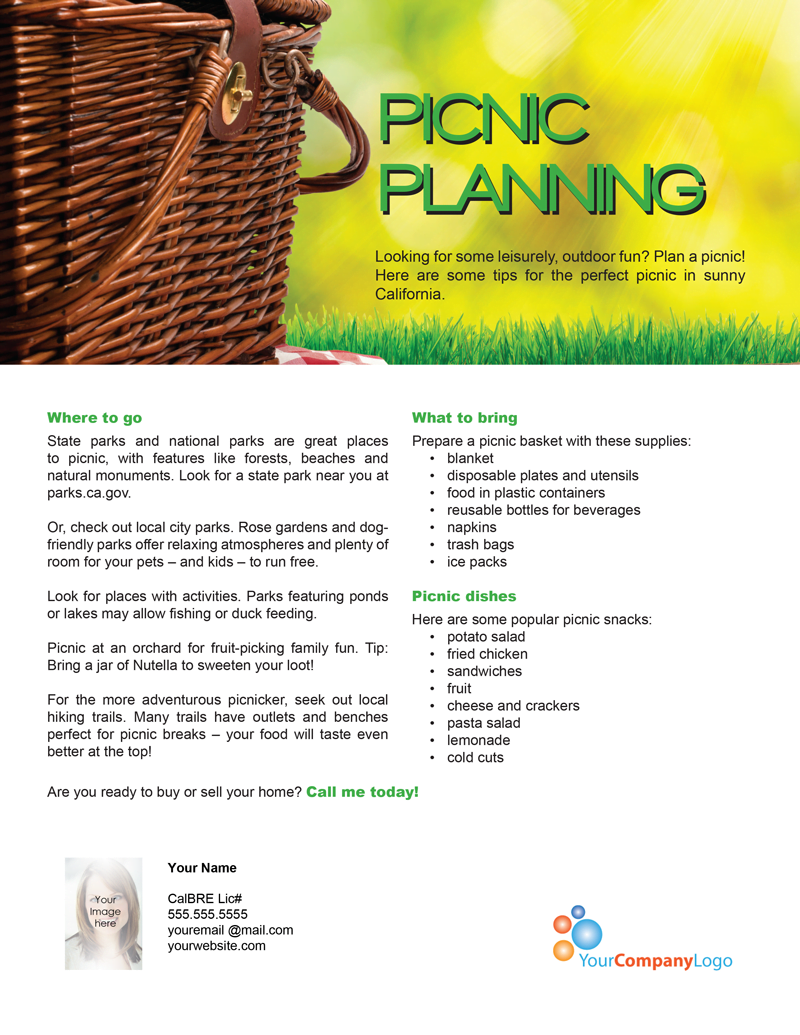 Download the Personalization Instructions
Download the PDF Template
Download the Microsoft Word Template
Text only
Looking for some leisurely, outdoor fun? Plan a picnic! Here are some tips for the perfect picnic in sunny California.
Where to go
State parks and national parks are great places to picnic, with features like forests, beaches and natural monuments. Look for a state park near you at
parks.ca.gov.
Or, check out local city parks. Rose gardens and dog-friendly parks offer relaxing atmospheres and plenty of room for your pets – and kids – to run free.
Look for places with activities. Parks featuring ponds or lakes may allow fishing or duck feeding.
Picnic at an orchard for fruit-picking family fun. Tip: Bring a jar of Nutella to sweeten your loot!
For the more adventurous picnicker, seek out local hiking trails. Many trails have outlets and benches perfect for picnic breaks – your food will taste even better at the top!
What to bring
Prepare a picnic basket with these supplies:
blanket
disposable plates and utensils
food in plastic containers
reusable bottles for beverages
napkins
trash bags
ice packs
Picnic dishes
Here are some popular picnic snacks:
potato salad
fried chicken
sandwiches
fruit
cheese and crackers
pasta salad
lemonade
cold cuts
Are you ready to buy or sell your home? Call me today!