Use this first tuesday FARM Letter in your marketing. To request a FARM letter topic, or to see a list of all our FARM letter templates, visit our FARM Letter page.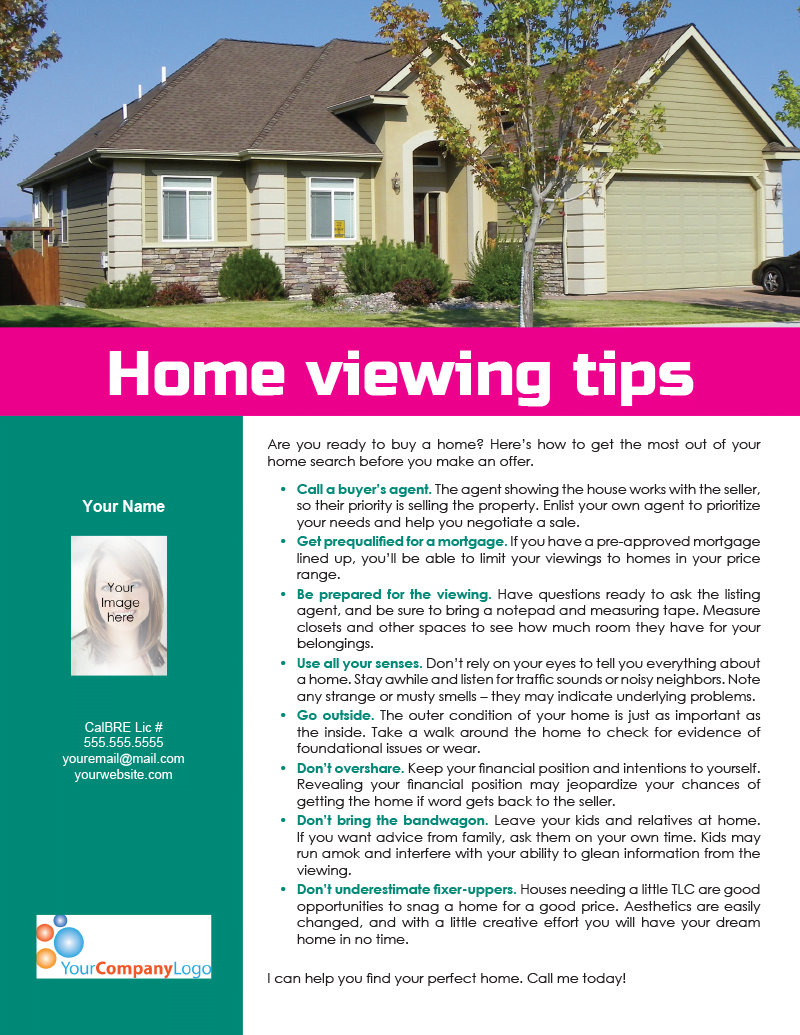 Download the Personalization Instructions
Download the PDF Template
Download the Microsoft Word Template
Text only
Are you ready to buy a home? Here's how to get the most out of your home search before you make an offer.
Call a buyer's agent. The agent showing the house works with the seller, so their priority is selling the property. Enlist your own agent to prioritize your needs and help you negotiate a sale.
Get prequalified for a mortgage. If you have a pre-approved mortgage lined up, you'll be able to limit your viewings to homes in your price range.
Be prepared for the viewing. Have questions ready to ask the listing agent, and be sure to bring a notepad and measuring tape. Measure closets and other spaces to see how much room they have for your belongings.
Use all your senses. Don't rely on your eyes to tell you everything about a home. Stay awhile and listen for traffic sounds or noisy neighbors. Note any strange or musty smells – they may indicate underlying problems.
Go outside. The outer condition of your home is just as important as the inside. Take a walk around the home to check for evidence of foundational issues or wear.
Don't overshare. Keep your financial position and intentions to yourself. Revealing your financial position may jeopardize your chances of getting the home if word gets back to the seller.
Don't bring the bandwagon. Leave your kids and relatives at home. If you want advice from family, ask them on your own time. Kids may run amok and interfere with your ability to glean information from the viewing.
Don't underestimate fixer-uppers. Houses needing a little TLC are good opportunities to snag a home for a good price. Aesthetics are easily changed, and with a little creative effort you will have your dream home in no time.
I can help you find your perfect home. Call me today!