Use this first tuesday FARM Letter in your marketing. To request a FARM letter topic, or to see a list of all our FARM letter templates, visit our FARM Letter page.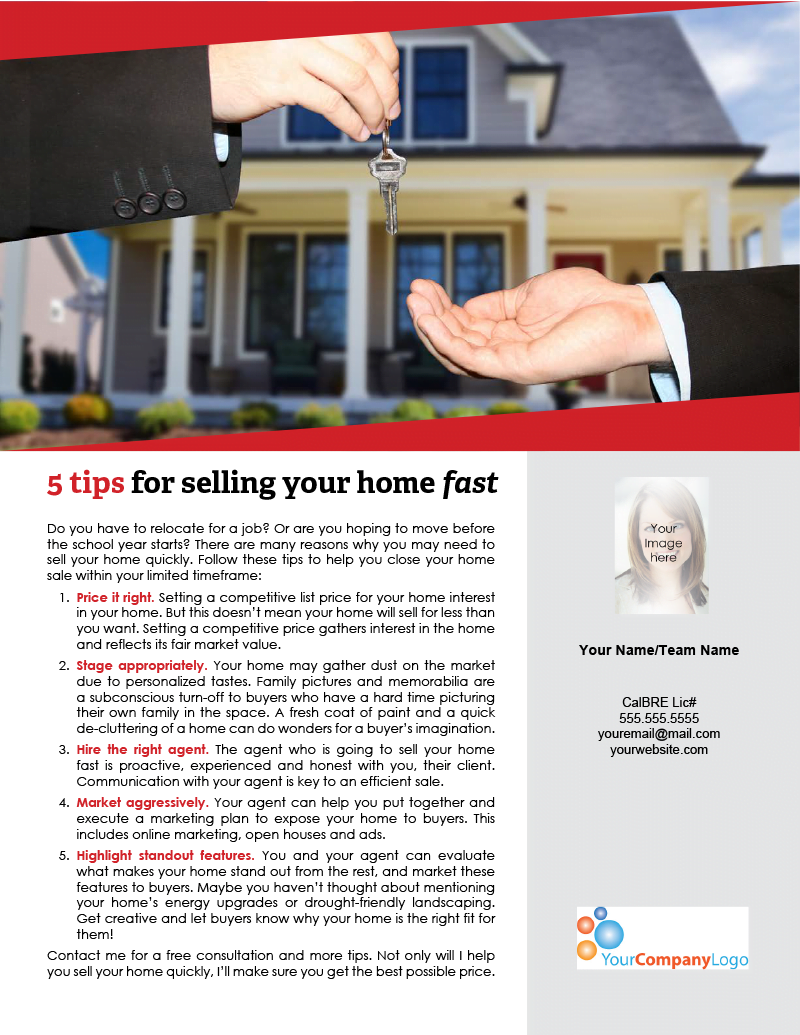 Download the Personalization Instructions
Download the PDF Template
Download the Microsoft Word Template
Text only
Do you have to relocate for a job? Or are you hoping to move before the school year starts? There are many reasons why you may need to sell your home quickly. Follow these tips to help you close your home sale within your limited timeframe:
Price it right. Setting a competitive list price for your home interest in your home. But this doesn't mean your home will sell for less than you want. Setting a competitive price gathers interest in the home and reflects its fair market value.
Stage appropriately. Your home may gather dust on the market due to personalized tastes. Family pictures and memorabilia are a subconscious turn-off to buyers who have a hard time picturing their own family in the space. A fresh coat of paint and a quick de-cluttering of a home can do wonders for a buyer's imagination.
Hire the right agent. The agent who is going to sell your home fast is proactive, experienced and honest with you, their client. Communication with your agent is key to an efficient sale.
Market aggressively. Your agent can help you put together and execute a marketing plan to expose your home to buyers. This includes online marketing, open houses and ads.
Highlight standout features. You and your agent can evaluate what makes your home stand out from the rest, and market these features to buyers. Maybe you haven't thought about mentioning your home's energy upgrades or drought-friendly landscaping. Get creative and let buyers know why your home is the right fit for them!
Contact me for a free consultation and more tips. Not only will I help you sell your home quickly, I'll make sure you get the best possible price.