Use this first tuesday FARM Letter in your marketing. To request a FARM letter topic, or to see a list of all our FARM letter templates, visit our FARM Letter page.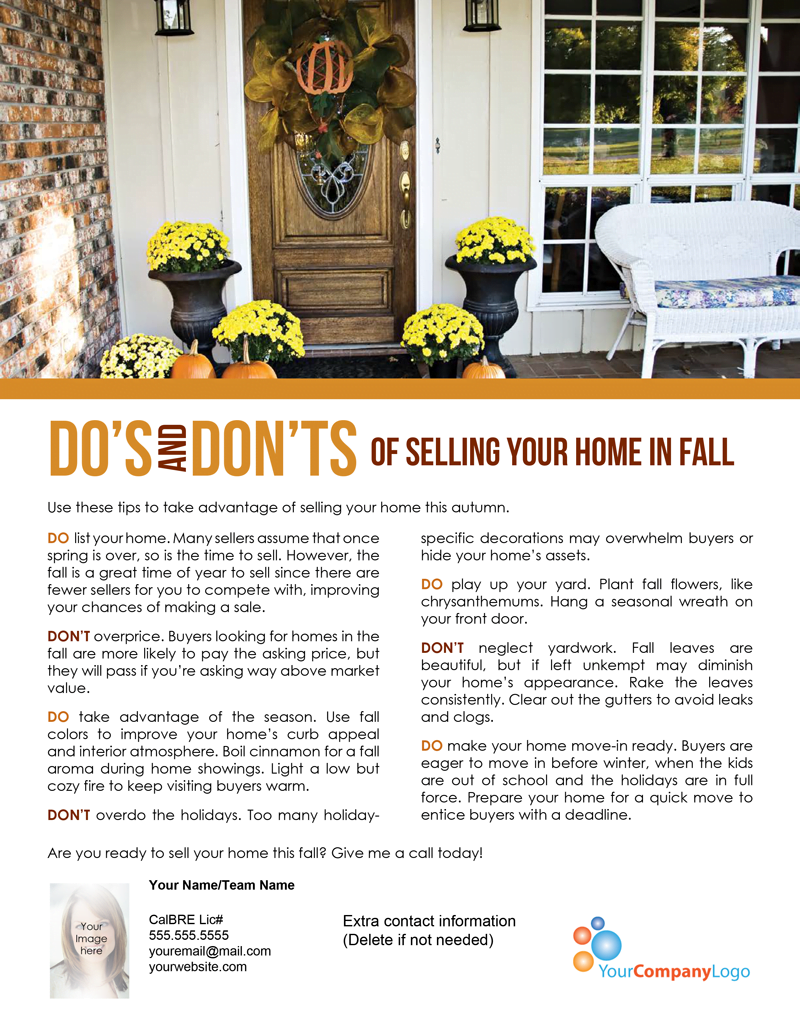 Download the Personalization Instructions
Download the PDF Template
Download the Microsoft Word Template
Text only
Use these tips to take advantage of selling your home this autumn.
DO list your home. Many sellers assume that once spring is over, so is the time to sell. However, the fall is a great time of year to sell since there are fewer sellers for you to compete with, improving your chances of making a sale.
DON'T overprice. Buyers looking for homes in the fall are more likely to pay the asking price, but they will pass if you're asking way above market value.
DO take advantage of the season. Use fall colors to improve your home's curb appeal and interior atmosphere. Boil cinnamon for a fall aroma during home showings. Light a low but cozy fire to keep visiting buyers warm.
DON'T overdo the holidays. Too many holiday-specific decorations may overwhelm buyers or hide your home's assets.
DO play up your yard. Plant fall flowers, like chrysanthemums. Hang a seasonal wreath on your front door.
DON'T neglect yardwork. Fall leaves are beautiful, but if left unkempt may diminish your home's appearance. Rake the leaves consistently. Clear out the gutters to avoid leaks and clogs.
DO make your home move-in ready. Buyers are eager to move in before winter, when the kids are out of school and the holidays are in full force. Prepare your home for a quick move to entice buyers with a deadline.
Are you ready to sell your home this fall? Give me a call today!