Use this first tuesday FARM Letter in your marketing. To request a FARM letter topic, or to see a list of all our FARM letter templates, visit our FARM Letter page.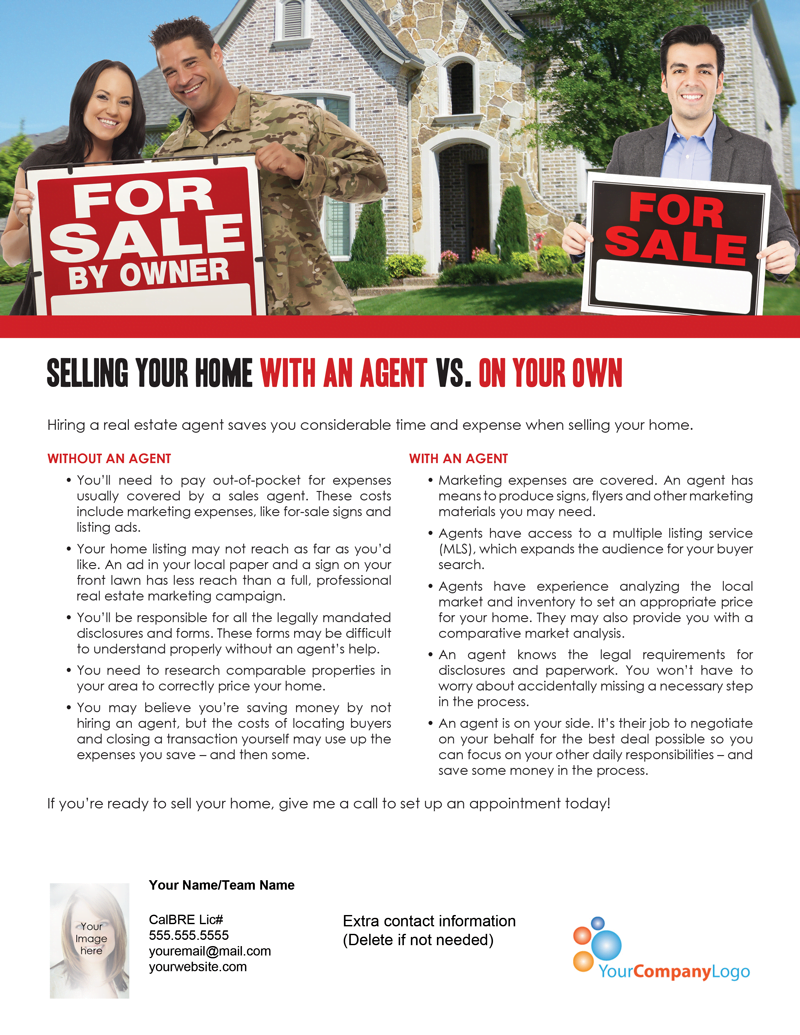 Download the Personalization Instructions
Download the PDF Template
Download the Microsoft Word Template
Text only
Hiring a real estate agent saves you considerable time and expense when selling your home.
WITHOUT AN AGENT
You'll need to pay out-of-pocket for expenses usually covered by a sales agent. These costs include marketing expenses, like for-sale signs and listing ads.
Your home listing may not reach as far as you'd like. An ad in your local paper and a sign on your front lawn has less reach than a full, professional real estate marketing campaign.
You'll be responsible for all the legally mandated disclosures and forms. These forms may be difficult to understand properly without an agent's help.
You need to research comparable properties in your area to correctly price your home.
You may believe you're saving money by not hiring an agent, but the costs of locating buyers and closing a transaction yourself may use up the expenses you save – and then some.
WITH AN AGENT
Marketing expenses are covered. An agent has means to produce signs, flyers and other marketing materials you may need.
Agents have access to a multiple listing service (MLS), which expands the audience for your buyer search.
Agents have experience analyzing the local market and inventory to set an appropriate price for your home. They may also provide you with a comparative market analysis.
An agent knows the legal requirements for disclosures and paperwork. You won't have to worry about accidentally missing a necessary step in the process.
An agent is on your side. It's their job to negotiate on your behalf for the best deal possible so you can focus on your other daily responsibilities – and save some money in the process.
If you're ready to sell your home, give me a call to set up an appointment today!