Use this first tuesday FARM Letter in your marketing. To request a FARM letter topic, or to see a list of all our FARM letter templates, visit our FARM Letter page.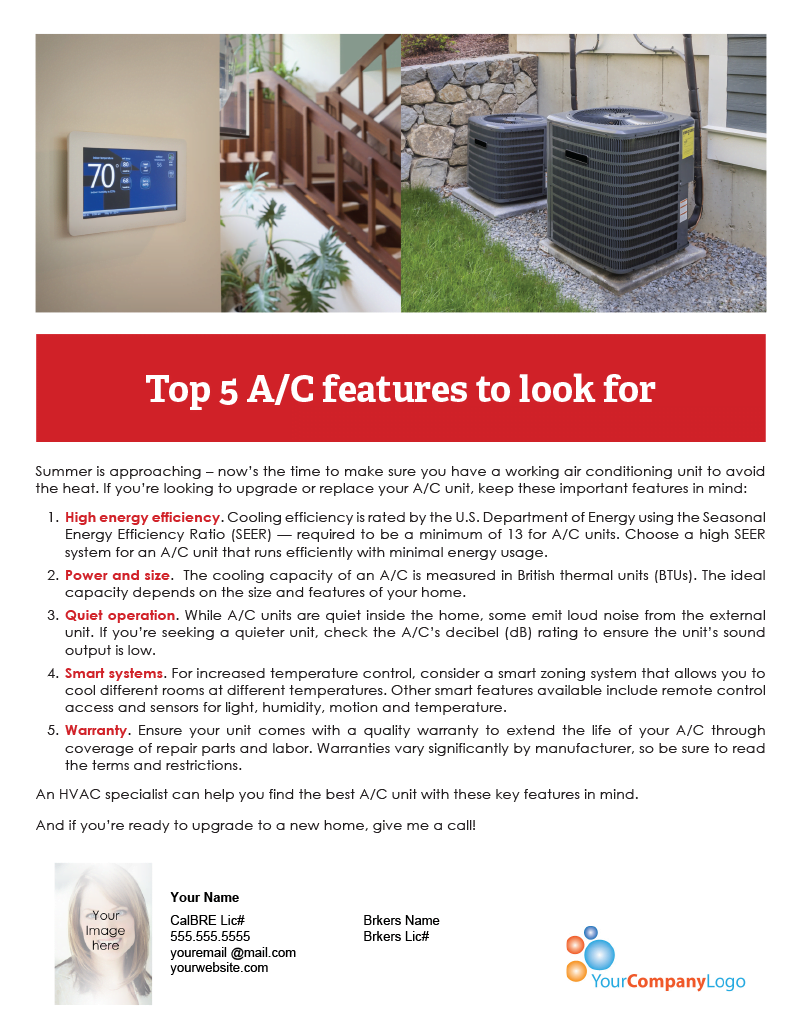 Download the Personalization Instructions
Download the PDF Template
Download the Microsoft Word Template
Text only
Summer is approaching – now's the time to make sure you have a working air conditioning unit to avoid the heat. If you're looking to upgrade or replace your A/C unit, keep these important features in mind:
High energy efficiency. Cooling efficiency is rated by the U.S. Department of Energy using the Seasonal Energy Efficiency Ratio (SEER) — required to be a minimum of 13 for A/C units. Choose a high SEER system for an A/C unit that runs efficiently with minimal energy usage.
Power and size. The cooling capacity of an A/C is measured in British thermal units (BTUs). The ideal capacity depends on the size and features of your home.
Quiet operation. While A/C units are quiet inside the home, some emit loud noise from the external unit. If you're seeking a quieter unit, check the A/C's decibel (dB) rating to ensure the unit's sound output is low.
Smart systems. For increased temperature control, consider a smart zoning system that allows you to cool different rooms at different temperatures. Other smart features available include remote control access and sensors for light, humidity, motion and temperature.
Warranty. Ensure your unit comes with a quality warranty to extend the life of your A/C through coverage of repair parts and labor. Warranties vary significantly by manufacturer, so be sure to read the terms and restrictions.
An HVAC specialist can help you find the best A/C unit with these key features in mind.
And if you're ready to upgrade to a new home, give me a call!