The 2020 recession has resulted in historic job losses, and reduced income. As of September 2020, the number of jobs in California was 8.5% below a year earlier, reflecting a loss of roughly 1.5 million jobs. Still others have seen their hours and income cut back.
Without a paycheck or earnings from a trade or business, individuals cannot afford to rent an apartment or buy a house. With over 1.6 million people out of a job this far into the recession, many are falling behind on their housing payments.
As of the week ending October 26, 2020, California renters and mortgaged homeowners expressed varying levels of confidence in their ability to pay next month's housing payment, according to the U.S. Census Bureau.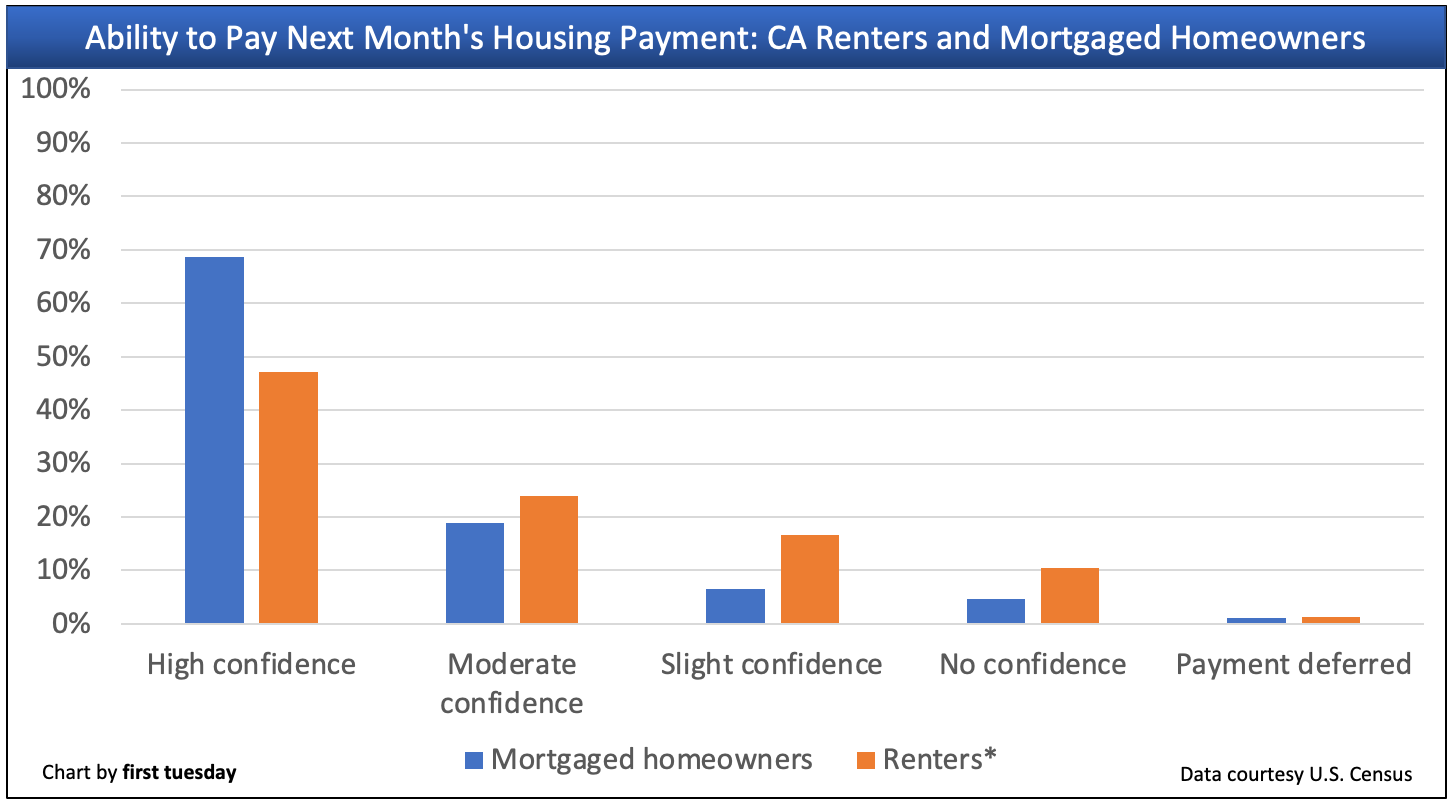 *The calculation of renters' confidence of their ability to pay next month's rent does not include renters who are already occupying rentals without paying rent.
| | | |
| --- | --- | --- |
| Ability to pay next month's housing payment (as of Oct. 26, 2020) | Renters* | Mortgaged homeowners |
| High confidence | 47.1% | 68.6% |
| Moderate confidence | 24.0% | 18.9% |
| Slight confidence | 16.6% | 6.5% |
| No confidence | 10.4% | 4.6% |
| Payment already deferred | 1.3% | 1.1% |
Here in California, tenants unable to pay rent due to COVID-19 restrictions may not be evicted through January 31, 2020. This poses a problem for landlords unable to collect on missed rent payments and with no remedies or assistance to cover operating costs. This can be especially burdensome for small "mom and pop" landlords who may only own a handful of units.
To that end, of the renters unable to pay rent, a heavier burden is falling on landlords of smaller rental properties. 61% of renters behind on their rent as of October 2020 lived in one-to-four unit rentals, with the majority occupying single family residences (SFRs), according to U.C. Berkeley's Terner Center for Housing Innovation.
For homeowners unable to pay their mortgage due to lost income in 2020, residential foreclosures are halted through the end of 2020.
Related article:
Insecurity leads to stasis in the market
As jobs are the basis of the real estate market, the job losses experienced on the historic scale of 2020 are certain to cause failures across housing and commercial sectors.
With the deep insecurity shown by homeowners, few are willing to relocate or list their homes for sale. This has caused a shortage of multiple listing service (MLS) inventory, contributing to lower home sales volume and unstably high home prices.
On the side of rentals, the income loss experienced by renters has not only depleted the savings of renters, but it has also detracted from the future population of homebuyers. Further, landlords are unable to collect from or evict these tenants while the moratoriums are in place. As landlords attempt to attract paying tenants, the result has been cascading rent cuts.
How to inject certainty back into the market?
Another round of economic stimulus may help, but it will not be enough to incite turnover, the oxygen of the housing market system. But the best way to give buyers, sellers and renters peace of mind will be through the return of jobs.
Despite lawmakers' efforts, discouraged Californians are dropping out of the state's labor force at an alarming rate. Absent intervention by the government to provide infrastructure jobs similar to the New Deal programs of the 1930s, the jobs recovery won't pick up steam until around 2023 at the earliest.
But rather than wait for government intervention, some forward-thinking agents and brokers have taken means into their own hands. To make a living during the instability of the bumpy months ahead, these licensees have added adjacent job titles such as property manager, mortgage loan officer (MLO) and notary public to their titles. Staying afloat in 2020 and beyond will depend on diversifying your skills and getting creative.
Related article:
The labor force participation rate rebounds slowly, with poor implications for real estate