As the hangover from the 2020 recession continues, it's important to note that Orange County's housing market never fully recovered from the 2008 recession. Home sales volume remained low throughout the elongated recovery of the 2010's, as did job creation. Residential construction of all types continues to struggle in this region, leaving would-be homebuyers wanting for more and helping push prices into bubble territory.
As the impacts of the 2020 recession and pandemic – including supply chain issues which have impacted pricing – continue, proactive agents will remain cautious of volatile sales activity here in Orange County and across the state. Persistent job losses along with reduced MLS inventory have held down sales volume despite strong demand which have pushed up home prices. Along with the supply-and-demand imbalance, prices were inflated by record-low interest rates in 2020-2021. But the recent pricing boost will not last in 2022, with rapid interest rate increases taking a machete to buyer purchasing power, along with the recent expiration of the foreclosure moratorium injecting forced sales into the MLS inventory. Expect prices to begin to slide heading into 2023, bottoming in 2025 following the next economic recession.
View the Orange County regional charts below for details on current activity and forecasts for its local housing market.
Updated May 9, 2022. Original copy posted March 2013.
Home sales volume dips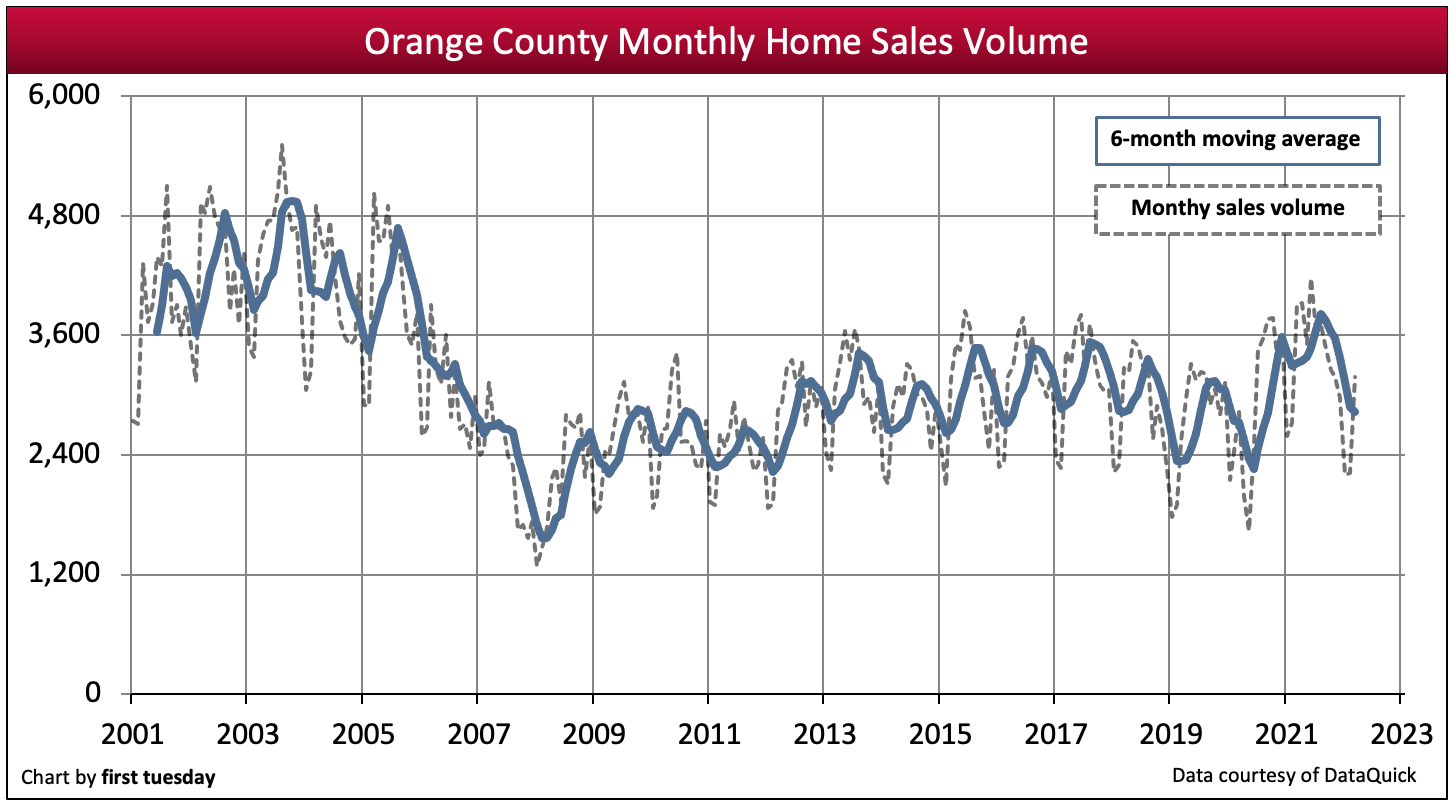 Chart update 05/09/22
| | | | | |
| --- | --- | --- | --- | --- |
| | 2021 | 2020 | 2019 | 2003: Peak Year |
| Orange County home sales volume | 41,100 | 35,000 | 34,000 | 53,900 |
*firsttuesday projections are based on home sales volume as experienced so far this year.
Home sales volume in Orange County remains weak and somewhat stuck at just over half the heights seen during the Millennium Boom. Echoing state trends, Orange County saw a decrease in total home sales volume in 2018, ending the year 9% lower than in 2017. In 2019, home sales volume was a further 3% below 2018. But in 2020, home sales volume began to reverse course, and 2021 ended a significant 17% above a year earlier. But the rising action of the past two years is at an end, as at the end of Q1 2022, year-to-date sales volume was a significant 18% below a year earlier, approaching 2019 sales volume levels.
A sharp bounce in home pricing has held sales volume back from achieving any consistent increases. Buyers' incomes, already insufficient to keep up with quickly rising home prices, are quickly being decimated as mortgage interest rates increase.
In review, 2009-2010 Orange County sales volume rose slightly with the introduction of the housing tax credit, falling back in 2011 for lack of end user demand. From the latter half of 2012 through most of 2013, speculator hyper-activity bumped sales volume artificially yet again, as it did in all of California. The speculator buying wave receded and sales volume slumped in 2016-2019.
Looking forward, expect a similar dynamic in the years that follow the 2020 recession. In 2020-2021, federal stimulus, Federal Reserve-induced low interest rates and the eviction and foreclosure moratorium provided a temporary boost to the housing market. Thus, the housing market continued its progress despite the economic recession. But as the government has now fully removed its support, will housing be able to stand on its own, in an organic recovery?
It's unlikely. A complete recovery with annual sales volume of around 46,000 in Orange County will be reached only after end user demand is buttressed by labor force participation and normalized job levels, expected in the 2025 recovery period from the next recession, which is already on the horizon.
Related article:
Can the Fed cool inflation without implementing another recession?
Low turnover rate to continue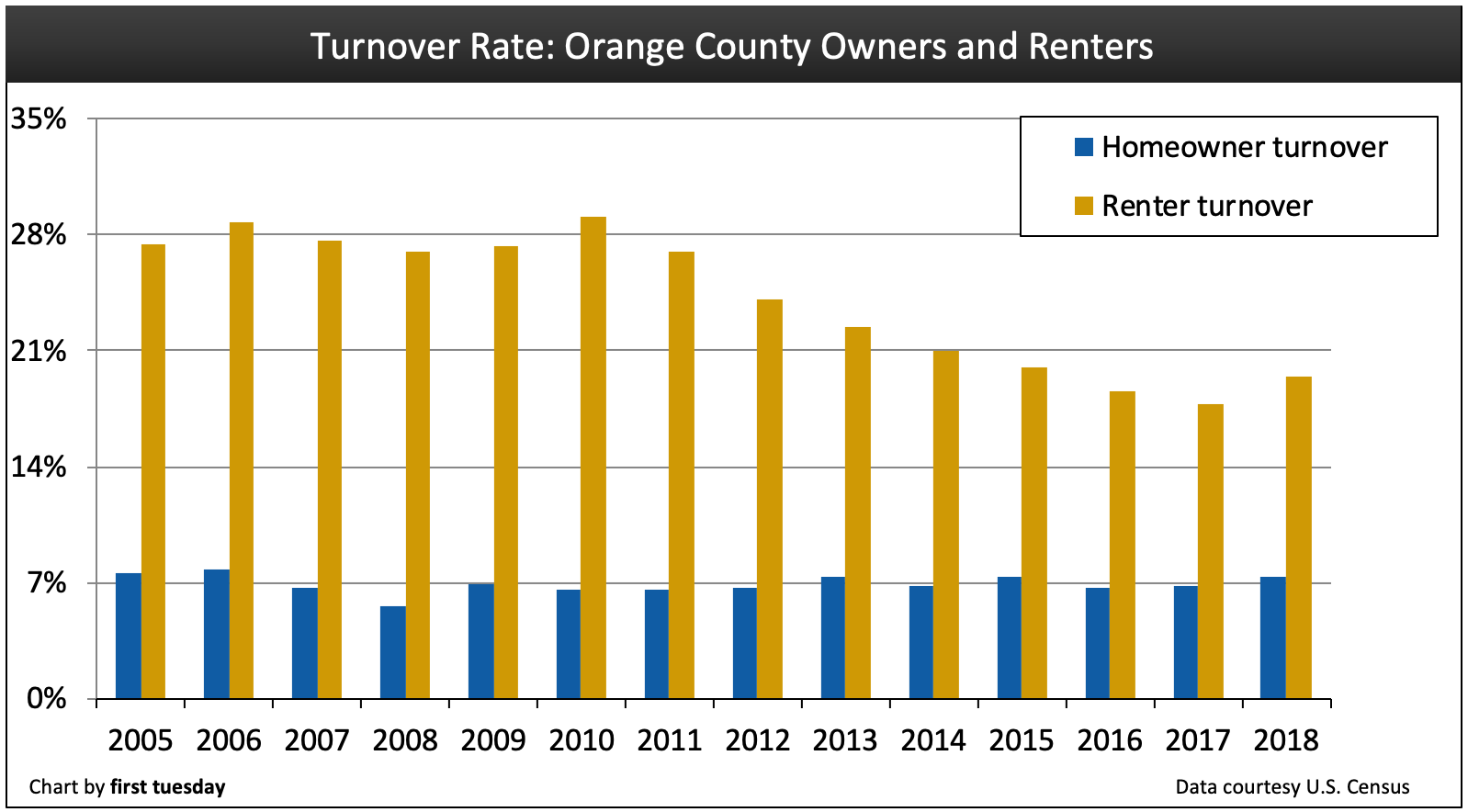 Chart update 09/07/20
| | | | |
| --- | --- | --- | --- |
| | 2018 | 2017 | 2016 |
| Orange County homeowner turnover rate | 7.3% | 6.8% | 6.7% |
| Orange County renter turnover rate | 19.5% | 17.8% | 18.5% |
Without turnover, homes do not sell. The homeowner turnover rate in Orange County has remained mostly level since the end of the recession in 2009, at 7.3% as of 2018. The renter turnover rate has declined since 2010 and was at 19.5% in 2018, the most recently reported Census year.
Expect homeowner turnover reports to slip dramatically in 2020. With 2020 recession job losses alongside COVID-19 eviction moratoriums, significantly fewer renters and homeowners are currently changing residences.
The homeowner turnover rate will rise once home prices and interest rates align to produce desirable homebuying conditions. This is not expected before 2024-2025, when the additional and necessary factor of greatly increased residential construction will be experienced and a sustainable and predictable recovery from the 2020 recession will begin. Then, members of Generation Y (Gen Y) will collectively rush to buy and Baby Boomers (Boomers) will retire en masse, selling and mostly buying replacement homes. International and domestic emigration into California will also play a significant role in suburban housing demand.
Homeownership remains low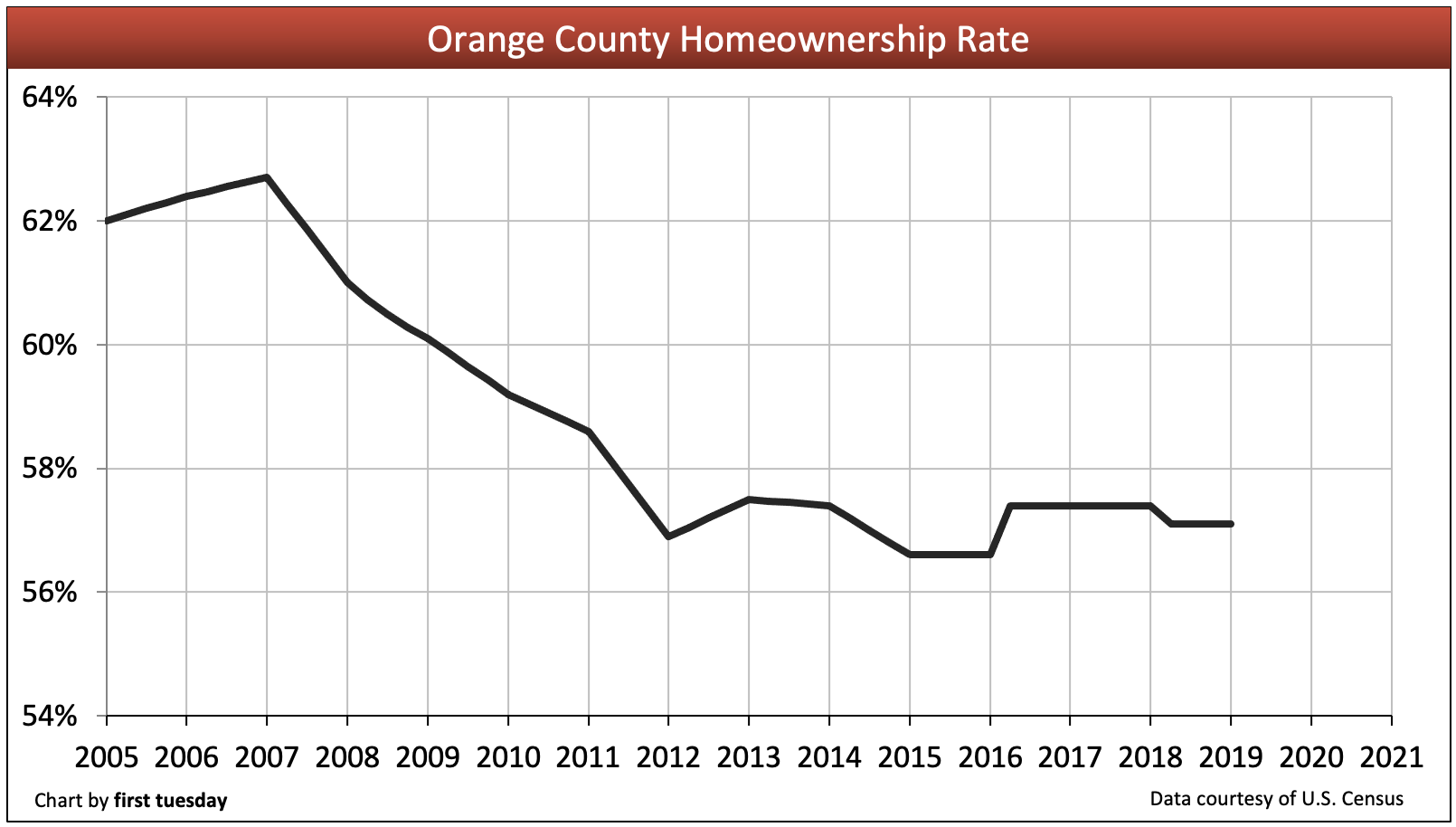 Chart update 06/20/21
| | | | |
| --- | --- | --- | --- |
| | 2019 | 2018 | 2017 |
| Orange County homeownership | 57.1% | 57.4% | 57.4% |
Orange County's homeownership rate has fallen since its 2007 peak of 62.7%. The most recent homeownership data shows a 57.1% homeownership rate in Orange County. Statewide homeownership has historically been about two percentage points below Orange County's. The state average is currently 55%, thus homeownership reports in Orange County in 2020 likely remain around 57%.
Expect Orange County's homeownership rate to remain near its present low level until 2024-2025, when the housing market will bounce back from the 2020 recession. Only with the return of jobs, higher wages and increased confidence will the first-time homebuyer population gain traction.
However, don't expect the rate of homeownership to fully return to the inflated heights seen in 2007 anytime soon. This rate was elevated by unfettered access to easy money, which mortgage regulators tamped down in 2014 with enforcement of ability-to-pay (ATR) rules to protect society from certain destabilizing types of mortgage lending. These rules limit mortgage funding to those homebuyers with the financial ability to actually repay their debts.
Thus, the housing market won't see a repeat of those Millennium Boom homebuyers who lacked the proper finances. Though this translates to a slightly lower homeownership rate in the near term, it fosters a more stable future housing market in Orange County and the state. The shift of Gen Y to rentals for a longer period before buying a home than in past generations also puts a cap on home sales volume.
Construction starts on the rebound
Chart update 01/14/21
| | | | |
| --- | --- | --- | --- |
| | 2020 | 2019 | 2018 |
| Orange County single family residential (SFR) starts | 4,000 | 3,200 | 4,500 |
| Orange County multi-family starts | 3,600 | 5,200 | 3,900 |
The recovery picture is mixed for Orange County residential construction. After years of increased single family residential (SFR) construction starts, 2018 and 2019 both saw a decrease in the number of new SFRs started. In 2020, the trend reversed, with SFR construction rising and multi-family declining.
Multi-family starts in Orange County totaled 3,600 in 2020, down 31% from the previous year. This decline resumes a long downward trend that was briefly broken in 2019. However, statewide legislative moves focused on adding more housing for the ever-growing resident population will see multi-family gradually climb in the coming years.
2020's slowing construction starts were partly the result of shelter-in-place orders in response to the COVID-19 pandemic and decreased confidence in the economy from lenders and builders.
The next peak in multi-family construction starts will likely occur in 2024-2025 period due to a boost from state legislation. However, don't expect SFR construction to recover fully anytime soon. The next peak in SFR construction starts will likely occur in the post-2024 era as renters shift to becoming homeowners following a statewide-push for more construction. Even then, SFR starts are unlikely to return to the mortgage-driven numbers seen during the hyperactive Millennium Boom.
Jobs are recovering, too slowly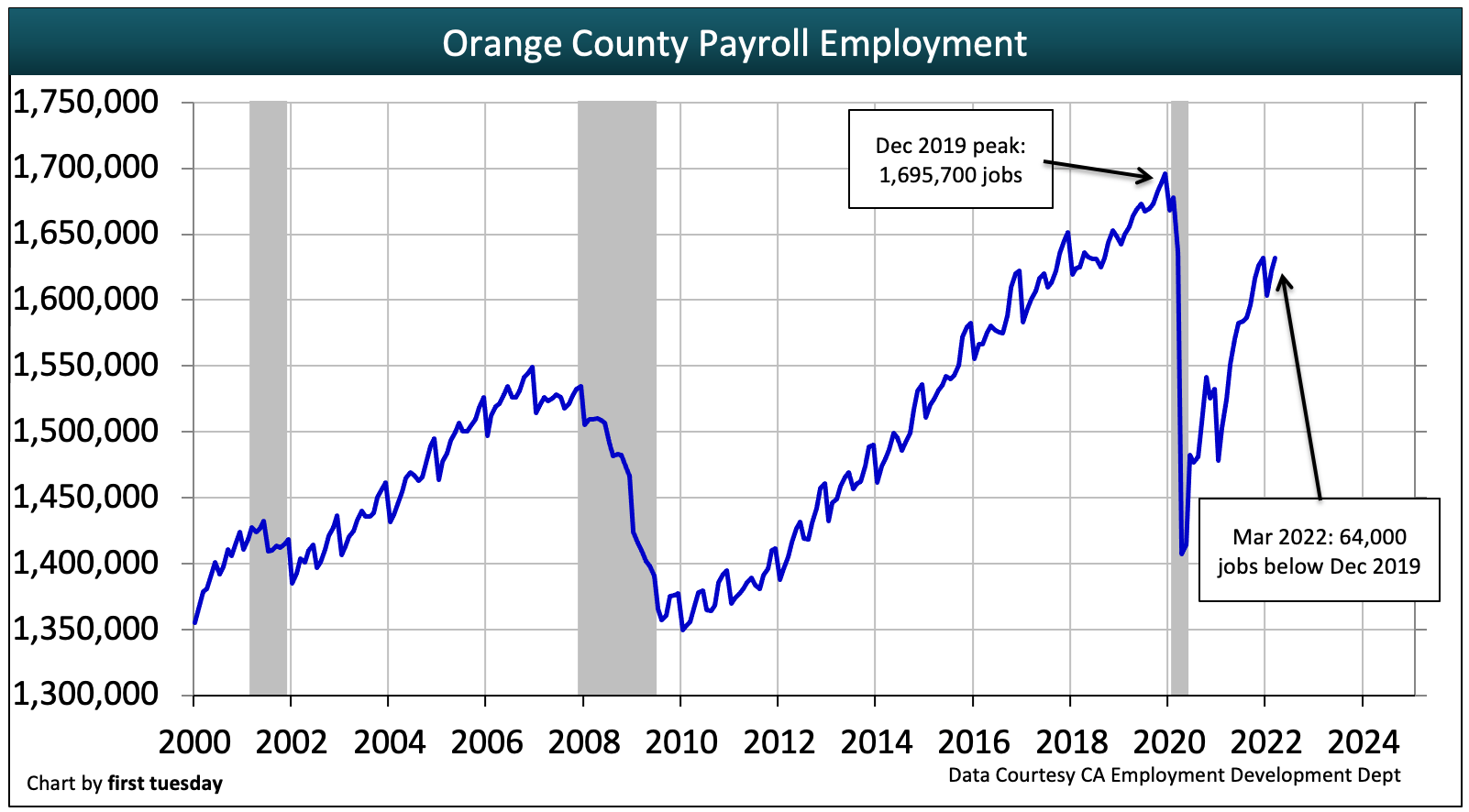 Chart update 05/09/22
| | | | |
| --- | --- | --- | --- |
| | Mar 2022 | Mar 2021 | annual change |
| Orange County jobs | 1,631,700 | 1,525,100 | +7.0% |
Orange County continues to recover from the historic job losses of 2020. While the number of jobs is a significant 7.0% above a year earlier at the end of Q1 2022, this is a reflection of the steep losses of the 2020 recession, with jobs hitting a bottom in April 2020. Compared to the pre-recession peak, Orange County is still 69,400 jobs or 3.7% below the number of jobs held prior to the 2020 recession.
As seen in the chart above, job additions were one-third slower to come about during the past recovery compared to the 2000s recovery, and at half the pace of the 1990s recovery, echoing the secular stagnation of the 1930s. When will all of these jobs catch up with Orange County's continuously growing population?
Orange County was on course to return to pre-recession levels in 2020, but not before the 2020 recession arrived, causing significant job losses in the region. At 3.7% below the pre-recession peak, the jobs recovery here in Orange County is slightly better than the jobs recovery being experienced statewide, which is 3.9% below the pre-recession peak as of March 2022. Expect a W-shaped recovery/recession in the coming months, with jobs continuing to recover in starts and stops, not to enter a true recovery until after the double-dip recession expected in late-2023 is behind us.
Jobs in the real estate industry
Chart update 05/09/22
| | | | |
| --- | --- | --- | --- |
| | Mar 2022 | Mar 2021 | annual change |
| | 103,600 | 102,400 | +1.2% |
| | 38,700 | 34,900 | +10.9% |
2020 job losses continue to impact California's various employment industries. The number of individuals employed in the real estate industry has bounced somewhat higher in Q1 2022, though it remains below the numbers of the pre-2020 recession. Meanwhile, construction jobs continue a downward track in 2021-2022.
Construction jobs will likely rise in the coming years, as state legislation focusing on adding more housing inventory is not impacted by the recession. The real estate industry will see jobs increase beginning around 2025 with the housing market's recovery from the coming recession.
Per capita income plays catch up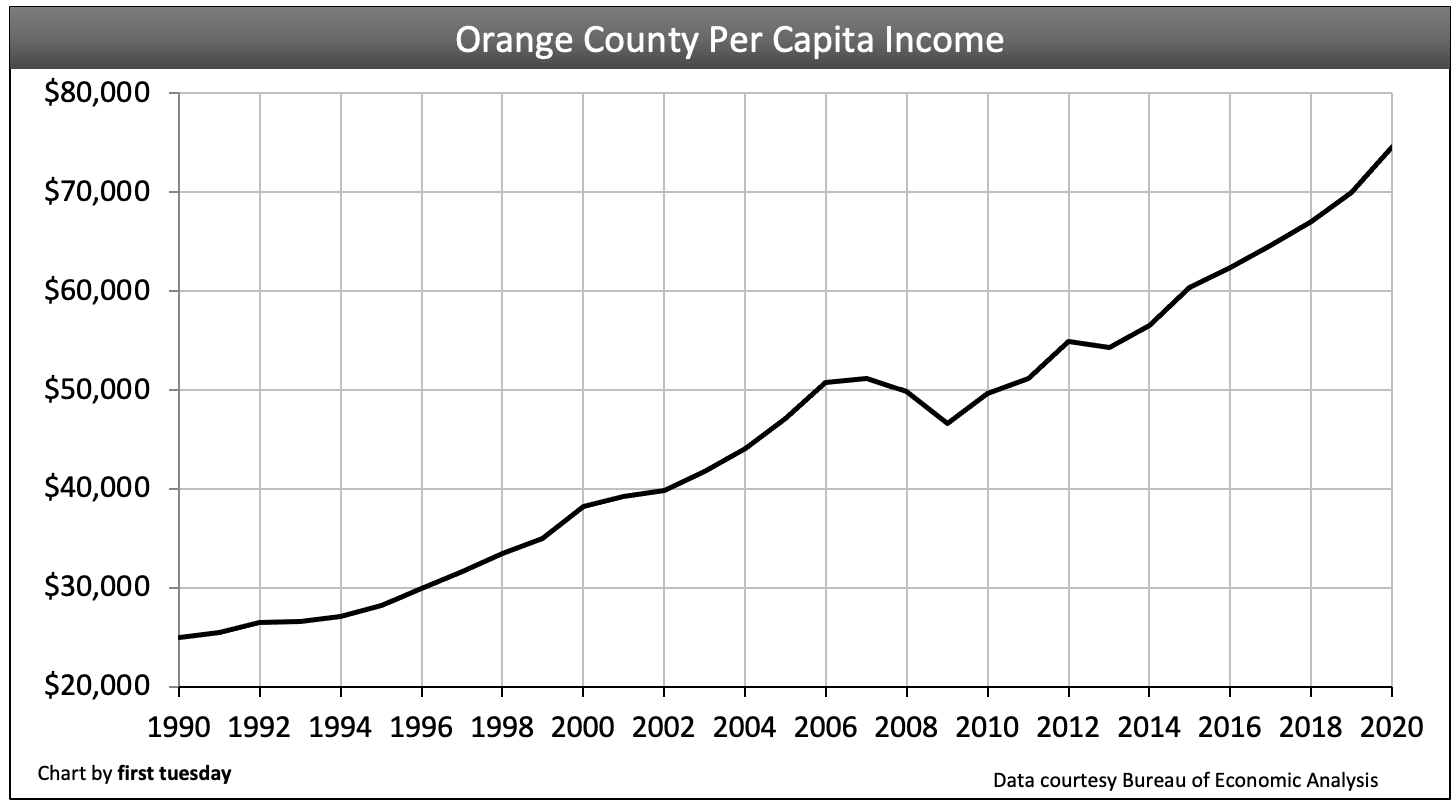 Chart update 05/09/22
| | | | |
| --- | --- | --- | --- |
| | 2020 | 2019 | Annual change |
| Orange County per capita income | $74,600 | $70,000 | +6.7% |
| California per capita income | $70,000 | $65,300 | +8.3% |
The average income earner in Orange County made $74,600 in 2020 (the most recently reported data from the Bureau of Economic Analysis).
Sustainable home price increases (not driven by cash-heavy investors or market momentum) are limited to a ceiling set by personal income, the annual rate of increase from 2019 to 2020 in this region being 6.7%. Buyer and tenants are only able to pay what their incomes allow them to. However, his annual income increase was given further fuel by record-low interest rates, which caused buyer purchasing power to jump in 2020-2021. Yet, as interest rates reverse course in 2022, buyer purchasing power is swiftly losing steam, relegating homebuyers to rely on income increases alone.
Home sales will soon stand on their own absent the government support of 2020-2021 received in the form of stimulus and artificially-low interest rates. Thus, going forward, price increases will remain minimal until an optimal employment level is attained.
Look to 2024-2025 for the next significant increase in home sales volume and prices. This period will be driven by the shifting demographic trends of retiring Baby Boomers and their Gen Y and Z counterparts who will become homebuyers en masse following the next recession.