Redfin commissioned a nationwide survey earlier in 2019, collecting responses from 500 active real estate agents on topics ranging from sales numbers to incomes to client demographics.
Notably, while national trends are helpful in understanding the motivations and challenges influencing real estate agents, real estate remains a hyper-local business. Therefore, California readers: consider this report with a grain of salt. The Golden State's extreme housing market — including high home prices, low residential construction and unique demographic characteristics — means the trends reported by Redfin will look different in your neighborhood.
To read the full report, check out Redfin's survey results, here.
Career challenges
Just 21% of all agents surveyed would recommend their career to someone considering becoming a real estate agent.
When asked what aspects of the job they like performing, the highest marks were given for making customer relationships and entrepreneurial independence. On the other hand, the sales part of the job — finding clients and closing sales — received the lowest marks from agents, though a small majority still said they enjoyed this part of the job.
The thing that agents like least about being a real estate agent is the unpredictability of income, followed closely by the difficulty of finding new clients.
first tuesday's take is that agents who have received extended training on how to find new clients will find this part of the job less daunting. The entrepreneurial spirt can be learned, ideally from a more experienced agent willing to provide coaching or an official apprenticeship.
Related article:
Change the law: Require an apprenticeship period for new agents
Income challenges
The median income for agents is $25,000-$50,000, after accounting for work-related expenses and health insurance. However, the largest income bracket for real estate agents falls in the under $25,000 range, with 24% of agents reporting earning less than $25,000 annually.
For a new agent, no surprises.  It takes approximately 6-12 months to start earning a consistent income. However, 19% report it taking a year or longer to begin earning consistently. This group is mainly made up of new agents who are still finding their client base, and the reason why coming into the profession with sufficient savings is so important to success.
While the median number of sales closed each year is 7-9, the largest share of agents (19%) reported being in the 4-6 sales closed per year range. About 12% of agents are super agents, closing 22 or more sales each year. Put another way, the old perception that one-third of agents are entering the business, one-third are exiting and one-third are closing most of the deals, is pretty spot on.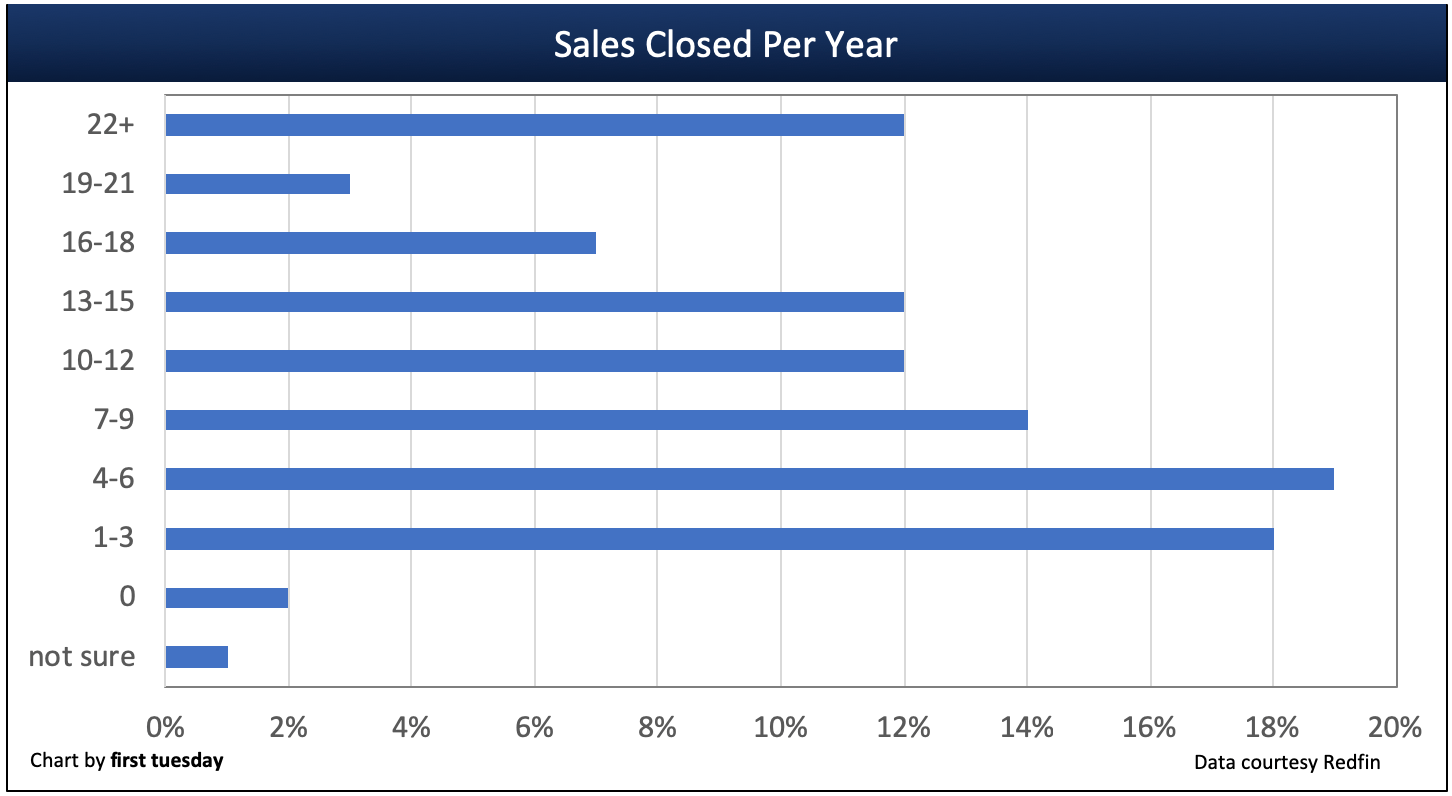 Here in California, considering the median selling price of roughly $500,000 in 2019, according to Zillow. A broker earns about 2.5% of the selling price as their real estate fee. After a fee split of, say, 50% with their broker, the average agent receives just over $6,000 per sale closed. This is before any work-related expenses, healthcare or other insurance.
For an agent closing 4-6 transactions annually, the total income earned is pretty low, around $25,000-$37,500 pre-tax each year, an income impossible to live off of basically anywhere in pricey California.
Related article:
Given the unpredictability of sales income, alongside the statistics that very few agents appear to complete enough sales to make a decent living, it's not uncommon for agents to take on a second job.
46% of respondents to Redfin's survey said they have taken on a second job to supplement their income earned as a real estate agent. 14% report their second job relates to real estate, including such jobs as property onsite manager, investor, home inspector and home renovator. 2% reported supplementing their income as representatives for mortgage lenders or title insurers.
That being said, the average agent reports working 30-39 hours per week, leaving some additional time in the work week for a (much needed, for some) second job.
Demographic challenges
52% of agents rated Generation X (aged 39-54 in 2019) the easiest demographic to work with. This was followed by 25% who say Baby Boomers are easiest and just 23% who rated Millennials as the easiest clients.
This information jibes with the typical age of real estate agents who answered the survey. The median age was over 50 years old, with 28% of real estate agents in the 51-60 year-old group. Compare this with the median age of first-time homebuyers: 32. Millennials are also the largest group of U.S. residents, presenting a growing dichotomy between young homebuyers and an aging real estate agent force.
Millennials form a particular challenge for traditional unionized real estate agents. A 2018 Zillow survey found a whopping 57% of Millennial sellers try to complete a for-sale-by-owner (FSBO) before turning to an agent. Many young homeowners likely feel that with access to technology and a do-it-yourself attitude, they can do the job of a real estate agent and save the typical 2%-3% fee of a seller's agent.
Young homeowners and first-time homebuyers are often forced to pinch pennies more than previous generations. Crippling levels of student debt, slow income growth (the inequality to share GDP) and a delayed entry into the job force for lack of job opportunities following the Great Recession have all held back this current generation of first-time homebuyers. These obstacles, along with the overall self-assuredness of this generation, present unique challenges to real estate agents tasked with guiding them through the processes of buying and selling. They research online, draw opinions and voice them often distrusting the agent that attempts to correct misunderstandings.
Related article:
Challenges from racism, sexism
Since many real estate professionals are women, and much of the job involves being alone with clients in unfamiliar or secluded environments, how safe do these women feel in the job of real estate agent?
13% of female survey respondents report being sexually harassed or experiencing sexism from clients and 6% report experiencing the same treatment from colleagues.
21% of female agents say that, while they have experienced sexism on the job in the past, things have improved. 25% say that there is some sexual harassment and sexism, but no more than is perceived in other industries.
The good news: 53% of female agents say real estate is a good career for women, mostly free of sexual harassment and sexism.
Here in California, employers (including employing brokers) may be held responsible for any type of harassment activity towards their employees, applicants, contractors, unpaid interns and volunteers. This includes harassment from a client towards an employee. [Calif. Government Code §12940(j)(1)]
Further, employers — including employing brokers — with five or more employees (agents and broker-associates under written contract with a broker) need to provide at least two hours of sexual harassment prevention training to all supervisory employees (office managers) and at least one hour of training to nonsupervisory employees (sales agent/broker-associates). This includes brokers and agents, regardless of their independent contractor status. [Gov C §§12950(a)(3); 12950.1(a)]