The Monthly Statistical Update (MSU) keeps agents and brokers current on the market trends affecting California real estate transactions.
This month, we're covering:
today's negative yield spread, which forecasts an official recession declaration to arrive in mid-2023;
multiple listing service (MLS) inventory, rising to 14% above a year earlier across California's largest metros;
the jobs market, now fully recovered from the 2020 recession; and
recommendations on generating additional fees for real estate agents seeking to survive the 2023 recession.
Download the Monthly Statistical Update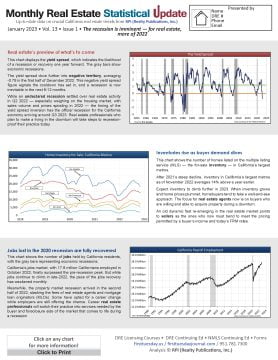 Download the customizable PDF version of the January 2023 MSU to share the latest market stats with your office and clients.
Plus, download Adobe Acrobat Reader to personalize this MSU with your image/logo and contact info — free!