Use this first tuesday FARM Letter in your marketing. To request a FARM letter topic, or to see a list of all our FARM letter templates, visit our FARM Letter page.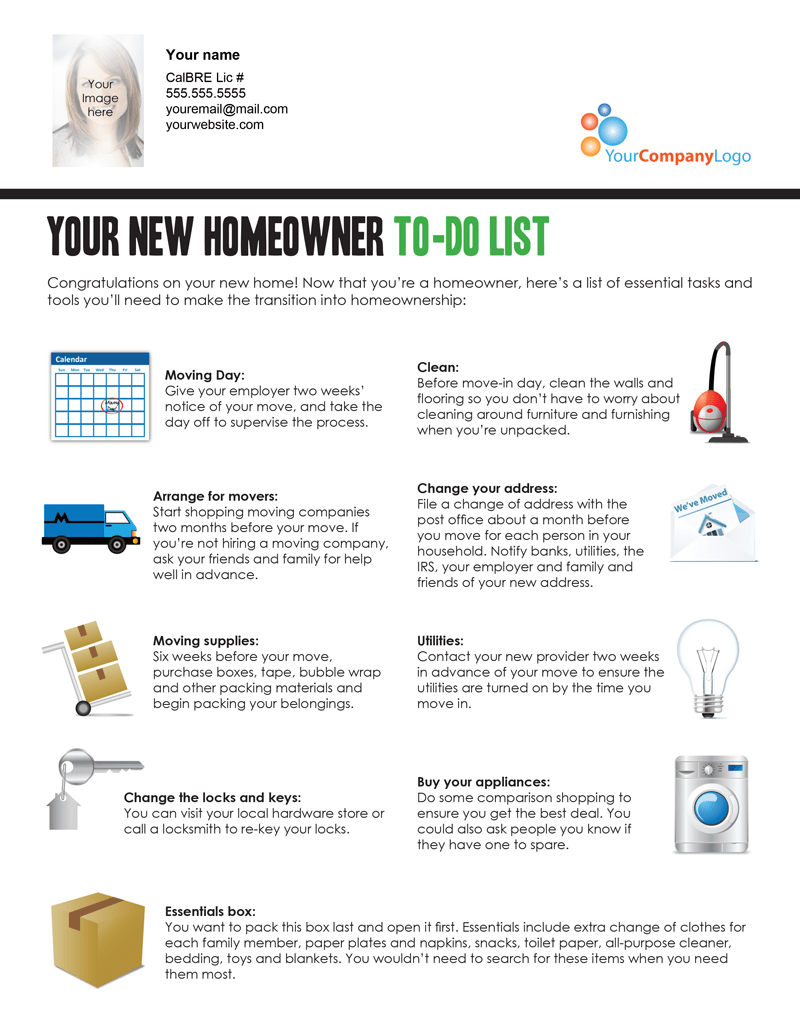 Download the Personalization Instructions
Download the PDF Template
Download the Microsoft Word Template
Text only
Congratulations on your new home! Now that you're a homeowner, here's a list of essential tasks and tools you'll need to make the transition into homeownership:
Moving Day: Give your employer two weeks' notice of your move, and take the day off to supervise the process.
Arrange for movers: Start shopping moving companies two months before your move. If you're not hiring a moving company, ask your friends and family for help well in advance.
Moving supplies: Six weeks before your move, purchase boxes, tape, bubble wrap and other packing materials and begin packing your belongings.
Change the locks and keys: You can visit your local hardware store or call a locksmith to re-key your locks.
Essentials box: You want to pack this box last and open it first. Essentials include extra change of clothes for each family member, paper plates and napkins, snacks, toilet paper, all-purpose cleaner, bedding, toys and blankets. You wouldn't need to search for these items when you need them most.
Clean: Before move-in day, clean the walls and flooring so you don't have to worry about cleaning around furniture and furnishing when you're unpacked.
Change your address: File a change of address with the post office about a month before you move for each person in your household. Notify banks, utilities, the IRS, your employer and family and friends of your new address.
Utilities: Contact your new provider two weeks in advance of your move to ensure the utilities are turned on by the time you move in.
Buy your appliances: Do some comparison shopping to ensure you get the best deal. You could also ask people you know if they have one to spare.