Use this first tuesday FARM Letter in your marketing. To request a FARM letter topic, or to see a list of all our FARM letter templates, visit our FARM Letter page.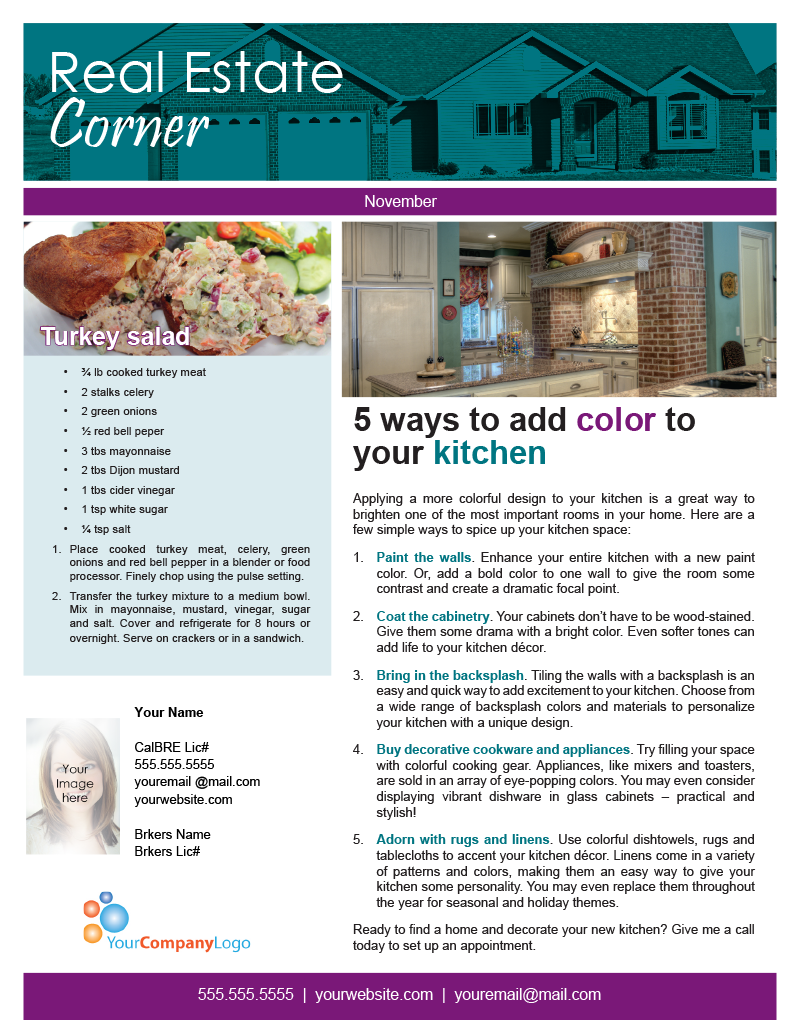 Download the Personalization Instructions
Download the PDF Template
Download the Microsoft Word Template
Download the HTML Email Template
Text only
Turkey salad
¾ lb cooked turkey meat
2 stalks celery
2 green onions
½ red bell peper
3 tbs mayonnaise
2 tbs Dijon mustard
1 tbs cider vinegar
1 tsp white sugar
¼ tsp salt
Place cooked turkey meat, celery, green onions and red bell pepper in a blender or food processor. Finely chop using the pulse setting.
Transfer the turkey mixture to a medium bowl. Mix in mayonnaise, mustard, vinegar, sugar and salt. Cover and refrigerate for 8 hours or overnight. Serve on crackers or in a sandwich.
5 ways to add color to your kitchen
Applying a more colorful design to your kitchen is a great way to brighten one of the most important rooms in your home. Here are a few simple ways to spice up your kitchen space:
Paint the walls. Enhance your entire kitchen with a new paint color. Or, add a bold color to one wall to give the room some contrast and create a dramatic focal point.
Coat the cabinetry. Your cabinets don't have to be wood-stained. Give them some drama with a bright color. Even softer tones can add life to your kitchen décor.
Bring in the backsplash. Tiling the walls with a backsplash is an easy and quick way to add excitement to your kitchen. Choose from a wide range of backsplash colors and materials to personalize your kitchen with a unique design.
Buy decorative cookware and appliances. Try filling your space with colorful cooking gear. Appliances, like mixers and toasters, are sold in an array of eye-popping colors. You may even consider displaying vibrant dishware in glass cabinets – practical and stylish!
Adorn with rugs and linens. Use colorful dishtowels, rugs and tablecloths to accent your kitchen décor. Linens come in a variety of patterns and colors, making them an easy way to give your kitchen some personality. You may even replace them throughout the year for seasonal and holiday themes.
Ready to find a home and decorate your new kitchen? Give me a call today to set up an appointment.