Use this first tuesday FARM Letter in your marketing. To request a FARM letter topic, or to see a list of all our FARM letter templates, visit our FARM Letter page.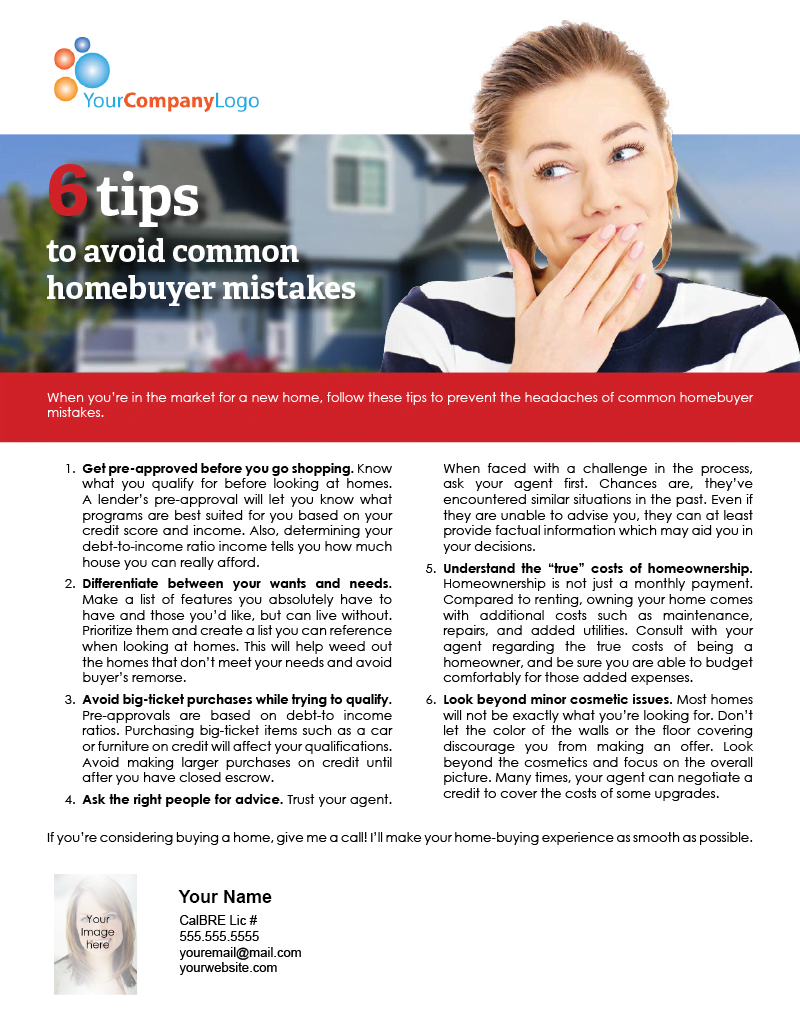 Download the Personalization Instructions
Download the PDF Template
Download the Microsoft Word Template
Text only
When you're in the market for a new home, follow these tips to prevent the headaches of common homebuyer mistakes.
Get pre-approved before you go shopping. Know what you qualify for before looking at homes. A lender's pre-approval will let you know what programs are best suited for you based on your credit score and income. Also, determining your debt-to-income ratio income tells you how much house you can really afford.
Differentiate between your wants and needs. Make a list of features you absolutely have to have and those you'd like, but can live without. Prioritize them and create a list you can reference when looking at homes. This will help weed out the homes that don't meet your needs and avoid buyer's remorse.
Avoid big-ticket purchases while trying to qualify. Pre-approvals are based on debt-to income ratios. Purchasing big-ticket items such as a car or furniture on credit will affect your qualifications. Avoid making larger purchases on credit until after you have closed escrow.
Ask the right people for advice. Trust your agent. When faced with a challenge in the process, ask your agent first. Chances are, they've encountered similar situations in the past. Even if they are unable to advise you, they can at least provide factual information which may aid you in your decisions.
Understand the "true" costs of homeownership.  Homeownership is not just a monthly payment. Compared to renting, owning your home comes with additional costs such as maintenance, repairs, and added utilities. Consult with your agent regarding the true costs of being a homeowner, and be sure you are able to budget comfortably for those added expenses.
Look beyond minor cosmetic issues. Most homes will not be exactly what you're looking for. Don't let the color of the walls or the floor covering discourage you from making an offer. Look beyond the cosmetics and focus on the overall picture. Many times, your agent can negotiate a credit to cover the costs of some upgrades.
If you're considering buying a home, give me a call! I'll make your home-buying experience as smooth as possible.