Use this first tuesday FARM Letter in your marketing. To request a FARM letter topic, or to see a list of all our FARM letter templates, visit our FARM Letter page.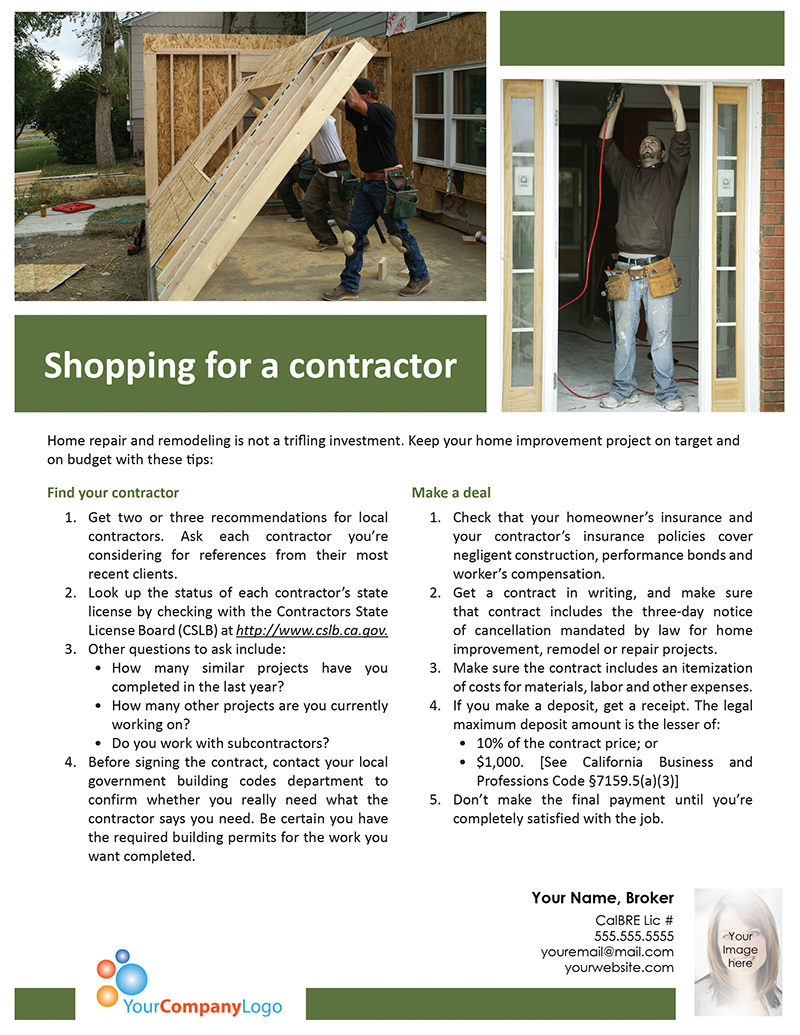 Download the Personalization Instructions
Download the PDF Template
Download the Microsoft Word Template
Text only
Home repair and remodeling is not a trifling investment. Keep your home improvement project on target and on budget with these tips:
Find your contractor
1. Get two or three recommendations for local contractors. Ask each contractor you're considering for references from their most recent clients.
2. Look up the status of each contractor's state license by checking with the Contractors State License Board (CSLB) at http://www.cslb.ca.gov.
3. Other questions to ask include:
How many similar projects have you completed in the last year?
How many other projects are you currently working on?
Do you work with subcontractors?
4. Before signing the contract, contact your local government building codes department to confirm whether you really need what the contractor says you need. Be certain you have the required building permits for the work you want completed.
Make a deal
1. Check that your homeowner's insurance and your contractor's insurance policies cover negligent construction, performance bonds and worker's compensation.
2. Get a contract in writing, and make sure that contract includes the three-day notice of cancellation mandated by law for home improvement, remodel or repair projects.
3. Make sure the contract includes an itemization of costs for materials, labor and other expenses.
4. If you make a deposit, get a receipt. The legal maximum deposit amount is the lesser of:
10% of the contract price; or
$1,000. [See California Business and Professions Code §7159.5(a)(3)]
5. Don't make the final payment until you're completely satisfied with the job.