Use this first tuesday FARM Letter in your marketing. To request a FARM letter topic, or to see a list of all our FARM letter templates, visit our FARM Letter page.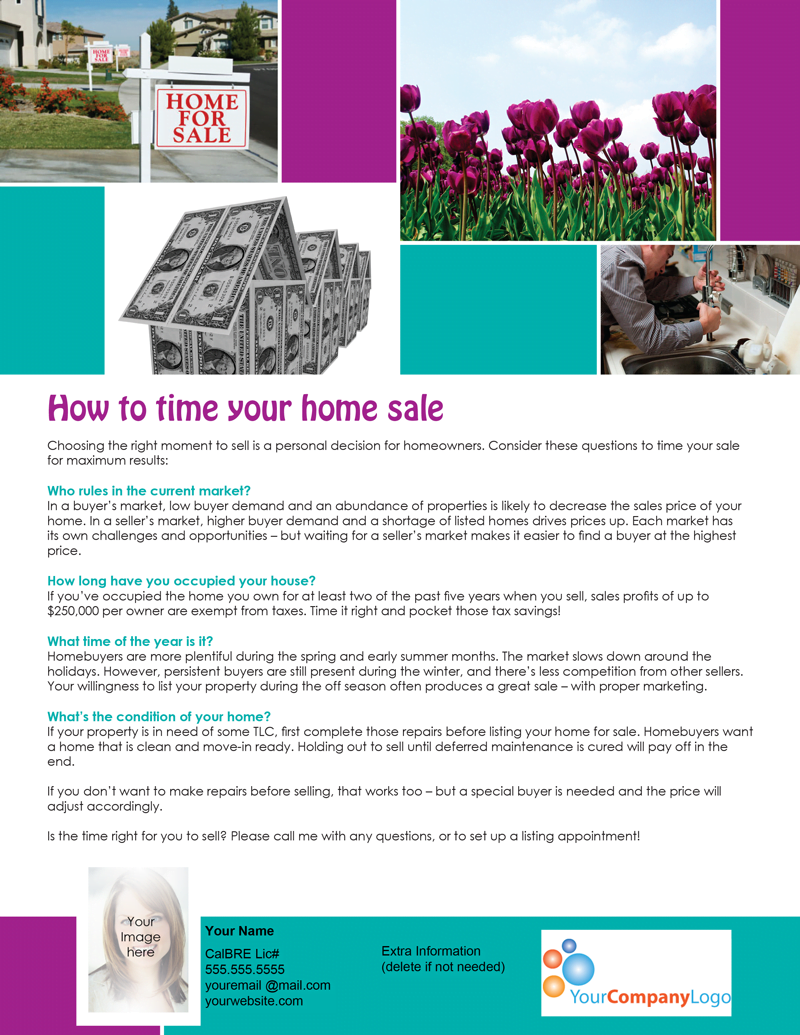 Download the Personalization Instructions
Download the PDF Template
Download the Microsoft Word Template
Text only
Choosing the right moment to sell is a personal decision for homeowners. Consider these questions to time your sale for maximum results:
Who rules in the current market?
In a buyer's market, low buyer demand and an abundance of properties is likely to decrease the sales price of your home. In a seller's market, higher buyer demand and a shortage of listed homes drives prices up. Each market has its own challenges and opportunities – but waiting for a seller's market makes it easier to find a buyer at the highest price.
How long have you occupied your house?
If you've occupied the home you own for at least two of the past five years when you sell, sales profits of up to $250,000 per owner are exempt from taxes. Time it right and pocket those tax savings!
What time of the year is it?
Homebuyers are more plentiful during the spring and early summer months. The market slows down around the holidays. However, needy buyers are still present during the winter, and there's less competition from other sellers. Your willingness to list your property during the off season often produces a great sale – with proper marketing.
What's the condition of your home?
If your property is in need of some TLC, first complete those repairs before listing your home for sale. Homebuyers want a home that is clean and move-in ready. Holding out to sell until deferred maintenance is cured will pay off in the end.
If you don't want to make repairs before selling, that works too – but a special buyer is needed and the price will adjust accordingly.
Is the time right for you to sell? Please call me with any questions, or to set up a listing appointment!