Use this first tuesday FARM Letter in your marketing. To request a FARM letter topic, or to see a list of all our FARM letter templates, visit our FARM Letter page.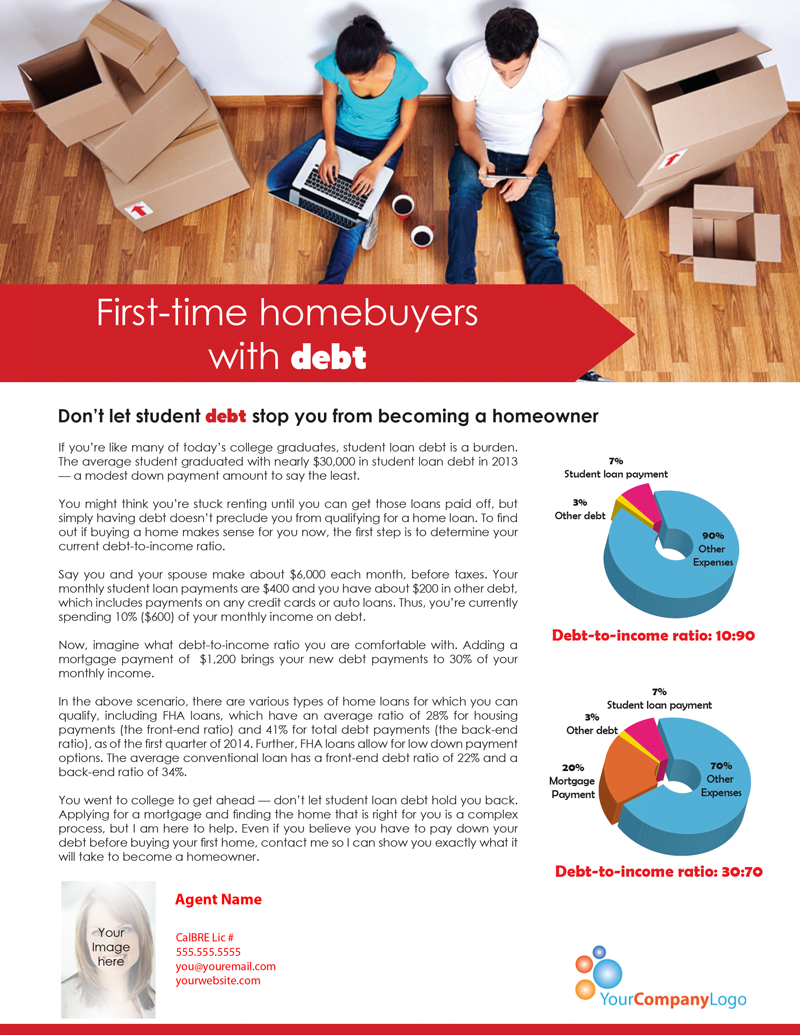 Download the Personalization Instructions
Download the PDF Template
Download the Microsoft Word Template
Text only
Don't let student debt stop you from becoming a homeowner
If you're like many of today's college graduates, student loan debt is a burden. The average student graduated with nearly $30,000 in student loan debt in 2013 — a modest down payment amount to say the least.
You might think you're stuck renting until you can get those loans paid off, but simply having debt doesn't preclude you from qualifying for a home loan. To find out if buying a home makes sense for you now, the first step is to determine your current debt-to-income ratio.
Say you and your spouse make about $6,000 each month, before taxes. Your monthly student loan payments are $400 and you have about $200 in other debt, which includes payments on any credit cards or auto loans. Thus, you're currently spending 10% ($600) of your monthly income on debt.
Now, imagine what debt-to-income ratio you are comfortable with. Adding a mortgage payment of $1,200 brings your new debt payments to 30% of your monthly income.
In the above scenario, there are various types of home loans for which you can qualify, including FHA loans, which have an average ratio of 28% for housing payments (the front-end ratio) and 41% for total debt payments (the back-end ratio), as of the first quarter of 2014. Further, FHA loans allow for low down payment options. The average conventional loan has a front-end debt ratio of 22% and a back-end ratio of 34%.
You went to college to get ahead — don't let student loan debt hold you back. Applying for a mortgage and finding the home that is right for you is a complex process, but I am here to help. Even if you believe you have to pay down your debt before buying your first home, contact me so I can show you exactly what it will take to become a homeowner.