Preview the latest videos from our 10+ hour video library. Click any image below to view the video.
Pre-Foreclosure Workout Prior to NOD (1:37)
Covers: At least 30 days prior to recording a notice of default (NOD), the lienholder contacts the homeowner to assess their financial situation, explore options to avoid foreclosure, advise the homeowner of their right to an additional meeting, and provide the homeowner with the contact information for a HUD-certified housing counseling agency.
Published 11/24/20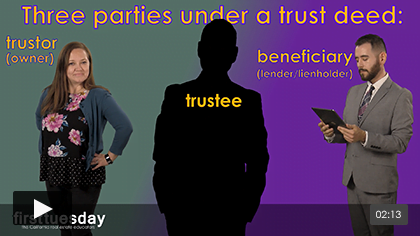 Who Conducts the Sale? (2:13)
Covers: Three parties to a trust deed – the trustor, the beneficiary and the trustee; Trustee named in the trust deed or appointed by the beneficiary when they initiate the foreclosure process.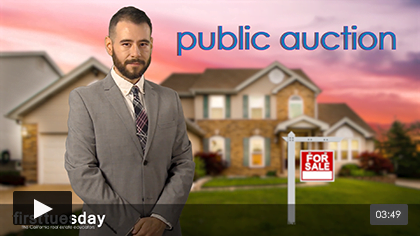 The Power-of-Sale Provision (3:49)
Covers: Two foreclosure methods available to enforce collection of secured debt; Nonjudical foreclosure under the power-of-sale provision contained in a trust deed; Other security devices which contain a power-of-sale provision; No money judgement for any deficiency in the property's value to satisfy the debt under a nonjudicial trustee's sale.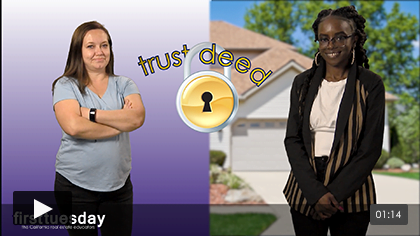 The Note and Trust Deed Work Together (1:14)
Covers: Use of a recorded trust deed to give notice and establish priority of the carryback seller's security interest in the property; A signed promissory note to evidence the existence of an underlying debt; A note and trust deed for the same transaction are considered one contract to be read mutually.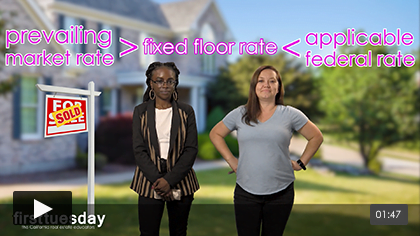 Repayment Variations: Shared Appreciation Mortgage (1:47)
Covers: The buyer's payment of fixed interest as a floor rate, plus a percentage of the property's appreciated value as additional contingent interest; Carryback seller's extension of a shared appreciation mortgage to buyers during times of tightening mortgage money.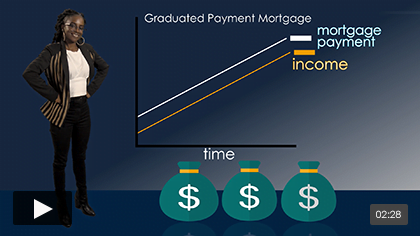 Repayment Variations: Graduated Payment Mortgage and All-Inclusive Trust Deed (2:28)
Covers: Use of a graduated payment mortgage in which installment payments are periodically increased from an initial low base level by predetermined amounts then accelerated to pay off the principal; Unpaid interest which bears interest through compounding; Use of an all-inclusive trust deed (AITD) in seller carryback financing arrangements.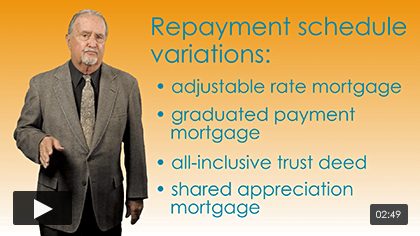 Repayment Variations: Adjustable Rate Mortgage (2:49)
Covers: Variations on the interest rate and repayment schedule contained in installment notes and straight notes; Periodic adjustments to the interest rate under an adjustable rate mortgage (ARM); Introductory teaser rate applicable for a short period of time; Risks presented with an ARM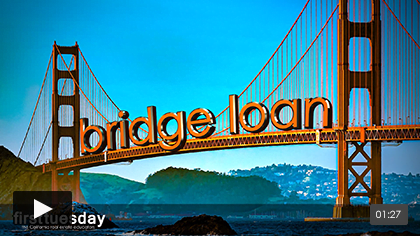 Straight Notes (1:27)
Covers: Use of a straight note to call for the entire amount of principal to be paid in a single lump sum due at the end of a period of time; Different ways the payment of interest may be structured under a straight note; Bridge loan used for repayment of short-term debt.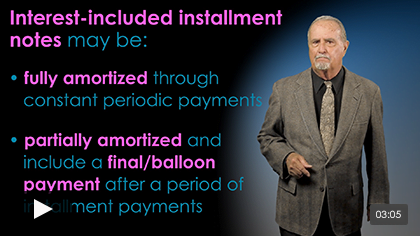 Installment Notes: Interest-Included and Interest-Extra (3:05)
Covers: Use of interest-included and interest-extra installment notes to set the repayment schedule of debt; Diametrically varying amounts of principal and interest from payment to payment; Fully amortized and partially amortized notes.
Introduction to Promissory Notes (2:27)
Covers: Contents of a promissory note; Installment notes which call for constant periodic repayments in any amount and frequency negotiated; Straight notes which call for the entire amount of principal to be paid in a single lump sum at the end of a period of time; Fixed and adjustable rate notes; California usury law limits the interest collectable on non-exempt real estate mortgages.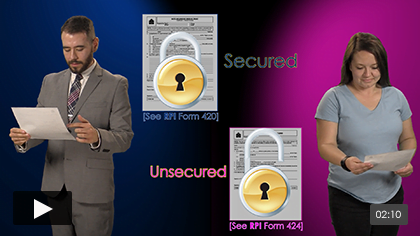 Evidence of Debt (2:10)
Covers: Use of a promissory note to evidence the borrower's promise to pay; Secured and unsecured promissory notes; Using a trust deed to secure a note with real estate, commonly called a mortgage; Reconveyance.
Title by Claims of Adverse Possession (2:22)
Covers: Five critical elements to establish title by adverse possession; Public policy objective behind the theory of adverse possession; Adverse possession based on a claim of right or color of title.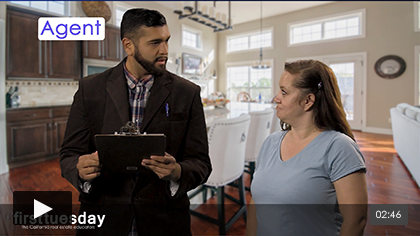 Describing the Property Conveyed (2:46)
Covers: Use of a common address or legal description to sufficiently describe the property being conveyed; The grantor's signature on the deed; The grantor's use of an attorney in fact or an amanuensis to sign a deed on their behalf
Words of Conveyance for a Fee or Less (1:26)
Covers: Use of a grant deed to pass a fee simple interest in real estate from the grantor to another, unless a lesser interest is stated; Use of a quitclaim deed to convey whatever interest, if any, the grantor may hold in the real estate
The Grantee (2:47)
Covers: Identifying the party receiving title to real estate; Use of a fictitious name to receive title; Conveying title to real estate when the seller inadvertently misnames the grantee in the recorded deed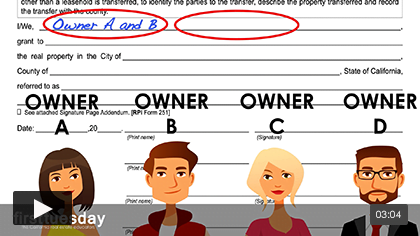 The Grantor (3:11)
Covers: Qualifications of a grantor capable of conveying an interest in real estate; Emancipated minors; The grant provision in a deed which identifies each person conveying an interest; Indexing the transfer of interest with the county recorder
A Deed in Writing, with Exceptions (1:56)
Covers: Words of conveyance contained in a grant deed or quitclaim deed; Limited exceptions when a transfer of ownership does not need to be in writing; Specific performance and estoppel
A Deed by Any Name is a Grant (2:43)
Covers: The transfer of an interest in title to real estate contained in a writing; Grantor as the individual conveying real estate; Grantee as the individual acquiring title; Grant deed versus a quitclaim deed; Requirements of a valid deed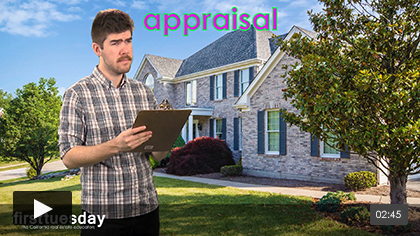 Property Appraisal and Mortgage Approval (2:45)
Covers: Appraisal of a property on the lender's receipt of the borrower's mortgage application; Understanding the loan-to-value ratio (LTV); Private mortgage insurance (PMI); Conditional approval of a mortgage application; The borrower's need to shop around for the most favorable mortgage terms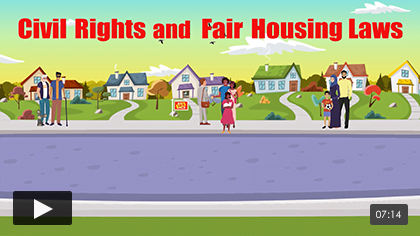 Civil Rights and Fair Housing Laws (7:14)
Covers: Blockbusting as a prohibited practice; Protections provided by the Federal Fair Housing Act (FFHA); California prohibitions against discrimination in the sale or rental of housing; the Unruh Civil Rights Act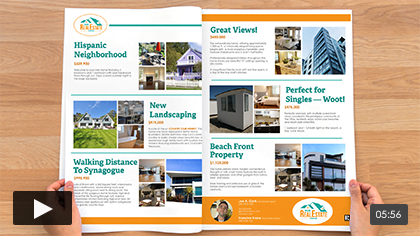 Advertising Guidelines for Sales and Rentals (5:56)
Covers: Avoiding discrimination when advertising a dwelling for sale or rent; Properly marketing real estate for sale or rent; Improper selective use of words that indicate a preference; The Department of Housing and Urban Development (HUD) Fair Housing Poster; HUD posting guidelines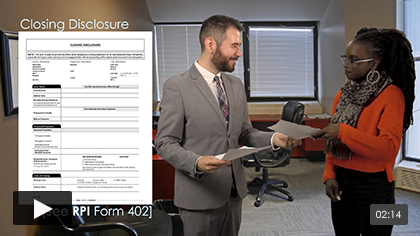 RESPA Disclosures (2:14)
Covers: Mortgage-related charges to be disclosed under the Real Estate Settlement Procedures Act (RESPA); Documents to be provided to a borrower within three business days of the lender's receipt of the borrower's consumer mortgage application; Documents to be provided to the borrower at least three days prior to closing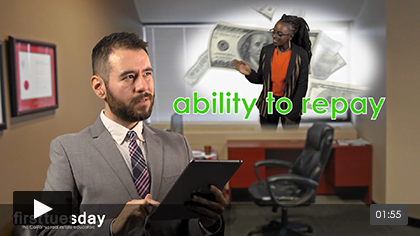 The Borrower's Debt-to-Income Ratio and Ability to Repay(1:55)
Covers: Analyzing a borrower's ability to pay by considering their willingness and capacity; Regulation Z (Reg Z) and the Truth-in-Lending Act; Debt-to-income ratios and compensating factors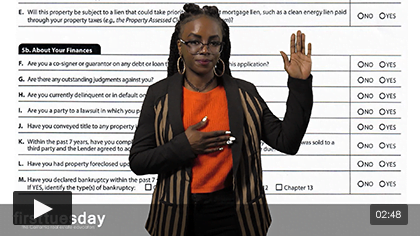 Additional Components of the URLA Application (2:48)
Covers: Final sections of the Uniform Residential Loan Application (URLA); Declarations; Acknowledgments and agreements; Demographic information; Loan Originator Information
URLA Section 4: Loan and Property Information (1:36)
Covers: Borrower entry of information about the purpose of a mortgage and the property they intend to purchase or refinance with it; Intended occupancy or use of a property as an investment
URLA Section 2 & 3: Financial Information (2:38)
Covers: Assets the borrower owns which qualify them for a mortgage; Borrower debts and liabilities; Financial privacy versus proof of creditworthiness; Identifying properties currently owned
URLA Section 1: Borrower Information (3:01)
Covers: The first component of the Uniform Residential Loan Application (URLA); Borrower entry of personal identifying information and income from employment; Individual or joint credit; Employment information entered into the URLA
Fundamentals of the Uniform Residential Loan Application (2:02)
Covers: Contents of the Uniform Residential Loan Application which provides the lender with the necessary information about the buyer and the property securing the mortgage; Authorization for the lender to start the mortgage packaging process
Preparing for Meeting with a Lender (4:02)
Covers: Expectations held and the role of each service provider involved in the mortgage transaction; Documents the buyer submits to the lender; Shopping around for the best mortgage terms available; Use of the Mortgage Shopping Worksheet to compare all the mortgage variables occurring on origination and during the life of the mortgage
The Buyer's Agent Becomes the Transaction Agent (2:05)
Covers: Submission of a mortgage application to a private or institutional lender as the catalyst which sets the mortgage industry in motion; Agency duties imposed on a transaction agent to represent the best interests of the buyer
Funds Held in Escrow on Cancellation (2:20)
Covers: The proper disbursement of funds deposited in escrow when escrow fails to close; Treble damages; Escrow company's deposit of the contested funds with the court absent mutual instructions to disburse the funds; Interpleader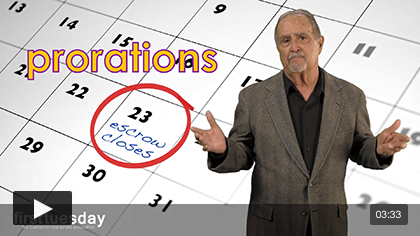 Escrow Prorations (3:33)
Covers: Credits or charges in escrow for a buyer's or seller's proportionate share of income or expenses involved in the ownership of the property being conveyed; Common items the buyer takes over and are prorated; Property taxes and prorations; Prepaid rents and security deposits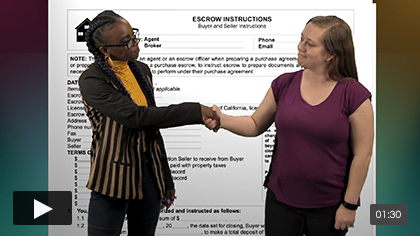 Modifying Escrow Instructions (1:30)
Covers: Properly handling issues and questions that arise over the course of a transaction which are not covered in the underlying purchase agreement or escrow instructions; An agent's actions to mediate an agreeable solution; Amended escrow instructions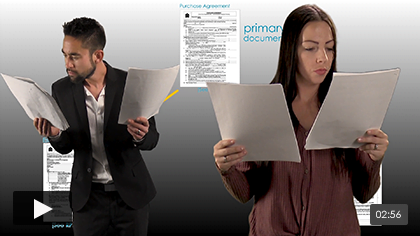 The Documents Work Together (2:56)
Covers: The purchase agreement and escrow instructions working in tandem to close a transaction; Escrow instructions need to be in writing under the Statute of Frauds; Additional exactness and completeness provided by escrow instructions; Use of escrow instructions when there is no underlying agreement memorializing the understanding of the participants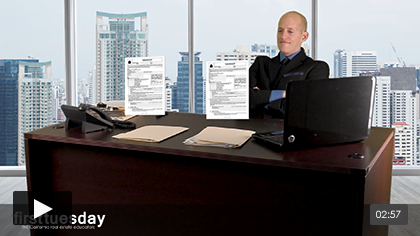 Escrow Instructions (1:21)
Covers: An escrow officer's performance of escrow activities as dictated by the escrow instructions; Bilateral escrow instructions signed by both the buyer and seller covering the activities to be performed for both; Separate unilateral escrow instructions containing only the activities to be performed on behalf of one of the participants
Escrow Basics (2:57)
Covers: Opening escrow; Use of worksheets to document all the tasks the escrow officer is to undertake to handle the close of escrow; Confirming escrow instructions conform to the intent of the transaction participants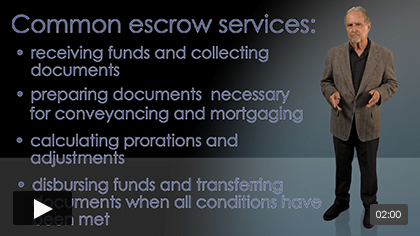 Escrow Companies and Escrow Officers (2:00)
Covers: Escrow officer licensing; Services rendered by an escrow officer; Controlled escrows exempt of Department of Business Oversight (DBO) escrow licensing requirements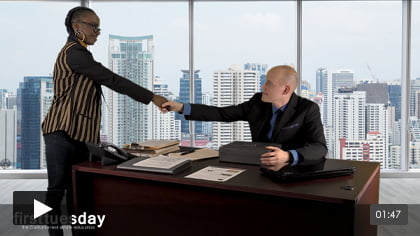 Introduction to Escrow (1:55)
Covers: Escrow activities employed to timely close a real estate transaction; Participants of an escrow transaction; Escrow and as impound account consisting of mortgage principal, interest, property taxes and insurance premiums (PITI)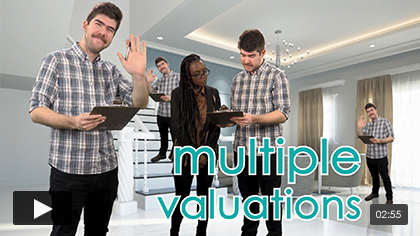 Rules Controlling Appraisals (2:55)
Covers: Unlawful violations of appraisal independence; Prohibited actions which attempt to influence an appraiser's opinion of value; Acceptable interactions with an appraiser
Correlation of Values and Creation of the Appraisal Report (2:09)
Covers: Reconciliation of property values arrived at under each of the three appraisal approaches; Creation of a completed Uniform Residential Appraisal Report; Information and data included in the appraisal report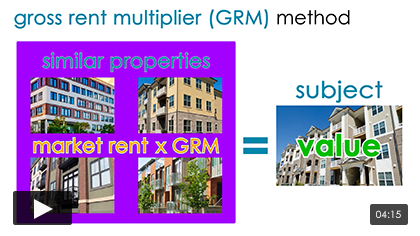 Three Appraisal Approaches: Income Approach (4:15)
Covers: Types of income-producing properties appraised using the income approach; Gross rent multiplier (GRM) method under the income approach; Capitalization method under the income approach; Calculating effective gross income and operating expenses; Expected rate of return and rate of recovery of invested funds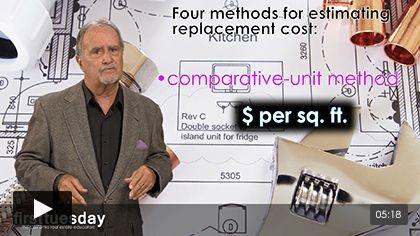 Estimating Replacement Cost and Depreciation Under the Cost Approach (5:18)
Covers: Specific methods for estimating replacement cost and depreciation; Replacement cost versus reproduction cost; Comparative-unit method; Unit-in-place method; Quantity survey method; Index method; Three types of depreciation: physical deterioration, functional obsolescence and economic obsolescence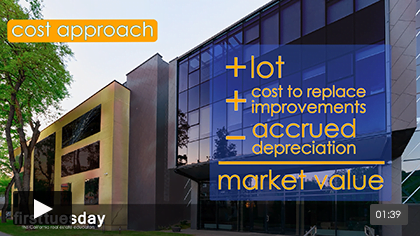 Three Appraisal Approaches: Cost Approach (1:39)
Covers: Determining a property's market value by adding the value of the lot as though vacant plus the current construction costs, less depreciation; When the cost approach is the best appraisal method to employ; Calculating direct and indirect costs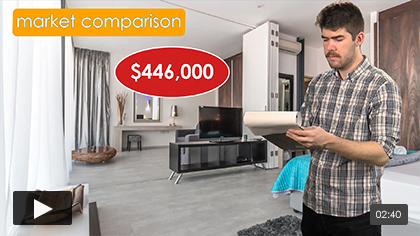 Three Appraisal Approaches: Market Comparison (2:40)
Covers: Analyzing the selling price of comparable properties to establish the value of the subject property being appraised under the market comparison approach; Adjustments for differences in the similar properties, such as location, improvements and obsolescence; Gathering data on numerous comparable sales
Types of Lots (3:15)
Covers: Cul-de-sac lots; Corner lots; Key lots; T-intersection lots; Interior lots; Flag lots; Physical aspects of a lot; Analyzing the appraisal data collected
Defining the Appraisal Effort and Gathering Data (2:51)
Covers: Six steps of the appraisal process; Defining the scope of effort to be employed during the appraisal; Analysis of general data which provides a broad overview of the area surrounding the property, and specific data which concerns the attributes of the subject property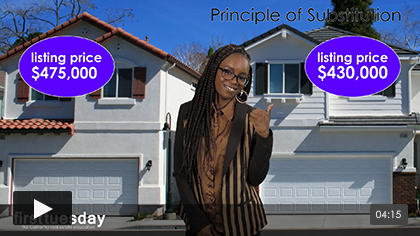 Economic Principles of Appraisal, Part II (4:22)
Covers: Consistent-use-principle; Principle of balance; Principle of contribution; Principle of substitution; Principle of anticipation; Principle of competition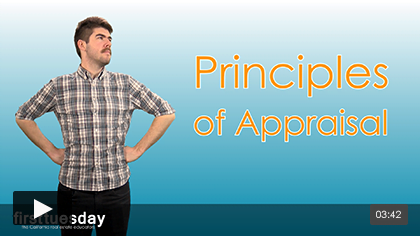 Economic Principles of Appraisal, Part I (3:38)
Covers: Supply and demand; Principle of change – development, stability, decline and revitalization; Principle of conformity – progression and regression; Principle of highest and best use – physically possible, legally permissible, economically feasible and maximum productivity
An Opinion of Value (3:42)
Covers: An appraiser's opinion of value on a specific date; Factors considered in the appraisal process to determine a property's value – demand, utility, scarcity and transferability; Forces which influence value – physical considerations, economic considerations, government considerations and social considerations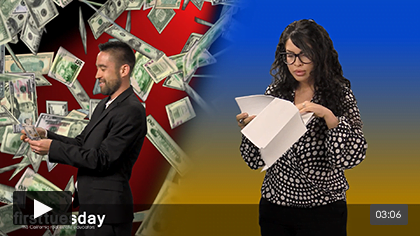 Maintaining Trust Account Integrity (3:35)
Covers: A broker's detailed records which track their receipt and disbursement of trust funds; Limited authorized mixing of personal or business funds with trust funds; Review of the monthly statement of accounts to best protect the trust funds from unauthorized withdrawals; Business insurance to include coverage for employee theft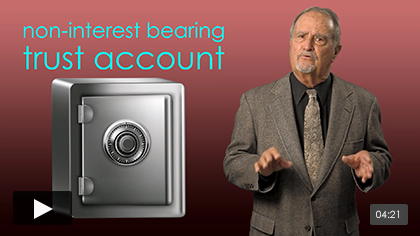 Trust Account Management (4:21)
Covers: Management of trust funds deposited into a non-interest bearing trust account; Authority to withdraw or disburse funds; Insurance coverage for theft by employees who have direct or indirect access to trust funds
Analyzing the Marketing Package Cost Sheet (1:57)
Covers: Disclosure of itemized costs the seller can expect to incur during the marketing and sale of their property; Deposit of estimated advance costs with the broker; Coordination of payments to vendors on behalf of the seller
Advance Fees are Trust Funds (2:26)
Covers: The proper handling of broker fees deposited with the broker before they are earned; Verified accounting requirements of advance fees; Department of Real Estate (DRE)-approval of advance fee material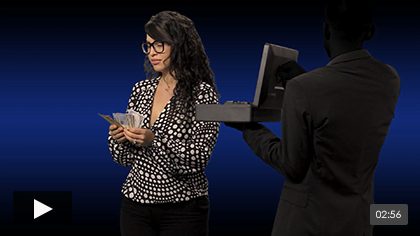 Advance Costs are Trust Funds (2:56)
Covers: Costs advanced by a seller to a broker to market their property and acquire property reports; Placement of advanced funds in a trust account; Use of a marketing package cost sheet to authorize the broker to make disbursements from the funds as the itemized costs are incurred; Proper use of a trust account ledger and statement of account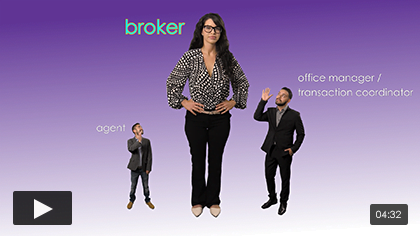 A Broker's Use of Supervisors (4:32)
Covers: A broker's delegation of oversight and management duties to an office manager; The office manager's meaningful review of the activities of every employed licensee; Delegated supervision, not agency; Supervision of non-licensed individuals
The Borrower and Mortgage Broker Relationship (3:52)
Covers: The disclosure of essential mortgage terms to a borrower by the broker soliciting or arranging a mortgage; Agency duties of a loan broker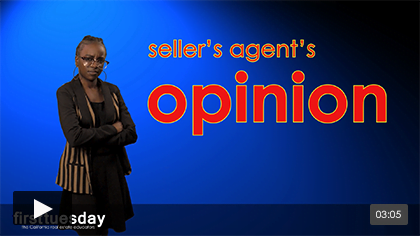 Opinions of the Buyer's Broker and Agent (3:05)
Covers: Opinions given to a buyer by the buyer's broker or their agent impart a higher level of reliability than had the same opinion been expressed by a seller's agent; Preventing an opinion from becoming an actionable assurance; Use of a further-approval contingency provision to mitigate risks when issuing an opinion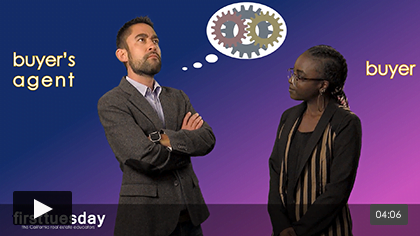 When an Opinion Becomes a Guarantee (4:06)
Covers: The difference between the wording used by an agent to express an opinion or a guarantee regarding the future ownership of a particular property; Honestly held opinions about an uncertain future event which do not impose liability, versus assurances worded as a guarantee; Special circumstances which expose an agent to liability when voicing an opinion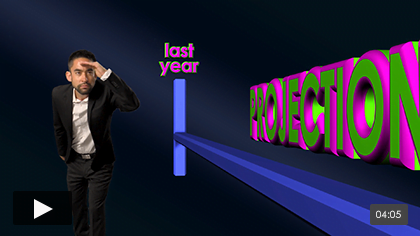 Estimates as Projections or Forecasts (4:05)
Covers: Estimates about an income property's future performance as either a projection or a forecast; Use of an Annual Property Operating Data Sheet (APOD) to provide buyers with the annual income and expenses incurred to operate a property; Changes in circumstances considered in a forecast
Is it a Section 32 loan? (5:01)
Covers: How the Home Ownership and Equity Protection Act (HOEPA) protects consumers against potential abuses in connection with high-cost home loans.
Referral Fees Between Brokerages (2:24)
Covers: Compensation for a referral by or between brokers permitted under the Real Estate Settlement Procedures Act (RESPA); Properly directing the payment of any fee through an agent's employing broker; Disclosure to a client of any compensation received from a service provider related to a real estate transaction