Click any image below to view the video.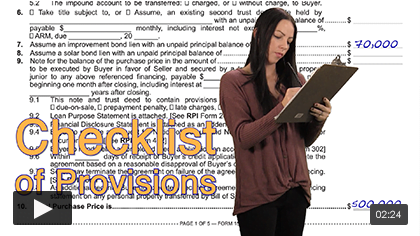 The Purchase Agreement in Practice (2:24)
Covers: A buyer's use of the purchase agreement to prepare and submit a written offer to purchase property; A seller's use of a new purchase agreement on different terms to submit a counteroffer; Purchase agreement as a checklist of provisions an agent is to consider when preparing an offer; Use of escrow instructions to bind a buyer and seller as though they had entered into a purchase agreement
Published 08/20/19
California Real Estate Forms and the Freedom of Choice (3:21)
Covers: A broker's freedom to use any real estate form they choose; Mandatory forms dictated by statute and generic forms unique to each publisher; Purchase agreement variations; Your professional use of RPI forms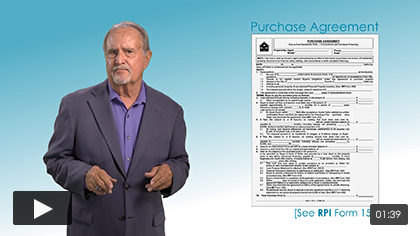 Purchase Agreement Types and Variations (1:39)
Covers: The primary document used to negotiate a transaction between a buyer and seller; Three main categories of purchase agreements; Purchase agreement variations for the specialized use of a property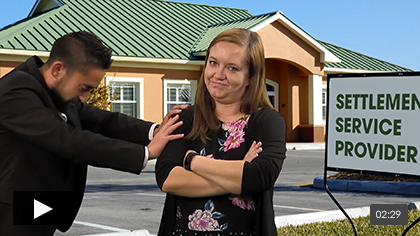 Fee Sharing by a Broker Under RESPA (2:22)
Covers: Acceptance of referral fess under the Real Estate Settlement Procedures Act (RESPA); Prohibited referral fees and double dipping; Properly sourcing new clientele and sharing fees
Referral Fees and Business Development (2:29)
Covers: Developing a business model for finding and locating new clients on a regular basis; Cooperation among licensees in the form of referrals; Referral fee agreements versus finder's fee agreements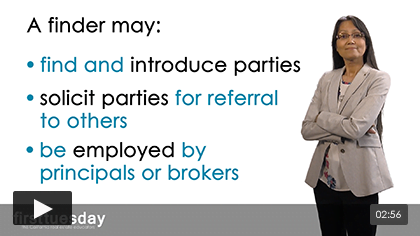 Finding and Introducing Participants (2:56)
Covers: Services which may be performed by a finder, such as finding and introducing participants; Activities which may not be performed by an unlicensed finder, such as taking part in any transaction negotiations; Penalties for performing unlicensed activities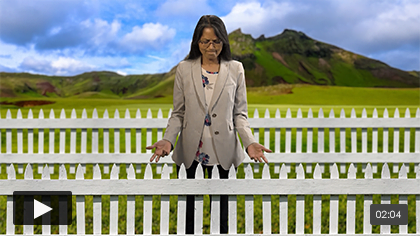 Finders: a Nonlicensee Referral Service (2:04)
Covers: Locating, identifying and referring potential clients to brokers and agents in exchange for a fee; Limitations placed on the conduct of a finder; No fiduciary duties imposed on an unlicensed finder
Provisions for Payment of a Fee (3:27)
Covers: Operative fee provisions in an exclusive right-to-buy agreement; Calculation of fees; Entitlement to a fee under an agreed-to safety clause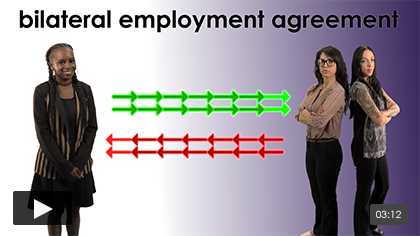 Agency Duties Owed to Buyers (3:12)
Covers: Special agency duties owed to a buyer when a broker and their agents locate property on the buyer's behalf under an exclusive right-to-buy listing agreement; Best-effort obligation imposed in absence of a formal exclusive listing agreement; Due diligence obligations on the acquisition of a specific property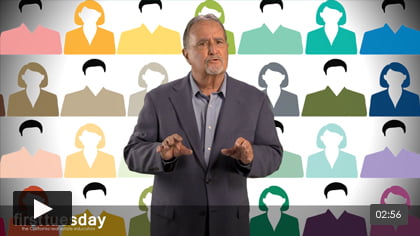 The Exclusive Right-to-Buy Listing Agreement (2:56)
Covers: Use of an exclusive right-to-buy listing agreement to employ a broker and agent to locate property sought by a buyer in exchange for the buyer's assurance a fee will be paid; Maximum financial return and assurance provided by a written commitment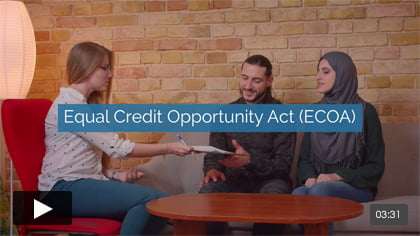 Is this a violation of the Equal Credit Opportunity Act (3:31)
Covers: The rules regarding protections of the Equal Credit Opportunity Act, including what discriminatory behavior is prohibited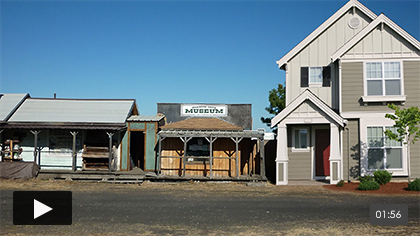 Guaranteed Sale Variation (1:56)
Covers: Seller's right to call on the broker to buy the property at a predetermined price when the property does not sell during the listing period; Conflicts of interest under a guaranteed sale listing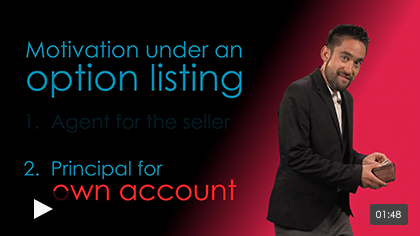 Option Listing Variation (1:48)
Covers: Grant of an option to buy a property at a predetermined price if the property does not sell during the listing period; Conflict of interest created by the concurrent status as both agent and principal; Proper exercise of the purchase option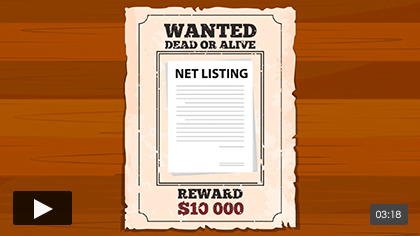 Net Listings for Sellers (3:18)
Covers: Calculating compensation under a seller's net listing; Disclosure of all offers received and the full sales price paid by the buyer; Conflicts of interest created by a net listing
Open Listing: a Unilateral Contract (2:26)
Covers: Best-effort obligation under an open listing; Legal classification as a unilateral contract; Terms of an open listing
Introduction to Open Listings (2:09)
Covers: Open listings do no grant exclusive rights to the broker and their agents to be the sole representative of the client; Full listing offers; Events triggering payment of a fee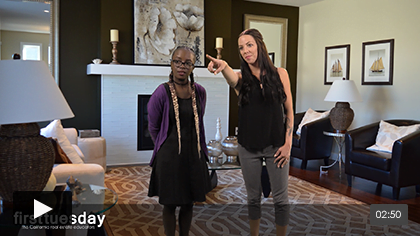 Exclusive Right-to-Buy Listings (2:50)
Covers: Duties and obligations under an exclusive right-to-buy listing agreement; Buyer benefits under an exclusive right-to-buy listing; Payment of the buyer's agent's fee; Exclusive authorization to locate space
Exclusive Right-to-Sell Listings: A Closer Look (4:06)
Covers: Events triggering a fee under an exclusive right-to-sell listing; Greatest fee protection and incentive to work diligently provided by an exclusive listing; Function of the termination-of-agency clause; Release and cancellation agreement documents a mutual cancellation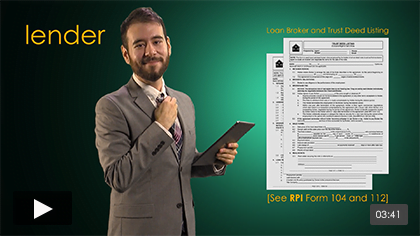 Exclusive Listings (3:41)
Covers: Sole right to represent a client under an exclusive listing; Specific period of employment set by an expiration date; Exclusive agency agreements do not trigger payment of a fee when the client fulfills the objective of the employment; Bilateral agreements are reciprocal – a promise for a promise.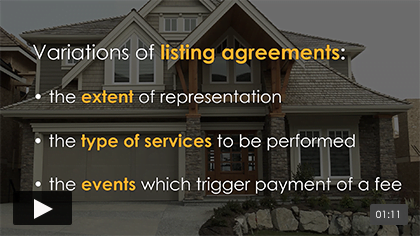 Types of Listing Agreements (1:11)
Covers: Variations of listing agreements which relate to the extent of a broker's representation, type of services performed and events triggering payment of a fee; Exclusive and open listing agreements.
Employed to Act as an Agent (2:25)
Covers: The separate employment relationship and agency relationship created under a listing agreement; Contract law; A client's unenforceable oral promise to pay a fee.
Right to a Fee (1:38)
Covers: An agent's right to a fee under the written employment agreement with their broker, not under the separate listing agreement with the client; Scope of authority and brokerage services under the listing agreement; Client's promise to pay a fee in exchange for the broker's promise to use diligence in their efforts to meet the client's objectives.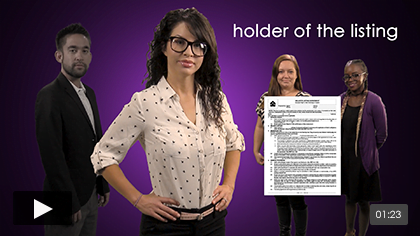 Authority to Act on the Client's Behalf (1:23)
Covers: The listing agreement as a written employment contract between a client and a licensed real estate broker; An agent acts on behalf of their employing broker and cannot independently enforce the listing.
Is it a violation of appraiser independence? (3:24)
Covers: The rules governing appraiser independence under the Truth-in-Lending Act, including prohibitions of conflicts of interest and deliberately inaccurate evaluations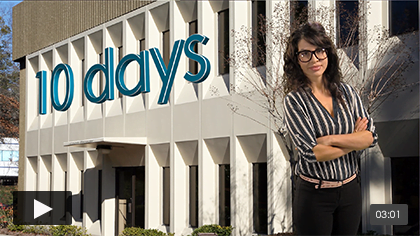 Notice of Nonresponsibility Protects Against a Mechanic's Lien (3:01)
Covers: A contractor's use of a mechanic's lien to recover for unpaid labor; A landlord's use of a Notice of Nonresponsibility to avoid liability for claims arising out of improvements the tenant contracts to construct; Posting a Notice of Nonresponsibility on a conspicuous place on the property and recording with the country recorder within 10 days
Real Estate Fixtures vs. Trade Fixtures (2:45)
Covers: Real estate fixtures – improvements that are attached to the real estate and are conveyed with it at the end of the lease term by reversion; trade fixtures – improvements that are attached to the real estate and are unique to the tenant's business operations and are not conveyed with it; Fixtures that have become an integral part of the building's structure and cannot be removed on expiration
Leasehold Improvement Provisions and Promises (2:58)
Covers: Further-improvement provisions in a commercial lease; Permissive and mandatory improvements; Tenant's ordinary care of a premises; Personal improvements unique to the operations of a business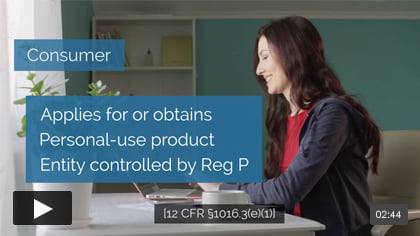 Are they a customer under Regulation P? (2:44)
Covers: The Privacy of Consumer Financial Information, including the rules controlling the sharing of a mortgage applicant's or borrower's sensitive personal information.
Ownership Rights When a Tenant Vacates (3:56)
Covers: The proper handling of tenant improvements on the expiration of a lease; Trade fixtures and trade improvements unique to the operation of a tenant's business; Examples of improvements which become part of the real estate.
Other Rules for Terminating a Tenancy (1:57)
Covers: Additional restrictions and practices when terminating a tenancy in a rent control community or industrial property; 60-day notice to terminate a tenancy-at-will in a mobile home park; 90-day notice to terminate the tenancy of a foreclosed property.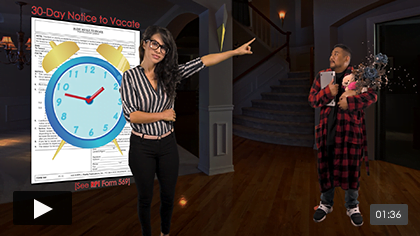 Changing the Type of Tenancy (1:36)
Covers: Shifting a tenant's possessory interest in real estate from one type of tenancy to another through notice from the landlord, expiration of a lease or by the conduct of the landlord.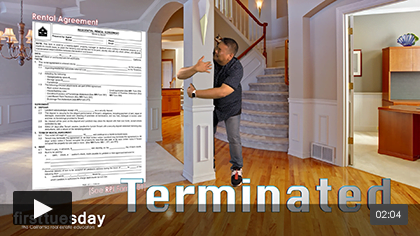 The Holdover Tenancy (2:04)
Covers: The holdover tenant's retention of a premise without any contractual right to do so; Tenancy-at-sufferance; Use of the holdover rent provision; Deduction of holdover rent from a security deposit.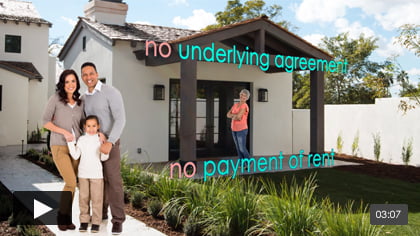 A Closer Look at a Tenancy-at-Will (3:07)
Covers: The characteristics of a tenancy-at-will; Examples of situations which result in a tenancy-at-will; Terminating a tenancy-at-will.
The Periodic Tenancy (3:32)
Covers: Use of a rental agreement to structure a periodic tenancy; Examples of periodic payment intervals; Periodic tenancy resulting from possession under a defective lease; Terminating a periodic tenancy.
Is my marketing call TCFAPA compliant? (3:49)
This video reviews the provisions of the Telemarketing and Consumer Fraud and Abuse Prevention Act and its associated regulation, the Telemarketing Sales Rule.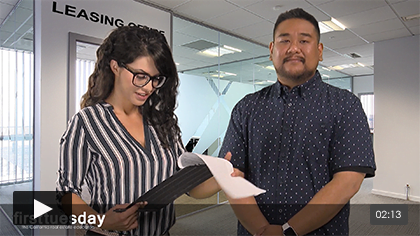 The Fixed-Term Tenancy (2:13)
Covers:  Requirements of a lease agreement: contain a commencement and expiration date, document in writing if for a period greater than one year; Termination of a fixed-term tenancy; Advantages and disadvantages of a fixed-term tenancy
Leasehold Estates Held by Tenants (2:36)
Covers:  Four types of tenancies; Establishing a tenancy; Trespass; Proper termination of a tenancy; Unlawful detainer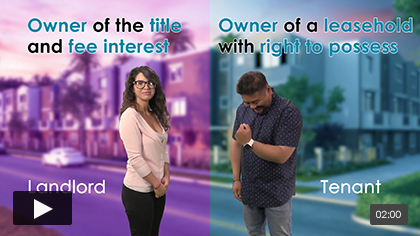 Leasehold Estates Held by Tenants (2:00)
Covers:  Lease and rental agreements conveying a possessory interest in real estate; Lease and rental agreements distinguished; Tenant's ownership of the right to occupy a property, not the property itself
When can a borrower cancel FHA mortgage insurance? (2:48)
This video will help reinforce the duration of FHA mortgage insurance premiums.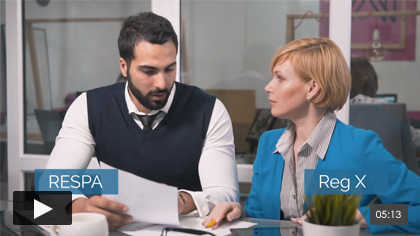 Is my loan subject to RESPA? (5:13)
This video will help reinforce the identification of loans covered by the Real Estate Settlement Procedures Act (known as RESPA) and Reg X.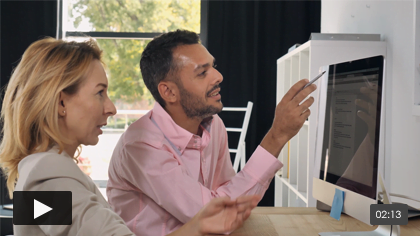 Is this mortgage ad Reg N compliant? (2:13)
We review the mortgage advertising rules under Regulation N (Reg N), the Mortgage Acts and Practices – Advertising rule.
Is it covered by TILA? (3:49)
We review your understanding of what loans are covered by TILA and Reg Z.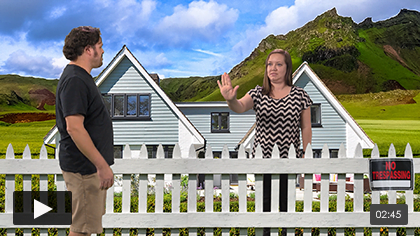 Possessory Interests in Real Estate (2:45)
Covers:  Three types of estates in real estate: fee estates, life estates and leasehold estates; Fee owner's exclusive right to use and enjoy their property and exercise absolute control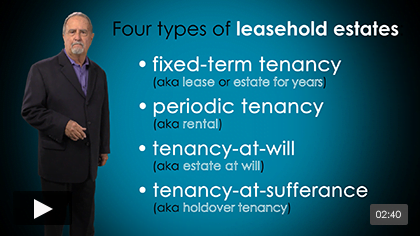 Types of Leaseholds (2:40)
Covers:  Four types of leasehold estates held by tenants; Fixed-term tenancy; Periodic tenancy; Tenancy-at-will; Tenancy-at-sufferance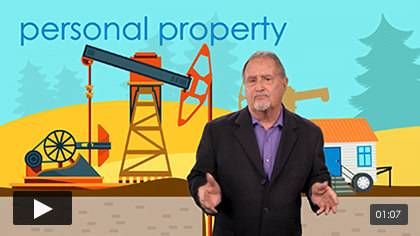 Ownership of Oil and Gas (1:10)
Covers:  Oil and gas are transitory and fleeting in nature; Oil and gas are personal property when removed; An owner's exclusive right to drill on their premises
Land: The First Component of Real Estate (2:34)
Covers:  Oil, rocks, solid materials of the earth and reasonable airspace above the earth; Materials are considered land while they are undisturbed, personal property when severed from the earth; Profit a prendre – the right to remove minerals from another's real estate
Real Estate Components (2:52)
Covers:  The physical components of real estate – the raw land, anything affixed to the land, anything appurtenant to the land, and anything which cannot be removed from the land by law
Physical and Legal Aspects of Real Estate (2:52)
Covers:  Real property as a bundle of rights; The right to possess and use property; Real estate versus personal property; Real estate is immovable, personal property is movable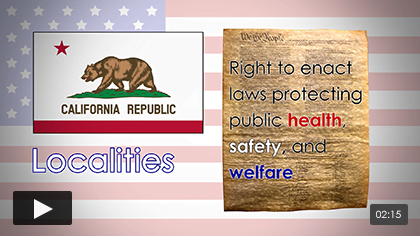 The Authority to Legislate (2:16)
Covers:  Authority of the California legislature to enact laws; Police power; Eminent domain; Power to tax; Escheat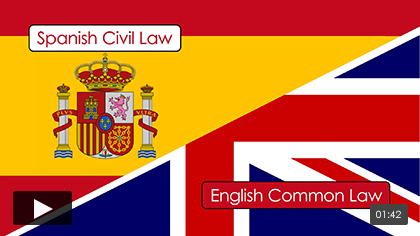 The English and Spanish Influence on California Real Estate (1:42)
Covers:  The settling of legal disputes on a case-by-case basis before a judge under English common law; The precedent of prior court decisions; Statutes to address legal issues in advance of a dispute under Spanish civil law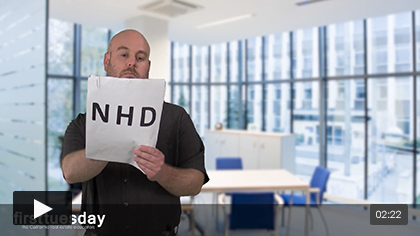 Investigating the Existence of a Hazard (2:22)
Covers:  Natural hazard information obtained from the public record; Seller's agent's use of a natural hazard expert to prepare the Natural Hazard Disclosure (NHD) statement; Natural hazard expert relieves the seller's agent of liability for errors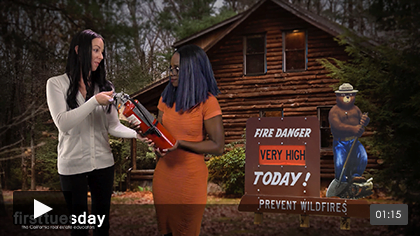 Disclosure of Very High Fire Hazard Severity Zones (1:15)
Covers:  Disclosure of areas subject to significant fire hazards; Use of the Natural Hazard Disclosure Statement (NHD); Buyer's agent's duty to advise the buyer on the consequences of owning property in a very high fire hazard severity zone
Disclosure of Flood Zones (3:01)
Covers:  The Federal Emergency Management Agency (FEMA); Special flood hazard area; 100-year floodplain; Dam failure.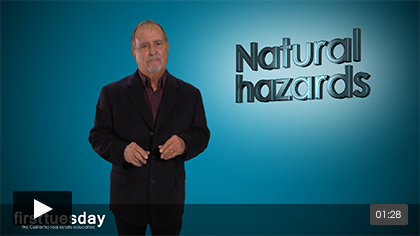 Natural Hazard Disclosures (1:28)
Covers: Natural hazards which come with the location of a parcel of real estate; Locations where a property might be subject to natural hazards; Use of the Natural Disclosure Statement (NHD).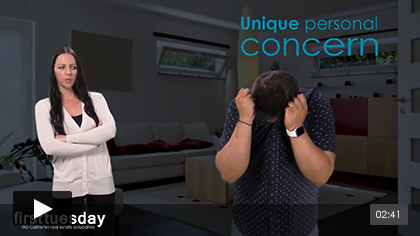 Desirability Based on Deaths Within Three Years (2:41)
Covers: Disclosure of a death which occurred on the real estate within three years of a buyer's purchase offer; Buyer's agent's greater agency duty of care to protect the buyer; Know-your-client rule.
Deaths Affecting Market Value (2:55)
Covers: Disclosure of a death which affects market value; Disclosure of a death on buyer inquiry; Deaths which stigmatize a property; Price-to-value money losses.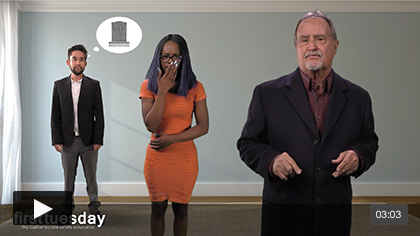 When and When Not to Disclose a Death (3:03)
Covers: When to disclose a prior occupant's use, affliction or death; No affirmative duty to voluntarily disclose a death which occurred more than three years prior, or a death resulting from AIDs or the HIV virus; Duty to disclose a death which had an adverse effect on market value.
Lead-Based Paint Hazards (4:42)
Covers: Conditions that cause exposure to lead contamination; Contents of the federally-mandated Lead-Based Paint Disclosure required when selling or leasing properties built prior to 1978.
Visual Inspection and Method of Disclosure of Environmental Hazards (4:10)
Covers: Use of the Transfer Disclosure Statement (TDS) to disclose an environmental hazard; Seller's agent's agency duty owed the seller and general duty owed the buyer; Seller's agent's visual inspection of property; Use of the environmental hazard booklet.
Noxious Man-Made Environmental Hazards (3:02)
Covers: Man-made environmental hazards which exist on or near a property; Examples of environmental hazards; Environmental hazards versus natural hazards.